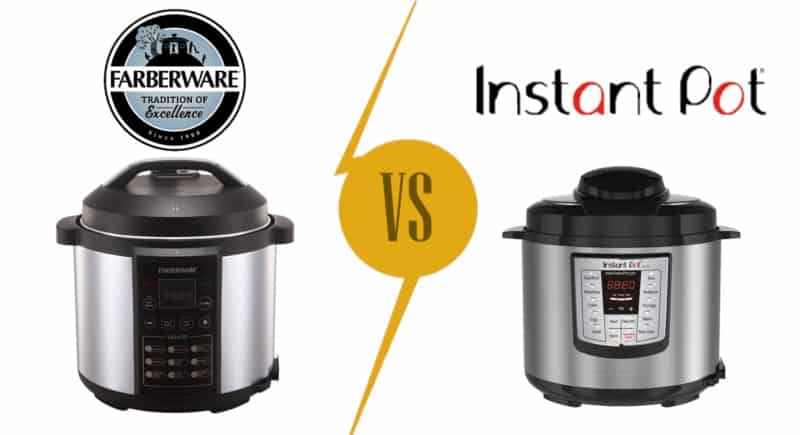 Farberware Pressure Cooker vs. Instant Pot
If you are looking to buy a pressure cooker there are a confusing number of options available on the market! Today, the new generation of pressure cookers and kitchen appliances offers a range of functions and safety functions that would have been unimaginable to people whose perception of the pressure cooker was based on a large hissing pan with a jiggling valve on the stovetop.  How things have changed!
Today two of the most popular models are the Farberware Pressure Cooker and the Instant Pot. Both these offer the consumer some great advantages but which one is best?
The Farberware Pressure Cooker
First up, the Farberware Pressure Cooker.   This is an electric pressure cooker that comes with seven different programmable functions.
These are designed to give the best results for seven different cooking methods and can be set for the following:
rice/risotto,
soup stew,
steak, meat chicken,
beans, lentils
vegetable or fish steaming
browning and searing
slow cooking
With the Farberware Pressure Cooker, you have additional options. There is a timer that you can set for two hours in advance. There are also some added advantages when compared with other pressure cookers. The release valve is fast so you can finish your cooking when your recipe instructs – you don't have to leave the pressure cooker to cool down slowly. Doing this can prolong cooking times and lead to overcooking.
The safety features are good. The appliance is sleek and compact with no visible moving parts. The control panel and the pressure indicator are clear and easy to see and it gives you plenty of scope for a wide range of recipes. Most pressure cookers are versatile but the Farberware Pressure Cooker makes it easier for novices to follow.
If you are unsure how to cook a stew in a pressure cooker or would like to try roasting meat, you should be able to achieve this easily just by using the control panel.
As well as the pressure cooker capabilities, the Farberware Pressure Cooker also functions as a slow cooker. This means you can add your ingredients to the pot in the morning, set it to slow cook and by the time you are ready for your evening meal, you have a perfectly cooked stew or casserole.
We think it is a good idea to combine these two functions in one appliance because they do both require a similar sized pot so it can be interchangeable.
There are a couple of issues with the Farberware Pressure Cooker. Many customers have complained that despite it seems easy to use, the instructions are not very easy to follow.
In addition, some users have complained that using slow natural pressure release takes a longer time than other pressure cookers.
That said there are some great points about the Farberware Pressure Cooker.  It is inexpensive compared to other models on the market, the quick pressure release valve is extremely efficient and when tested by consumers, results are generally good. The keep-warm function is extremely useful because it enables you to cook in advance without the food spoiling.
You can pressure cook with some great results and we like that the insert (the cooking pot) is dishwasher compatible.
The Instant Pot
The Instant Pot claims to offer consumers more than a simple electric pressure cooker. This is described as a multi-cooker that can take the place of many other kitchen appliances.
The Instant Pot, like the Farberware Pressure Cooker, can work as a slow cooker.  You can also use it with other non-pressure functions such as steamer, food warmer, yogurt maker and a bottle sterilizer.
The advertising usually makes a lot of the additional features of an Instant Pot but in many cases, these can be carried out in an electric pressure cooker too, so there is not usually much difference to most people (beyond yogurt making).
Where an instant pot score is with the programmability of the appliance. In most cases, the timer can be set for up to 24 hours in advance and there is usually a range of pre-programmed options that consumers say are easy to use.
Like modern electric pressure cookers, such as the Farberware Pressure Cooker, the Instant Pot has plenty of built-in safety features. There are no moving parts or jiggling valves to deal with when cooking under pressure. Instead, the Instant Pot is fitted with a floating valve that indicates when it is safe to open the lid. They are fitted with silicone gaskets to prevent steam from escaping.
As with other pressure cookers, there are plenty of functions. You can brown and sauté your meat, cook rice and pasta perfectly and cook beans and pulses without the need for pre-soaking.
With an Instant Pot, your food is cooked within an inner pot which is easy to clean and can be washed out in a dishwasher.
Despite the claims that the Instant Pot is more than a pressure cooker, it is essentially a pressure cooker that works in the same way as any other electric pressure cooker. The main difference is in the name.
The humble stovetop pressure cooker with its jiggle top and hissing sound has a dangerous reputation that many consumers shy away from. And although this is underserved and today's electric pressure cookers are completely safe to use and come with a wide range of functions and safety features, this idea never fully goes away, until you try pressure cooking for yourself.
An Instant Pot sounds as if it should be something completely different and we can imagine some consumers buying the Instant Pot without even realizing that its main function is as a pressure cooker.
When it comes down to choosing which model to buy, both the Farberware Pressure Cooker and the Instant Pot are equally useful in the kitchen. The important point to remember is to buy the correct size for your needs and to always follow the instructions.