Have you ever noticed that your store-bought pork (or other meat) sometimes smells like rotten eggs? This unpleasant sulfur smell is a common complaint.
You may have wondered if the meat is still safe to eat and, if so, how to get rid of the smell. If you're one of the many people wondering how this eggy smell has ended up on your pork, we're here to help you out.
Take a look below to see our explanation of how and why pork starts to smell like rotten eggs at times and how you can get rid of the horrible smell.
Why Pork Smells Like Eggs Sometimes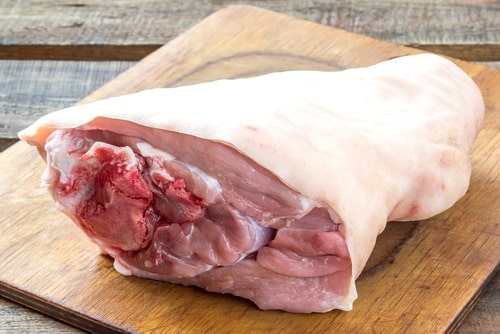 The main thing you'll notice about this issue is that it usually only occurs with store-bought pork. Pork bought from the butchery or farmers' market that has not been vacuum packed does not have this problem.
This isn't a coincidence, as there is a good reason why this is the case. Stores tend to store meat using a method known as cryovac.
This is a method of packaging that is great at preserving meat, and this vacuum packaging is the exact reason your pork might smell like eggs at times.
To be more specific, the cryovac completely locks out all oxygen from the pork packaging, in essence, vacuum-packaging it. This complete lack of oxygen mixed with the cryovac packaging causes the meet to develop a sulfur-like smell.
Almost all meat today sold in grocery stores has been vacuum packed to protect it from contamination and give it a longer shelf life without being frozen.
The meat is put into a heavy-gauge plastic pouch from which all oxygen is then removed. The meat's juices might begin to change color and might develop a strange odor while being stored.
The meat ages and tenderizes without losing any weight. Cryovacced meat is usually not frozen but is refrigerated at around 2˚C, just above the freezing point.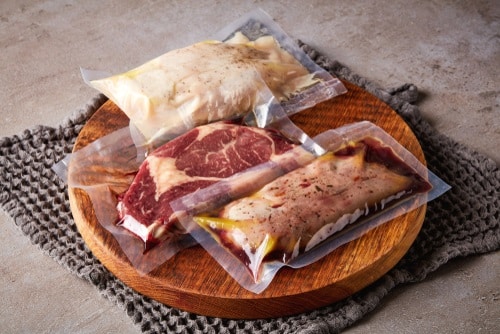 Kept in this way, the meat will last well for a few months. On breaking the seal, you may find that the meat has an unpleasant smell which may be normal. Or the meat may be off. So, how do we tell the difference?
Rotten eggs also smell a lot like sulfur, which is why many people think that the pork has developed an egg-like stench. In reality, just because it smells of sulfur does not necessarily mean that your meat is rotten.
In most cases, you should be able to quite easily and safely get rid of the odor.
How to Remove the Smell
To try to get rid of the smell, rinse the meat in some cold running water. Be careful not to splash the water as you don't want to get the droplets all over your kitchen.
If you like, add a little fresh lemon juice to the final rinse water. Once washed, gently pat the meat dry with disposable paper towels, then leave it to sit, covered, at room temperature for half an hour before cooking.
This will help the meat to cook evenly but should also dissipate the odor. If the smell is mild after this time, and the color has returned to normal, you can go ahead and cook the meat – it is safe.
Suppose the Meat Really Smells Awful!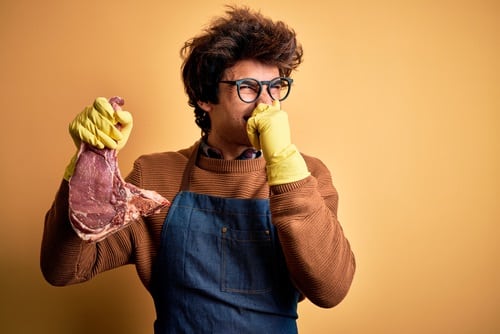 While a tangy, sulfur smell is normal in cryovacced meat, a sickening, foul odor is not. If you have washed the meat and left it to stand and it still smells terrible, do not cook and eat it. It may have spoiled.
If possible, keep the original packaging and return it to the store for a refund. Remember to always check the seal on the plastic before opening it.
The plastic should be suctioned tightly against the meat and should not be hanging loosely over it. Also, always check the sell-by date on the packaging. Juices seeping out of the packaging are another sign that the meat has spoiled due to a broken vacuum seal.
If you have aired the meat for half an hour and the color is still greyish or brownish instead of pink (for pork) or red (for beef), you have a problem.
Another way to tell if meat has spoiled is to feel the surface. It should have a natural, moist, clean feel. It should not feel slimy or sticky. This indicates the presence of germs.
In the end, trust your senses. If you are in doubt, throw it out. Bad pork can make you seriously ill, so it is not worth taking the risk if you feel unsure. On opening, the rule of thumb is that a piece of vacuum-packed pork usually smells a bit funky but shouldn't smell disgusting.
Bonus Last Point – Cook It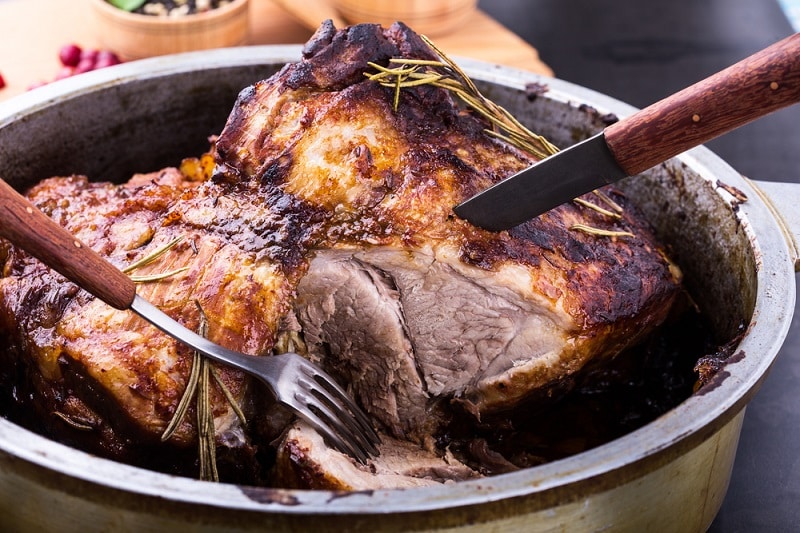 Even if it has been vacuum packed, all meat should release a delicious, mouth-watering smell when it is cooking and browning. If yours still smells weird when it is cooked, then throw it away. If it smells bad while it is cooking, then it probably is bad.
We hope this has helped to answer your question about why pork sometimes smells like eggs.