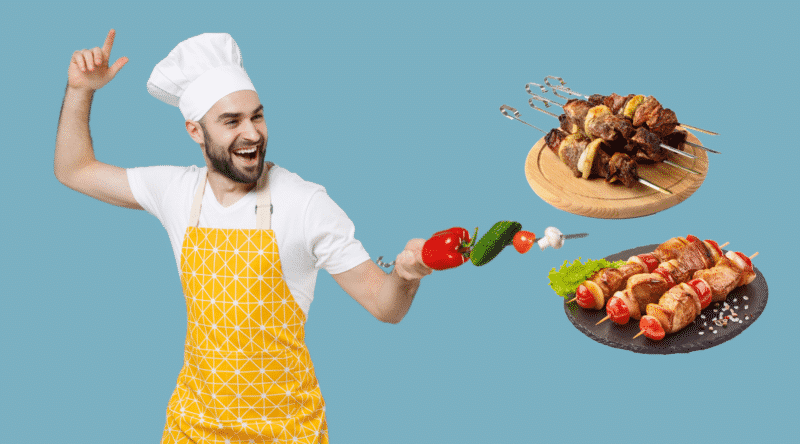 There are several essential culinary tools that serious cooks keep in their kitchens to enable them to make a variety of foods at the drop of a hat. From grilling to roasting, some skewer-type culinary gadgets can greatly facilitate your cooking.
Suppose you are having an outdoor barbeque evening on a lovely weekend; one thing besides the edible ingredients you wouldn't want to be without is skewers. These nifty little gadgets help you grill meat or vegetables without everything falling apart.
If you have run out of skewers and wonder what to use instead, you have plenty of options. However, before you substitute a skewer with any of its close alternatives, make sure to check what you are cooking.
In this post, we have put together some great alternatives for skewers that are readily available and just as efficient.
What Exactly Are Skewers and What Are They For?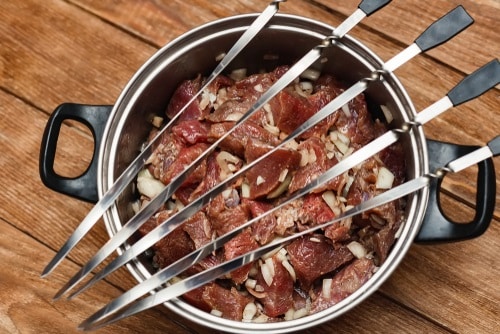 Before you substitute anything with the skewer, let's first check out its purpose. This way, you'll be able to pick the right alternative for your needs.
Skewers are stick-like objects made of thin metal rods, wood, plastic, or bamboo. They usually have a sharp pointed end for spearing the food item and a flattened or rounded end for holding on to the other.
Metal skewers are more sophisticated and can be reused over and over. Simple bamboo skewers are disposable and should be soaked in water before using to prevent them from burning.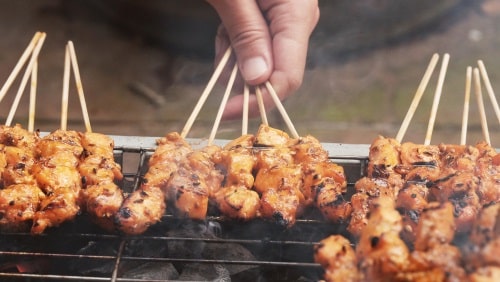 They are used to hold small meaty pieces and vegetables together. You can use food skewers to combine vegetables and meat, meat cubes alone, or even fruit pieces. Some cannot be heated and are used for cake decorating or making fruit kebabs.
Sometimes, people use the "skewer" term to name the whole food item made or served with the help of a skewer. They refer to many skewer-made food dishes as "chicken skewers," "beef skewers," "vegetable skewers," etc. Other people refer to the food items as "kebabs."
To use the gadgets, cubes of tender raw meat, chicken, or fish and vegetables are threaded onto the skewer. The whole thing is then often brushed with a marinade. These are then transferred to a barbeque or grill and cooked over high heat until done.
Uses of skewers besides grilling and roasting are:
Poking food to check if it is done or not.
Hold ingredients precisely and neatly to arrange them in a dish or pan.
You can craft your dish by poking holes in it with the help of skewers.
Attaching decorative items such as flowers, sweets, or cupcakes to a larger cake. Be sure to remove the sharp skewers before eating.
Holding cake layers together before icing the cake. Again, be careful to remove them before serving your creation.
Skewers can be used as "pens" to write in frosting on cakes and cookies.
What Can I Use Instead of Skewers?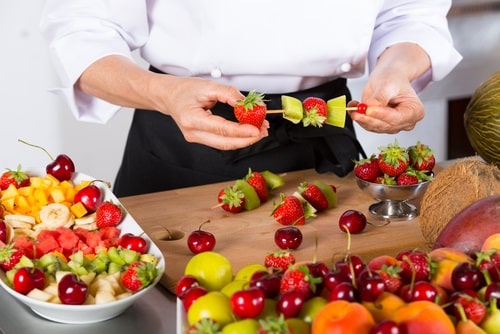 Wooden or metal skewers are one of the necessary culinary items you'll find you need to have in your kitchen at some point.
However, don't worry if you lack them and they are unavailable at that time. You can try the following substitutes for skewers:
1. Rosemary Stalks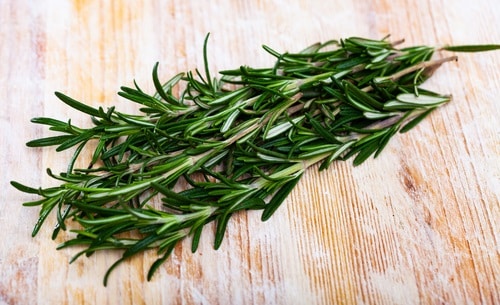 If you are short of skewers, don't hesitate to use rosemary stalks from your herb garden. They are just as strong as bamboo skewers, and they have a wonderful herby aroma that will enhance the flavor of your meat or poultry as it grills.
To use, cut some fairly thick, hard branches off your rosemary plant and cut them all to a suitable length. 20cm should be long enough. Strip off all the leaves except for the ones at the narrow tip.
Thread your food cubes on from the other side. These fragrant, disposable skewers are safe to use and lend a special touch to your kebabs. The sticks are fine enough to thread the meat yet strong enough to withstand the heat of grilling.
2. Aluminum Foil Packages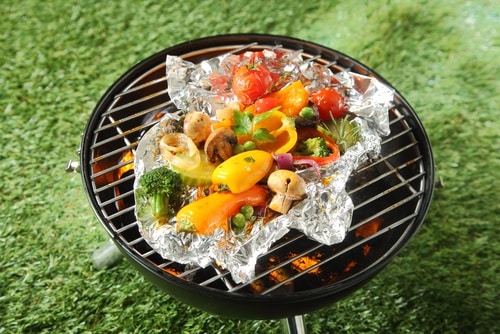 If you are happy to make your meat cubes in a different shape, you will not need skewers of any description. Aluminum foil is easily obtainable and is already present in most kitchens.
Just tear up some foil sheets into squares and divide your cubed meat and vegetables among them. Brush with your sauce or marinade, season, and all a dollop of butter or drizzle of olive oil for richness.
Fold the foil over the top, making small parcels. Grill the parcels for around 25 minutes and serve freshly done. Of course, the grilling time depends on the type of meat you are cooking.
3. Fruit Sticks
What if you have cubed fruit ready to make fruit sticks, only to find that you have no skewers? No problem. Hollow out a piece of fruit like a pineapple or melon half and use this for serving the cubes instead.
Serve with a spoon and small bowls. Alternatively, if you have a citrus tree in the garden, you could cut small sticks from this for your fruit cubes. Prepare them in the same way as for the rosemary sticks.
4. Jicama Sticks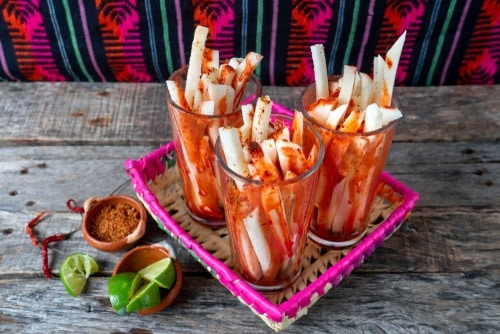 Jicama is a sweet root vegetable that is often cut into sticks and served raw. We don't recommend cooking meat cubes, but you could thread items that don't need cooking onto jicama sticks. Items such as cubes of soft cheese or fruit might work well here.
5. Celery Sticks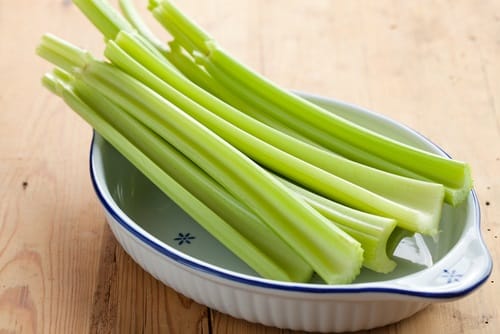 If you use a skewer as a stirrer for drinks such as tomato cocktails, you may replace it with healthy and crunchy celery sticks.
6. Sugarcane Skewers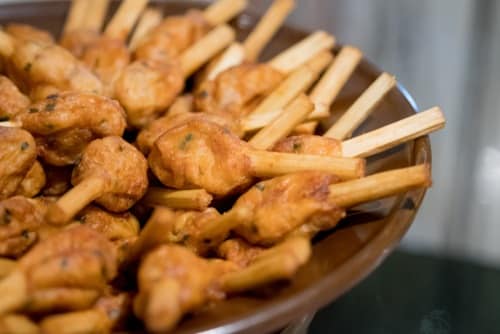 Sugarcane skewers are also good alternatives for traditional skewers. They are strong and durable.
We hope we've solved your "no skewers" problem for you. Just remember, if you are going to use sticks from the garden as substitutes, they must not be from poisonous plants.