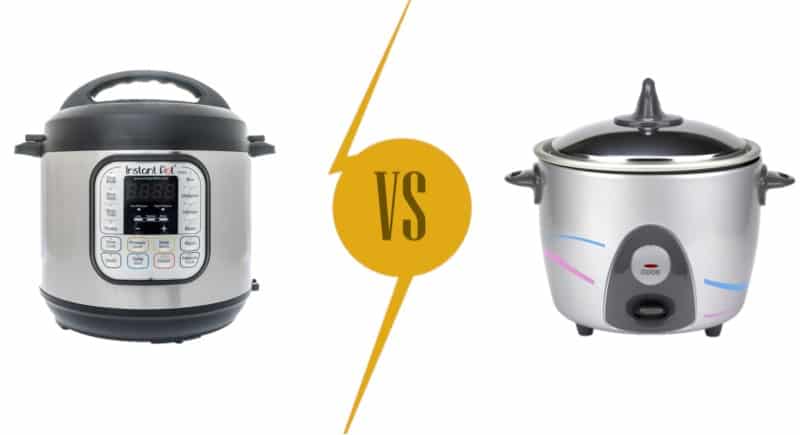 Instant Pot vs Rice Cooker
There are some great kitchen appliances on the market that are designed to make your life a whole lot easier and many people have embraced the multi-function pressure cooker as an all-in-one kitchen appliance.  However, there is also a range of single-purpose appliances that do often offer a surprising range of other functions. One of these is the rice cooker. So let's take a look at the Instant Pot vs rice cooker and see just what it does and how it compares to the Instant Pot, the number one multifunction pressure cooker in the USA.
The Rice Cooker
A modern rice cooker is a great addition to any kitchen, especially if you generally consume a lot of rice. We looked at the Aroma Housewares 6 Cup version and were impressed by what we saw.
The Aroma can cook between 2 -6 cups of any type of rice, so whether you go for brown rice, basmati or any other variety you can ensure perfect results every time, without filling the kitchen with steam or messing about with the hob. According to the advertising, it gives you restaurant-quality rice every time.
As an added convenience, the rice cooker also functions as a steamer, so at the same time as you are cooking your rice, you can cook your vegetables and your meat as well. Steaming food is extremely healthy so if you are trying to provide nutritious and healthy meals for your family, this is a good option.
In addition, many rice cookers do function as slow cookers, enabling you to create a range of healthy slow-cooked casseroles from this one appliance.
The Aroma Rice Cooker has generated thousands of reviews. The overriding opinion is popular but there are some complaints. Some customers complain that the appliance splutters and sprays starch over the kitchen – a lot of people have said this, so it obviously is a common issue. Some customers have complained it seems a little flimsy. Despite this many customers are satisfied with 61% of all reviewers giving it five stars.
When it comes to price, the rice cooker, and in particular the Aroma, scores highly. You can find it on sale for around $19.99 via Amazon so it does seem to offer good value.
If you generally cook a lot of meals with rice, the rice cooker may be a good buy and you will probably find the additional functions a bonus as well.
Pros:
Inexpensive
Has additional functions to cooking rice
Nice looking multi-function appliance in a range of colors
Cons:
A high number of customer complaints about spluttering and leakage from the appliance
If you don't cook rice very often, you probably won't use it much.
Fairly limited functionality compared with a multi-purpose pressure cooker
The Instant Pot
One of the best things about the Instant Pot is that this multi-function kitchen appliance is extremely versatile. Although it is predominantly advertised as a pressure cooker, you can carry out a range of other functions too.
It is a rice cooker, steamer, slow cooker, yogurt maker. You can fry and sauté in it and when it comes to the pressure cooking functions, the options seem limitless.
You can cook most meals by pressure and even if you are a pressure cooking novice you don't have to worry. There is a wide range of presets and the instructions are incredibly easy. You just add your food, hit the preset and your meal is ready in a fraction of the time of conventional cooking. According to the advertising, the Instant Pot cooks on average 70% faster than cooking by other methods, saving you time and saving you money as well.
The Instant Pot is the #1 pressure cooking brand in the USA and it is easy to see why. This multifunction appliance is very easy to use and it is available in numerous size options so you can choose the best model for you and your family's requirements.
There are thousands of positive reviews left on Amazon by satisfied customers and although there are some complaints, these are only a tiny percentage. For example, the Instant Pot Duo has received over 40,000 customer reviews with a whopping 82% of these 5-star reviews.
Price-wise, the Instant Pot is more expensive than the rice cooker. The 6qt Instant Pot, for example, is $79.00 but when you consider what you actually get for your money, it is not a bad deal. It does combine 7 appliances into one single unit after all, so it offers great value per function.
Pros:
Very versatile; it is a rice cooker, slow cooker, pressure cooker and more
Trusted brand with high levels of customer satisfaction
Easy to use
Cons:
Is more expensive than a rice cooker
In Conclusion
If you cook a lot of meals that involve rice and you are on a budget, the rice cooker may be a reasonable choice. It will enable you to simplify your cooking and save you some time, and the added steaming options are a bonus. That said, it is had to ignore the high level of customer complaints about the spluttering and the leaking. In addition, this appliance is essentially aimed at cooking rice so unless rice is part of your daily diet, you might find the rice cooker taking up space in your kitchen without you using it very much.
The Instant Pot can function as a rice cooker too. It takes the place of seven kitchen appliance and you can also use it to cook thousands of different meals in many different cooking styles. But if you wanted to, you could just use it as a rice cooker (you won't) and it would still be a good investment.
In our opinion, this is a no brainer. The Instant Pot offers you so much more for your money than the rice cooker that it is worth paying a little extra on a kitchen appliance you will probably use every day.
Related Video: