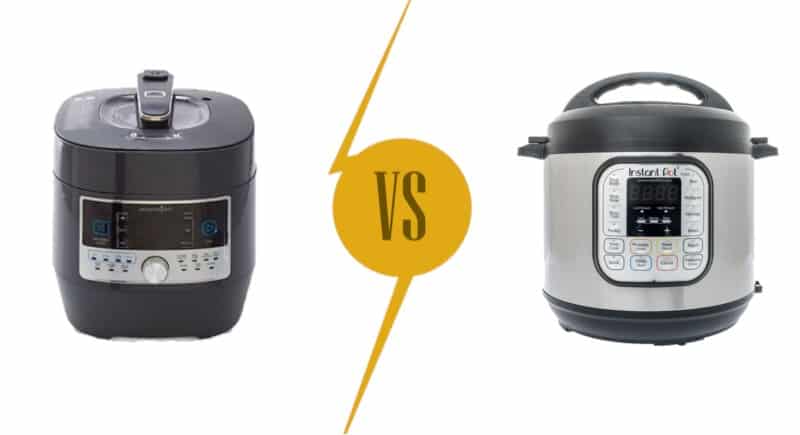 Pampered Chef Pressure Cooker vs. Instant Pot
If you are tempted by the pressure cooker craze that is sweeping the country, it can be hard to decide on which type of pressure cooker to buy.  The Instant Pot is the USA's favorite but buying a Pampered Chef Pressure Cooker offers the customer a personalized experience that may help you if you are new to cooking in this way.
So which one is best? The Pampered Chef Pressure Cooker or the Instant Pot? Let's take a look and find out.
Pampered Chef Quick Cook Pressure Cooker.
The Pampered Chef Quick Cooker is a 6 qt pot that offers an impressive 16 pre-programmed settings. These include Sear, Steam, Slow Cook and a Stay Warm function. Despite the 16 function claims, the other functions are standard on all pressure cookers and include; White rice, Brown rice, Whole grains, Chicken/Poultry, Beef/Pork, Fish/Seafood, Soup/Stock, Beans, Stew/Chili, Dessert, and Custom.
So there isn't anything here that is particularly revolutionary. This pressure cooker does not function as a yogurt maker for example and it is not suitable for canning. That said it is an attractive unit that would look good in any kitchen and the control panel is well laid out and looks easy to use.
Pampered Chef is on sale via Direct Marketing, sometimes known as Network Marketing or Multi-Level Marketing. This is a sales model that recruits "ordinary people" to sell a product, usually via party planning or demonstrations. This means that if you are interested in buying this, you can host your own party, receiving a discount off your own purchases. You can also move up the chain and become a consultant yourself.
The downside to all this is that the Pampered Chef Quick Cooker is not very straightforward to buy. You can't simply pick it up from a shop or an online retailer such as Amazon. However, if you do attend a party or host a party yourself, you will be able to learn all about the pressure cooker and how it works. Presumably, you will taste some of the food prepared in the cooker too!
As with all products sold via Direct marketing, the Pampered Chef Quick Cooker is not cheap. Prices start at $240 for a 6qt model. Any accessories such as steamer baskets or cake tins must be purchased separately.
A good point about the Pampered Chef Quick Cooker is that it is covered by a year's guarantee as standard. Customer feedback is mainly positive.
Pros:
Comes with a guarantee
Stylish design
16 pre-set functions
Feedback mainly positive
Cons:
Very expensive
Not straightforward to buy
The Instant Pot
The Instant Pot is the USA's number #1 pressure cooker brand and is the make that most people are familiar with. It is on sale from many different outlets including Walmart and Amazon and is available in a choice of sizes from 3qt up to 8qt. The Instant Pot has sold hundreds of thousands so it is undoubtedly a good deal according to customers.
The Instant Pot is available in a couple of model choices. There is the Instant Pot Duo Nova or the newest model the Instant Pot Duo Evo Plus. Both models have an advertised seven functions (nine with the Duo Evo Plus) which include; pressure cooker, slow cooker, rice cooker, steamer, sauté pan, yogurt maker and warmer. The Duo Evo Plus also has additional functions of Sous Vide and Bake.
There are also numerous preset functions to make cooking easier. You can set the cooker to make Soup/Broth, Rice, Bean/Chilli, and Porridge. You can choose between Steam, Sauté, Slow Cook, Yoghurt and Pressure Cook function.  There are a high-pressure setting and a low-pressure setting. There is also a manual function that will enable you to regulate pressure.
The Instant Pot is extremely easy to use.  The control panel offers you numerous options so you could cook a wide range of dishes without ever deviating from the preset function.
For more experienced cooks you can regulate pressure yourself, so the Instant Pot is very adaptable for all types of cooks; you don't have to be an experienced cook to use it. The simplicity of design has made this pressure cooker practically idiot-proof.
Price-wise, the Instant Pot is far less expensive than the Pampered Chef Quick cooker. The Instant Pot 6 qt Duo Nova costs around $65.00 depending on the retailer. The 6qt Instant Pot Duo Evo is more expensive at $120.00.
Customer feedback is overwhelmingly good. Most people have been satisfied with this pressure cooker and although there are only a few negative comments on Amazon, these are a tiny percentage when compared with the thousands of users who love this pressure cooker.
Pros
The USA's #1 Pressure Cooker Brand
On sale from a wide choice of outlets
Available in a choice of pot sizes
Cons
There are some customer complaints about reliability
It does not come with a guarantee as standard.
In Conclusion
We are not over-impressed by the Pampered Chef Quick Cooker. Although it is an attractive appliance we feel that it is basic when compared to the Instant Pot. In addition, it is extremely expensive and not very easy to buy. Although a home party/demonstration can be enjoyable and it does give you a way to learn about the pressure cooker, the Pampered Chef Quick Cooker is extremely overpriced compared to all other models on the market.
The Instant Pot, by contrast, is extremely well priced. It is versatile and it is popular with customers. It might not necessarily be the best pressure cooker on the market, but it is certainly much better than the Pampered Chef Quick Cooker.