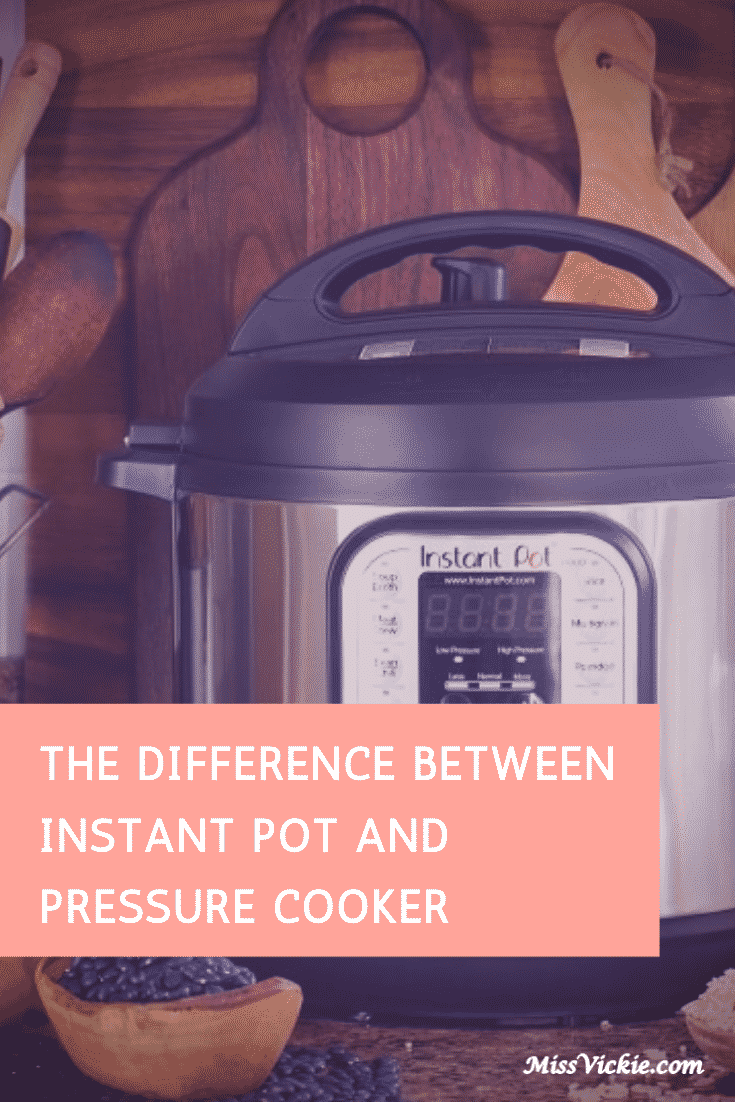 If you are not an avid pressure cooking pro, the various pressure cooking devices and gadgets available out there in the market can seem overwhelming and a little confusing. Both the Instant Pot and pressure cooker utilize steam for high-temperature cooking. However, you may be wondering if there are any differences between the two cooking gadgets. Here is everything that you need to know:
The Difference Between Instant Pot and Pressure Cooker
We should probably start off by stating that both the pressure cooker and the Instant Pot are excellent additions to modern cooking. Both gadgets have functions like sautéing & browning, as well as cooking a wide array of foods under pressure in a controlled environment.
Instant Pot vs Pressure Cooker
First and foremost, you should know that pressure cookers come in different sizes, various types, and brands. To make things a little clearer, an Instant Pot is a brand name that refers to one of the most popular types of pressure cookers.
The instant pot is actually an electric pressure cooker. Because it has gained so much popularity over the years, it has sort of becoming the face of all modern pressure cookers. But you should know that aside from the Instant Pot, there are other brands of pressure cookers that differ by their unique features and different settings.
Today, Instant Pots are actually advertised as multifunctional cookers. This means that an Instant Pot can perform the job of several kitchen appliances all at once. You can use Instant Pots as a pressure cooker, steamer, warmer, slow cooker, for sautéing, as a yogurt maker, as well as a rice cooker.
Pressure cookers, alternatively, is the generic name to any type of gadget that prepares food using the pressurizing method. Pressure cookers are divided into 2 categories: stovetop pressure cookers and electric pressure cookers.
Stovetops and electric pressure cookers
Essentially, you should know that it doesn't matter which type of pressure cooker you invest in. Either stovetop or electric, both versions still pressure-cooks. They still offer you the versatility and functionality you are looking for in a kitchen gadget. There are some major differences, however, between stovetop pressure cookers and electric pressure cookers that will impact on which to invest in.
For instance, electric pressure cookers tend to be more convenient. However, they are also less durable and less powerful than stovetop pressure cookers in comparison. Stovetops are much sturdier and faster in comparison.
Electric pressure cookers are ideal and best purchased if:
You are nervous about using the pressure cooker for the first time. Electric pressure cookers eliminate the need of having to adjust various temperature settings. Electric cookers function automatically, so all you have to do is adjust the settings and wait for food to prepare.
Many electric pressure cookers also perform several functions. They can act as rice cookers, slow cookers, and so on and so forth.
Stovetop cookers, on the other hand, are best purchased if:
Speed and power. Stovetop pressure cookers are able to reach higher hear and pressure settings compared to electric pressure cookers.
Durability over convenience. Electric pressure cookers can last for many years but stovetops can last for decades. They can even be passed on from generation to generation, especially when well maintained and taken care of.
You are familiar with using advanced pressure-cooking recipes and techniques. In most cases, such recipes call for higher pressure and reduced evaporation, which is hard to achieve with electric pressure cookers.
Ideal for cooks that like supervising the cooking process. Stovetops typically release pressure faster than electronic cookers. Hence, you can release the pressure mid-way to check on the food or to add other ingredients.
Should you invest in an Instant Pot?
As stated earlier, one of the many reasons why the Instant Pot is often seen as the face of the modern pressure cookers is all the benefits it comes with. The Instant Pot is programmable and comes with multifunctional cooking abilities, which makes it an excellent addition in any modern kitchen. Furthermore, the Instant Pot comes in various sizes and types to suit a wide range of customers. Other advantages of the Instant Pot include:
Simplifies the cooking process
Because the Instant Pot is also a multi-cooker, it can replace a few kitchen appliances especially when your kitchen is in need of space. Combining all the kitchen appliances into one simplifies the cooking process.
Healthier compared to many other cooking tools
Instant Pots have a stainless-steel exterior. Stainless steel material is so much better and healthier corresponding to other construction materials such as non-stick pots and pans that contain Teflon, which is harmful.
Time-saving
Instant Pots save time because they cook quickly and efficiently. You can prepare dishes such as rice in as little as 3 minutes while tougher subjects such as beans can be ready in less than thirty minutes. The Instant Pot is ideal for any home cook that struggles with time; thanks to the multi-cook function, you can actually prepare several meals simultaneously in a matter of minutes. When cooking, all you need to do is set the time and wait until the meals are ready.
Programmable
An Instant Pot is programmable. The digital panel included allows users to set cooking programs easily, which gives the user full control of the outcome of the cooking foods.
Disadvantages of Instant Pot
The Instant Pot, though great, does come with a few limitations that include:
Lower PSI
The Instant Pot, being an electric pressure cooker, has a lower PSI compared to other stovetop pressure cookers. This means that you need at least ten additional minutes to prepare food compared to stovetop cookers. If you need to cook food quickly, then a stovetop cooker may be a better option for you.
Cost
Instant Pots can be a bit costly in comparison with other pressure cooker brands in the market. If you are just starting out in a pressure cooker, it may be worth exploring other affordable alternatives in the market.