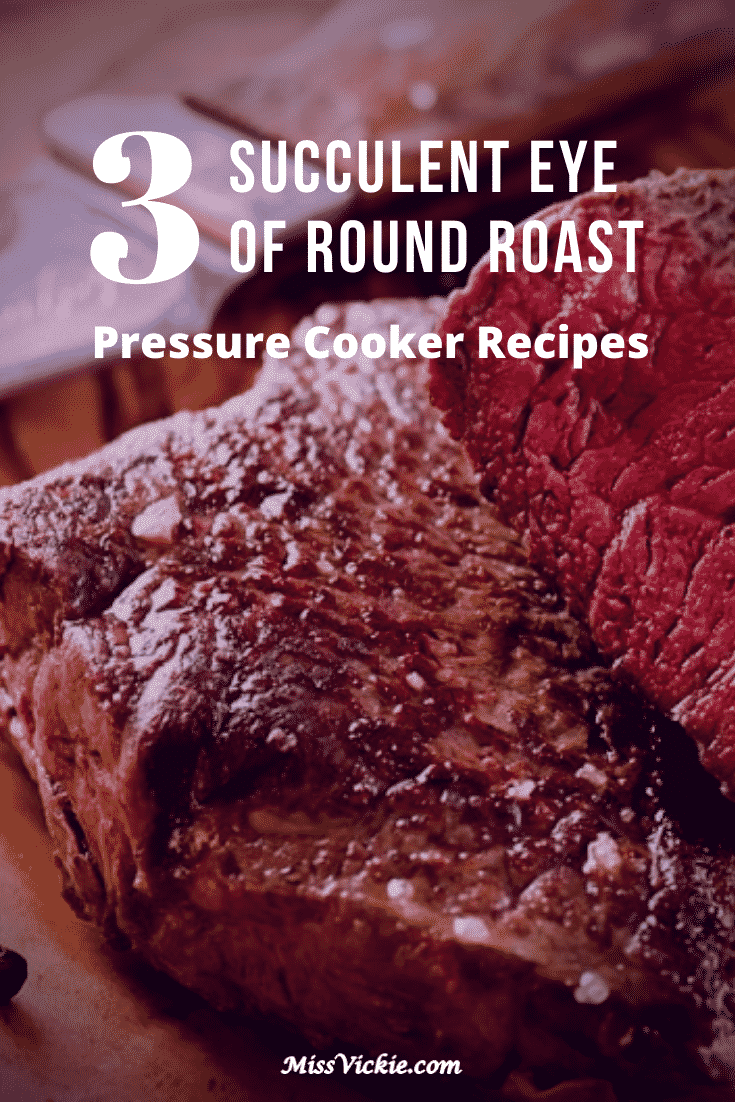 Eye of Round Roast Pressure Cooker Recipe
1. Natural Eye of the Round Roast
Ingredients
1 cup of water
1 eye of the round roast
Himalayan salt
Pepper
Garlic powder
2 or 3 tablespoon oil
6 carrots
1 onion
2 or 3 tablespoons minced garlic
Directions
About 1 hour before properly cooking the roast, take it out from the fridge so it can steadily come to room temperature.
Season the roast gently all over with pepper, garlic powder, and salt.
When it is at room temperature, pour oil in the pressure cooker and then press the sauté option.
Sear the roast properly on each side, then deglaze it (liner) with the cup of the water.
After that, turn off the pressure cooker and add in veggies and mix it.
Put the roast carefully on top – fat side up.
Place the lid on top and then seal the vent properly.
Cook it on manual as 25 minutes or more.
Let sit it 15 minutes before carefully venting. The internal heat should hold around 140F.
Nutrition Facts (For Per Serving): calories: 443; fat: 20.3g; carbohydrates: 22.4 g; protein: 18.6 g; cholesterol: 67 mg; sodium: 827 mg.
2. Eye of the Round Roast with Vegetables
Ingredients
1 tablespoon all-purpose flour
1 teaspoon paprika
1 teaspoon dried oregano
1 teaspoon garlic powder
1 teaspoon onion powder
1 teaspoon pure salt
1 teaspoon ground black pepper
3.5 pounds eye of the round roast
6 Yukon Gold potatoes
2 carrots
2 stalks celery
2 sweet onions
1 cup of beef broth
1 or 2 cup Marsala wine
1.2 ounces dry beef gravy mix
Directions
First, mix the oregano, paprika, garlic powder, salt, black pepper, and onion powder in a bowl; then rub smoothly over roast.
Prepare the carrots, potatoes, onions, and celery at the bottom of a pressure cooker.
Place roast properly atop vegetables.
Next, whisk the Marsala wine, beef broth, and gravy smoothly in a dish; pour properly over the roast and vegetables.
Cook it on Low continuously until meat is thoroughly cooked and the vegetables are correctly tender about 5 hours.
Strain the sauce into a dish and then whisk it with the flour till thickened smoothly.
Serve it nicely on the side of the roast and vegetables.
Nutrition Facts (For Per Serving): calories: 395; fat: 19.2g; carbohydrates: 22.3 g; protein: 25.6 g; cholesterol: 72 mg; sodium: 700 mg.
3. Eye of the Round Roast (Marinated Apricot)
Ingredients
2 tablespoons vegetable oil
1 cup of heavy cream
Salt and pepper
1 cup of water
3 cups of beef broth
Cider vinegar
1 cup of apricot of preserves
1 teaspoon salt
1 onion and carrot
3 teaspoons pickling spice
4 pounds eye of the round roast
Directions
In a saucepan above medium-high temperature, combine the beef broth, water, vinegar, salt, apricot of preserves, onion, pickling spice, and carrot.
Stir them together and then bring it to a boil.
Next, remove it from the heat, refrigerate and cover it until thoroughly chilled.
Put the roast in a 9×12 inch baking dish, then pour the chilled marinade above the roast, and cover and properly refrigerate it for up to 22 hours.
Then preheat the pressure cooker carefully to 350 degrees F.
Heat the oil carefully in a pressure cooker above medium-high temperature.
Place the roast properly in the pressure cooker and then sear the meat smoothly, browning it well on each surface.
Season it with pepper and salt to try, return chicken in the baking bowl and then cover it.
Bake it at 352 degrees F for 1 hour.
Separate it from the oven and then let the meat keep rest for 6 to 8 minutes.
Meantime, to prepare the gravy, shift the sauce of the baking bowl to a blender and properly puree it until soft.
Then smoothly pour it into a saucepan above medium temperature.
Stir in the cream properly and simmer it until frozen, about 10 to 15 minutes.
Finally, slice the meat and then serve it with the sauce.
Nutrition Facts (For Per Serving): calories: 400; fat: 21.9 g; carbohydrates: 35.8 g; protein: 18.5 g; cholesterol: 56 mg; sodium: 900 mg.