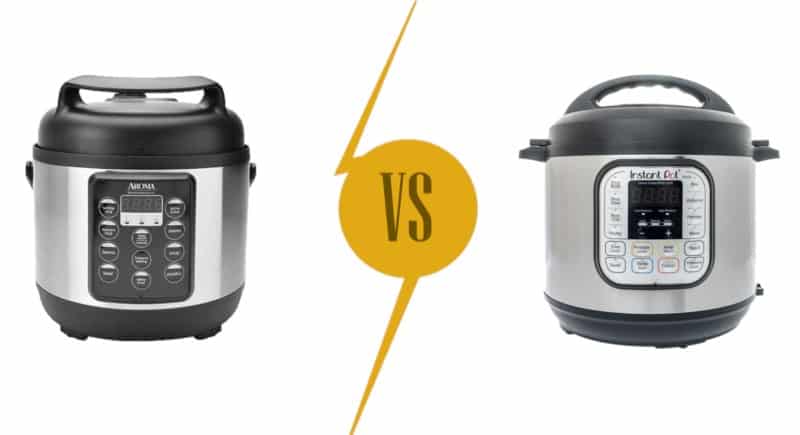 Aroma Pressure Cooker vs. Instant Pot
Pressure cookers are ideal for busy cooks. Pressure cooking is 70% faster than conventional cooking and if you are interested in saving energy and get money off your bills, this all in one kitchen appliance is the way to go. A pressure cooker enables you to cook cheaper cuts of meat without requiring hours of cooking. The new generation of multi-function pressure cookers offer a range of functions including slow cooking and steaming, good for your health and your pocket.
We take a look at two multi-function pressure cookers; the Aroma Pressure Cooker and the Instant Pot and find out how they compare.
Aroma Pressure Cooker
Aroma is an American company based in San Diego California. The company has been in operation for 40 years and they specialize in a range of kitchen appliances for domestic and for commercial use.
There is a range of Aroma Pressure Cookers; sizes range from the tiny 2 qt pot up to the 5-liter model. There is also a 20 cup model that is the equivalent of 6 qt.
The 6 qt Aroma Professional Pressure Cooker has all the usual functions of the multicooker plus a couple of added twists. It can be used as a slow cooker, there is a sauté then simmer function which looks useful because it is an easy way to brown meat before cooking under pressure.
You can use it to make cakes, cook rice, casseroles and cook poultry and meat. There is not a yogurt making function but as many people never actually make yogurt this will be unimportant to most users.
The Aroma Pressure Cooker looks old fashioned but not in a good way. It has a light tan finish which makes it look a little dated and although the control panel looks perfectly functional, it does look a little boring. That said there are 14 different presets and a choice of three pressure settings. There is also a timer function that has up to 15 hours delay so you could add your food to the pot and leave it to cook automatically.
The extras are not impressive compared to other multi pressure cookers on the market. It comes with a bamboo spatula and a metal steaming rack but does not include any recipes or meal suggestions.
The Aroma Pressure Cooker is on sale via Amazon for $99.48 so it is reasonably priced but without any customer reviews, it is impossible to know how it really performs and whether people enjoy using this pressure cooker.
Pros
Established brand
The Sauté then Simmer Function sounds useful
Cons
The design looks very dated
No customer feedback
It seems very basic compared to other models.
Instant Pot
Instant Pot is the USA's most popular pressure cooker brand. The company brings out new models on a regular basis with new added extras and the appliances look current and fashionable.
You can choose from a range of size options; from 3qt upwards and there are some color variations too. The Instant Cooker generally features a stainless steel pot and black lid but is also available in red or even a vintage floral design.  The control panels are clear and modern looking. We like the blue digital display but it is also available in black and red depending upon the model.
Instant Pot offers numerous cooking functions. You can pressure cook, slow cook, there is a timer, a yogurt maker, rice cooker and much more. The Instant Pot has numerous preset options for cooking different types of food such as; Make soup, broth, rice, bean, chili, and porridge. You can also cook meat and fish in various ways including roasting and casseroles.
Precise functions vary according to the model so it is important to read through the specifications before you buy. One Instant Pot model (Instant Pot Max 9 in 1) is suitable for canning for example.
Customer feedback for the Instant Pot is extensive. The most popular models on sale such as the Instant Pot Duo Evo and the Instant Pot Duo Nova Mini have both reached almost 30,000 reviews on Amazon alone.
A great point about the Instant Pot is that it is extremely easy to use. The Instant Pot is so easy to operate it is practically idiot-proof so it is great for inexperienced cooks without compromising on versatility if you are more advanced.
You could use the Instant Pot for years without ever moving away from the preset options and with a free recipe book with every purchase plus access to the Instant Pot recipe website, you have plenty of great menu ideas to choose from.
Price-wise, the Instant Pot is in line with other brands and price will depend upon the size, model and availability. At the time of writing the Instant Pot 60 Duo Plus 6 qt model was on sale for $64.99 making this a great deal.
Pros
Wide choice of models
The USA's no#1 pressure cooker brand
Stylish and cutting edge technology
Cons
Does not come with a guarantee as standard
In Conclusion
We are not very impressed by the Aroma Pressure Cooker. The design seems extremely dated and old fashioned and the pressure cooker itself seems a little basic. Unless you are an experienced pressure cooker cook you will probably struggle with using it and there does not seem to be any advice or recipes available to the new user. Customers on Amazon are obviously not flocking to buy this pressure cooker; it seems extremely unpopular.
By contrast, the Instant Pot caters to people who are new to pressure cooking and with its cutting edge technology and modern look; it looks like an exciting addition to your kitchen. In addition, it is extremely easy to use, popular with customers and well priced.
The Instant Pot just looks so much better than the Aroma that it is an easy decision. The Instant Pot is the better buy for customers by a long way.