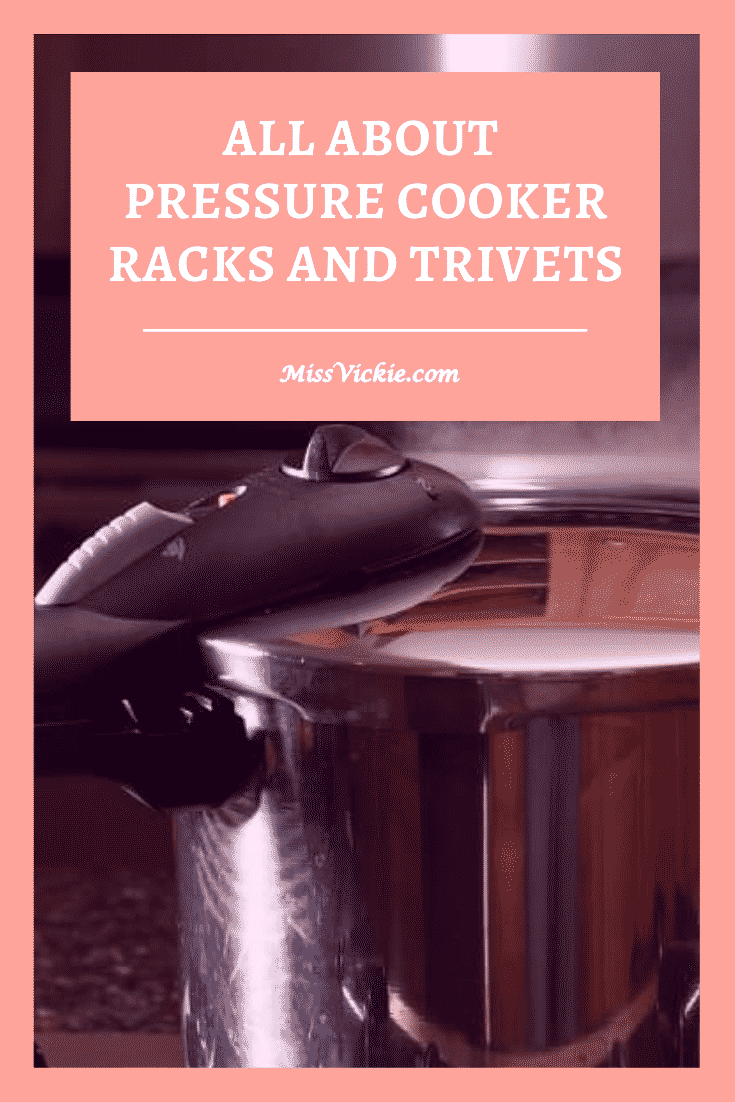 Pressure cookers are excellent for cooking different meals. Some foods cooked under pressure will turn out excellently when you keep the food above the bottom of your pressure cooker. This is the purpose of racks and trivets.
The foods suspended on racks are cooked under pressure for the cooking time specified in your recipe. Racks are important because they help you prevent the food from scorching or becoming totally ruined.
All About Pressure Cooker Racks and Trivets
The racks that come with your pressure cooker may vary in its features. For example, some racks are made from stainless steel, aluminum, while some pressure cooker manufacturers make their racks from tough plastic that can withstand the pressure generated in the cooker. It is usually indicated on the packaging if there is a rack or trivet included as accessories for a pressure cooker on sale. You should consider the availability of this feature before purchase because you will surely need to use racks and trivets while cooking different types of meals.
You may find some racks made from tough wireframes. However, racks perform similar functions regardless of the materials they are made of, while racks can have different sizes, you can use them interchangeably and still get the desired results. However, if you will be cooking big pieces of food often, you should avoid smaller racks because they may not hold the size of meats or other foods pieces you want to cook under pressure.
Racks are raised higher than the base in pressure cookers by solid legs, three or four, to a height of about 1 inch or more. In pressure cookers, you will mostly get racks made from plastic materials.
Discolored racks
The pressure cooking can make your racks become discolored over time. This is usually the case when your rack is made from aluminum. The intense pressure causes some features that indicate fading. You can prevent your aluminum racks from discoloring by adding a teaspoon of lemon juice or vinegar to the water in your pressure cooker.
How to use racks and trivets
Racks and trivets can be used in different ways. The important thing to note is the specific instructions in your recipe. If you follow the guide, your foods will turn out excellently every time. Racks are mostly used to prevent scorching, which is difficult to avoid when you put the food directly on the bottom of the pressure cooker. Pressure cookers that do not have a 3-ply bottom increase the chances of scorching. With a good rack, this can be avoided.
Racks can be used to cook all types of meats, pasta, soups, and sauces.
Difference between a rack and trivet
Racks and trivets are designed to be used in different situations. The main difference between racks and trivets is that the racks are suitable for steam cooking foods that should not be in contact with the water. On the other hand, trivets are used when you need to cook dishes that require a small pan such as cooking cheesecakes pudding, custard. Trivets provide a surface area that can hold the containers holding your food. Racks can be arranged over each other; it is possible to have more than one rack in your pressure cooker, depending on the size.
Common problems encountered when using racks or trivets
You may need to replace your rack when one or more of the legs is damaged. It will be difficult to keep the rack well balanced if this happens. Thankfully, racks and trivets are not very expensive, so you can find similar models to buy as a replacement.
If you have bought a brand of pressure cooker that does not come with a rack or trivet, you may also need to buy any of the regular models in the market that will fit in the pressure cooker. If you have a choice, it will be best to buy racks or trivets made from stainless steel.
Using food cans to support racks
Some cooking processes may require extra support for stability, which may be difficult to achieve with a rack. There are some homemade tips you can use in such situations. Clean some food cans; you can use cans for baked beans or tuna. After cleaning the empty cans, bore some holes in the base and place them in an inverted position in the pressure cooker. Now, you have a higher and stable base for your rack. Place the rack over the food cans and proceed with steaming the food.
An alternative to using old food cans is a collapsible steamer basket; they can have multiple tiers to hold more food in the pressure cooker. These baskets are made from stainless steel, and they have legs that measure as long as one inch to provide enough clearance over the water.
You will need to use a mold with the steamer basket because the mesh is too big and small foods such as vegetables or beans cannot be placed directly on the surface.
Since the invention, racks, and trivets have been very useful accessories when cooking with the pressure pot. Now you can cook more foods under pressure quickly. Many of the problems encountered when using racks or trivets have simple solutions you can implement independently. Also, you would not need to worry about your rack or trivet becoming damaged because they are made from tough materials and replacements are also easy to buy.
Racks and trivets are a significant improvement from the use of ceramic kitchenware which the early users of pressure cookers relied on when they needed to steam cook foods.
Using trivets as racks
If you have received a trivet instead of a rack with your pressure cooker, there is no need to worry. Many trivets can also be used as racks. However, racks may not be used as trivets because the containers holding your food must be well balanced to avoid spills. Cooking meats with trivets is simple, place the meat cut on the trivet as if it were a rack and set it in a pressure cooker. This can also be done for vegetables or fruits you need to steam.