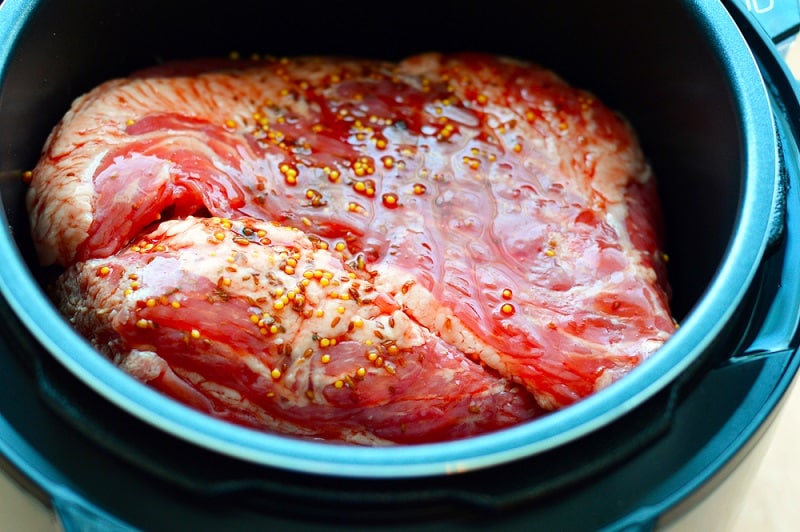 Did you know that pressure cooker corned beef is straightforward to prepare and so delicious? It yields the most succulent, tender corned beef you have ever sampled! Plus, it only takes a fraction of the time it would take you to cook in the slow cooker, stovetop, or oven. Once you have cooked your corned beef this way, you will use it every time!
While we are dealing with using an electric pressure cooker in this article, the principles and times will work for the old-fashioned stovetop models too.
How Long Do You Cook Corned Beef In An Electric Pressure Cooker?
Of course, there are many ways to cook corned beef, from doing it in your oven to slowly stewing it on the hob. However, we believe this method gives you the best flavor in a fraction of the time.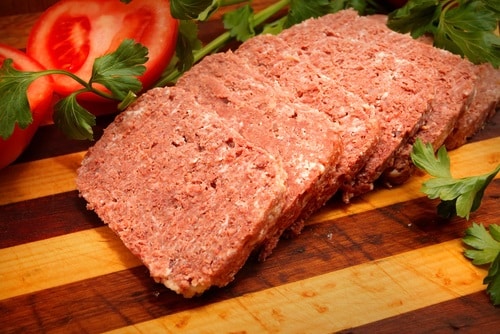 Depending on the size of the cut, you will need approximately an hour and a half of cooking time plus another ten minutes for the pressure to release and the meat to rest. This resting time at the end of cooking also allows the beef to absorb more of those delicious cooking juices.
Corned beef is traditionally a St Patrick's Day or Christmas Day dish, but we think that with this quick and easy method, it can become part of your regular family menu. Cook a piece on the weekend and enjoy it on your sandwiches throughout the week.
Follow our simple guide here to prepare the juiciest corned beef cooked to perfection. You could be sitting down to a meal in less than two hours from now… in just over an hour from now.
How to prep corned beef for an electric pressure cooker
Ingredients
3-pound corned beef brisket
4 cups (1 liter) of stock, ginger ale, or beer
2 peeled cloves of garlic, crushed
1 tablespoon hot English mustard
1 large onion – peeled and chopped
1 tablespoon freshly grated ginger root
A few black peppercorns
2 bay leaves
Directions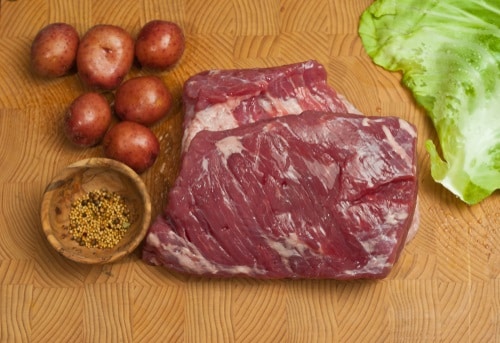 1. The first step is to prep your corned beef. Bring it to room temperature, then remove its packaging.
2. Rinse it under cold running water and pat it dry with paper towels. Corned beef usually becomes gummy due to long periods of storage, so rinse this gel layer away. Rinsing will also remove some of the excess salt.
3. Rub the meat all over with the garlic, mustard, and grated ginger.
4. Now, set the corned beef on the rack of your electric pressure cooker. Top it with the sliced onion, peppercorns, and bay leaves.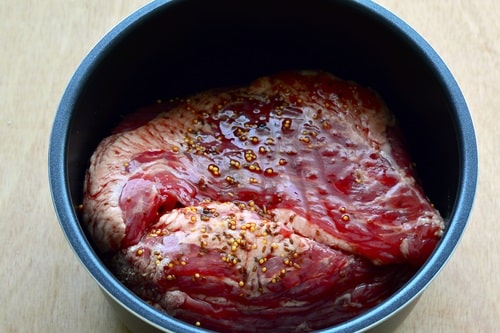 5. The next step is to add the liquid. Pour it around the edges so that you don't wash the seasoning off the meat. You can make use of chicken, beef, or vegetable broth. Alternatively, ginger ale or beer. Any of these works well and adds flavor to the meat. If you do not have any of these to hand, use water.
6. Now it's time to pressure cook the corned beef. First, secure the lid and turn on the cooker to high heat. Allow the pressure cooker to do its work for the full hour and a half while you go and put your feet up.
Alternatively, you can use the time to prepare some mashed potatoes and vegetables to serve with the meat. Carrots and cabbage are popular choices. After the time is up, turn off the cooker and allow it to naturally release the pressure for ten minutes. This will allow the pressure cooker to let out pent-up pressure within the vessel and the meat to rest.
7. You may now open your pressure cooker and remove the corned beef from the cooking liquor.
Corned beef can be served hot with potatoes and vegetables or used cold in sandwiches. It pairs very well with mustard and pickles. Remember to carve it into thin slices against the grain for best results. Leftovers can be sliced and frozen for picnics or sandwiches later.
We hope you find our instructions useful. Do let us know how your pressure-cooked corned beef turned out!