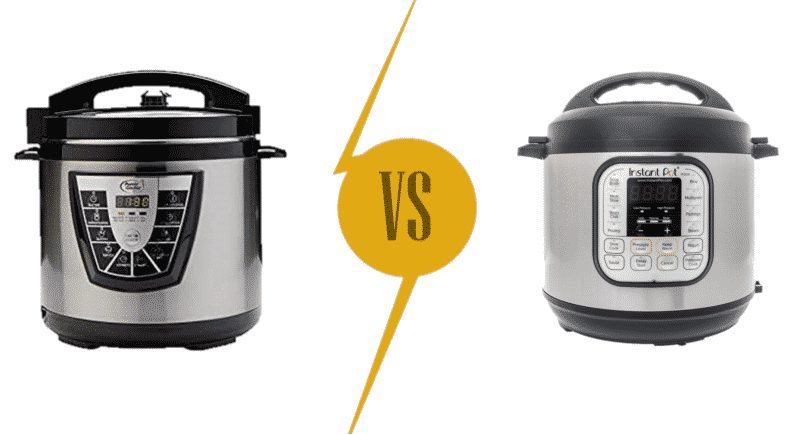 Power Cooker vs Instant Pot
Pressure cooking is becoming increasingly popular with customers attracted to the speed and the many uses of the multi-function electric pressure cookers on the market today. Instant Pot is the best-known brand, but there other makes on the market too. So let's take a look at how the Power Cooker vs Instant Pot range is put into comparison.
Power Cooker
The Power Cooker comes in a range of sizes from the most popular 6 qt size right up to 10 qt size. They look great! We love the choice of colors; silver, copper, blue or red so you can choose the finish that will best suit your kitchen – it's a little detail, but we like it!
The Power Cooker looks very simple to use. The clear interface and digital display give you a wide choice of options. There are preset functions for; slow cook, rice/risotto, beans and lentils, vegetables including a steam function, and soup and stew. There is also an option for canning, which will please consumers because not all pressure cookers are suitable for this function.
We like that the sauté function is controlled by a button in the middle of the interface – this is a frequently used setting, so it is convenient to have it in this central position. There are 3 pressure settings too and a choice of settings for cooking different types of rice. Also, there is the usual timer/delay button, and a keep warm setting.
According to the product information, the outer pot is constructed from stainless steel, so at first glance, this looks to be of high quality. However, according to many customers, the inner pot is aluminum and coated with Teflon, described as non-stick, and there have been instances of this wearing off and going into the food. Many people have concerns about cooking with aluminum as well, so in our opinion, the inner pot does let the Power Cooker down.
The Power Cooker comes with a free recipe book, which is a nice touch, and many customers are satisfied with this kitchen appliance. However, there does seem to be a high number of customer complaints. These include; the Teflon wearing off, the time it takes for the pressure cooker to come up to pressure, and technical issues, which is disappointing.
Price-wise the Power Cooker is more expensive than the comparable sizes of Instant Pot models.
Pros
Easy to use
Can be used for canning – well priced for a pressure cooker that has this capability
There is a year-long manufacturer's guarantee
Cons
Inner pot is constructed from Teflon coated aluminum
A high number of customer complaints about malfunction
More expensive than the Instant Pot models that do not provide that canning option
Instant Pot
As with the Power Cooker, the Instant Pot range offers a wide choice of sizes and features. This company is always developing new products and adding extra features.
The most popular model, as well as the most inexpensive, is the 6 qt Instant Pot Duo Nova. However, if you want a multi-function pressure cooker that also can be used for canning, you will need to pay more. For example, the Instant Pot Max 9-in-1 offers canning, as well as other options including sous vide, steaming, and yogurt making. This costs around $149.00, more than twice the price of the Instant Pot Duo Nova.
A good point about Instant Pot is that you can choose the model with the functionalities you need, rather than paying extra for those that you don't. Another great benefit is that even the most basic Instant Pot models do provide excellent value for money.
The Instant Pot Duo Nova, for example, can be used as a steamer, slow cooker, rice cooker, and yogurt maker. Besides, there are added 14 one-touch pressure cooking settings as well as the sauté function, timer/delay button, and warmer.
The Instant Pot is easy to use. And with the added resource of the website and app, you can access thousands of recipes and tips for applying.
Price-wise, you do tend to get what you pay for. The Duo Nova costs around $69, but the more sophisticated models with additional functionalities are unsurprisingly more expensive. However, all Instant Pot models have a stainless steel inner pot as standard so you can be confident that your food is safe and will not become contaminated with Teflon.
Pros
Well known brand – the most popular in the USA
Easy to use
Well priced. You have a wide choice of models and functions.
Cons
There are some issues with customer service and claiming a refund in the case of malfunction
The customer feedback for the Instant Pot Max is not overly positive
Does not come with many accessories
What can we conclude from this Power Cooker vs Instant Pot comparison?
The Power Cooker is let down by some shoddy construction. Many people have had problems with the Teflon coating of the inner pot, and in our opinion, pressure cooking with Teflon is not a good idea. One timing accident with food being stuck to the base of the pot will dislodge the Teflon, and then your pressure cooker is essentially useless.
In addition, the Power Cooker does not provide as many functions. Yes, you can use it as a canner which will suit some consumers, but you don't have the easy to use preset options which are standard on the Instant Pot.
The Power Cooker does have some good points, but in our opinion, an Instant Pot wins hands down every time.
Related Video: