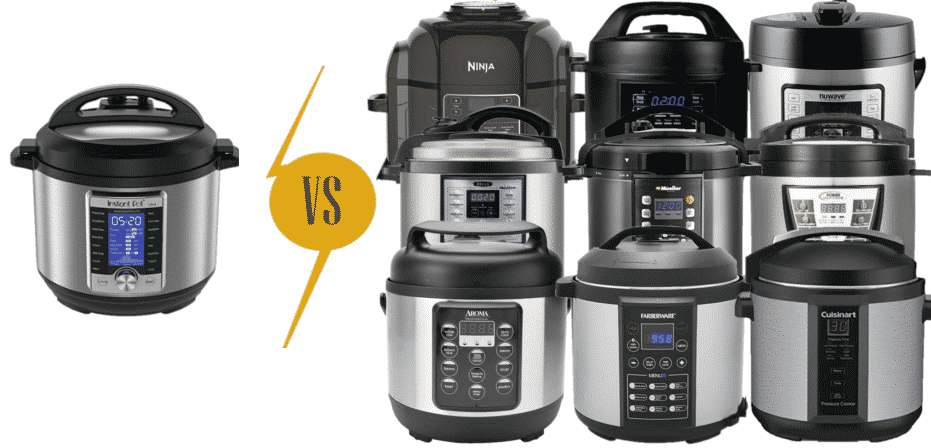 Instant Pot vs Electric Pressure Cooker
The Instant Pot is a multi-function electric pressure cooker that enables you to cook in several different ways using this one kitchen appliance. These days most other electric pressure cookers on the market do the same; although the principle function is always pressure cooking, you can usually carry out more operations using the same appliance. So let's take a look to see if it is worth buying the Instant Pot vs other electric pressure cooker brands.
Instant Pot
The Instant Pot is the number one brand for multi-function pressure cookers. All models enable you to pressure cook very easily by using the preset options. Pressure cooking can be tricky because you do need to ensure you cook at the correct pressure for the required amount of time, so the Instant Pot makes this easy by providing these preset options such as ribs, meat, pulses and beans, poultry and more.
You simply add the food and the required amount of water, hit the button, and your meal is cooked within a fraction of the time of conventional cooking without any fuss, hassle, or drama.
The Instant Pot also enables you to cook in different ways. All Instant Pot models double as a slow cooker, a steamer, a rice cooker, and a yogurt maker. Added features include a sauté option and a warming function. The Instant Pot is well made with the inner pot fabricated from stainless steel, and this brand is known for its durability.
Depending on the model you buy, these options can be extended to a canner, and some models also have a built-in altitude calculator – ideal if you live above 2000 feet because you don't have to carry out your own calculations.
The Instant Pot is renowned for being extremely easy to use. Once you are a customer, you have access to a massive resource of recipes and cooking tips via the official website and app.
With thousands of customer reviews and some great prices, the Instant pot is undoubtedly the market leader when it comes to multi-function pressure cookers. The company is always looking to improve and innovate, and regular models are frequently tweaked and updated. That said, many customers consider the Instant Pot Duo the best in the range, and despite the fact that it is not the latest model, it remains the most popular on the market.
Pros
A brand you can trust
All Instant Pot models can carry out at least 7 different cooking functions
Pressure cooking made easy thanks to preset buttons
Cons
Some of the later models are not as popular as the Duo
Electric Pressure cooker
These days all electric pressure cookers perform a variety of added cooking functions. We have been unable to find one that doesn't. Some of these, although not all, are copies of the Instant Pot, and although many of them look identical, they can have severe issues of quality, especially if they are bargain priced by comparison.
As with the Instant Pot, most electric pressure cookers can double as a slow cooker, rice cooker, steamer and warmer. They all have a warming function, and they all come with preset options for pressure cooking.
Some of these electric pressure cookers do look quite basic. We checked out one model made by Aroma Housewares and thought it looked pretty complicated to use in comparison with the Instant Pot. The only preset options are white rice, brown rice, oatmeal, and risotto, and although the advertising states that the pressure cooker is versatile, it is just not as easy to use as the Instant Pot.  This means it is probably perfectly suitable for a range of pressure cooking recipes, but you will need to know how to use a pressure cooker before you use this one.
All pressure cookers have an inner liner – the pot which you use for cooking and materials can vary. The Instant Pot uses a stainless steel liner whereas some other makes use Teflon coated aluminum. Customers have complained that the Teflon does rub off over time and have voiced concerns about cooking in aluminum under pressure.
Not all electric pressure cookers fall into the bargain basement category. There are some excellent models on the market made by reputable companies. However, you do need to research before you buy in order to be confident that your multi-purpose pressure cooker does not turn out to be a waste of money.
Pros
Some models can be much cheaper than Instant Pot
Some excellent electric pressure cookers available
Most electric pressure cookers carry out a range of functions
Cons
We tend to get what we pay for, so a cheap model is not necessarily best!
No other pressure cooker brands are as well known as Instant Pot
Most electric pressure cookers are not as easy to use as Instant Pot
Instant Pot vs Other Electric Pressure Cookers: Conclusion
Instant Pot might not be the best electric pressure cooker on the market, but this well-known brand is a fantastically safe bet for customers. The Instant Pot is sold in hundreds of thousands; you have plenty of online support, recipes, and tips for using. You know exactly what you are getting before you buy it. The Instant Pot makes pressure cooking easy, too, so you don't need any prior experience to use this pressure cooker successfully.
Other electric pressure cooker brands just don't have the same benefits. Yes, there are other good quality models on the market, but many are inferior copies of Instant Pot, and we have never found a pressure cooker that is quite as easy to use.
If you are considering taking the first steps into pressure cooking, the Instant Pot wins hands down.