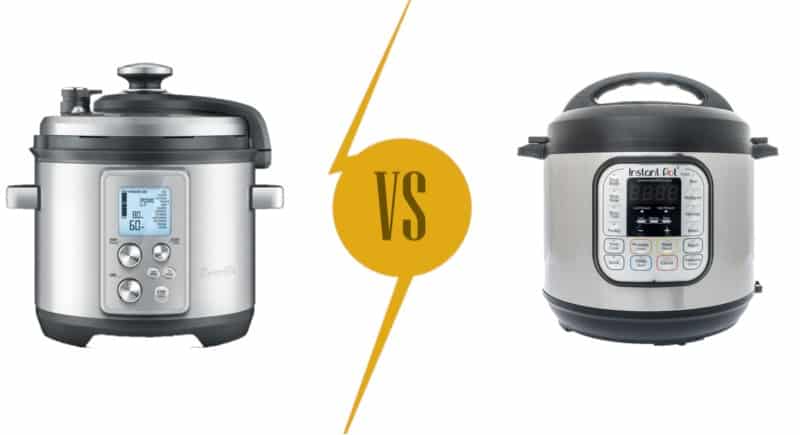 Breville vs Instant Pot Pressure Cooker
Pressure cookers are becoming increasingly popular as more and more customers discover the convenience and benefits of pressure cooking.  However, with multi-function appliances, it does not stop there! Today's pressure cookers have a wide array of added features too such as slow cooking, steaming, rice cooking, and more.  The Breville Fast Slo Pro is a pressure cooker-slow cooker combination. Instant Pot has a wide range of features, so which of these looks best? We take a look at Breville vs Instant Pot to find out more.
Breville
Breville is a USA company that was probably best known for its toasted sandwich maker, which first came on the market back in the 70s. The sandwich maker is still in production (and if you have never tried a Breville toasted sandwich, you are certainly missing out). Today the company produces a wide range of useful quality appliances, including pressure cookers.
The Breville Fast Slow Pro is a good-looking pressure cooker/slow cooker. Available in a 6-quart size and with a brushed stainless steel finish, it looks to be a good quality that would suit the most upmarket of kitchens. The cooker has a bright digital display unit plus engineered stainless steel control knobs. The inner lining is high-quality ceramic, which can double as a serving bowl.
Breville Fast Slow Pro is easy to use. You have a choice of 11 preset pressure cooking options such as; vegetables, rice, meat with bone, stocks, and beans. There is also a custom setting, so you can program the cooker just how you like. For slow cooking, you can choose between High to Low setting and set the slow cook function to between 2 to 12 hours. You can also carry out other features such as sauté, sear, steam, and there is a keep-warm function too.
There is a lot to like about the lid and the safety functions. The pressure functionality employs temperature sensors at the bottom of the bowl and also in the lid to regulate heat. There is a three-way pressure release system that enables you to release pressure hands-free – minimizing the risk of scalds or burns.
All parts of the pressure cooker; the lid and the bowl are dishwasher-proof and easy to maintain, and because Breville is a well-established company, you will always be able to buy spares and accessories for your pressure cooker.
The Breville Fast Slow Pro is one of the more expensive pressure cookers on the market. It costs around $249.00 for the 6 qt model, so it is far pricier than the Instant Pot. However, it is covered by a year's warranty if you buy direct from the company.
Customer feedback is generally positive, although not as extensive as the feedback left by Instant Pot customers.
Pros
Well-made and attractive kitchen appliance
Great safety functions
1-year warranty available
Cons
Expensive
Not very much customer feedback available
Instant Pot
Instant Pot is the market leader when it comes to pressure cookers sold in the USA, and with hundreds of thousands of satisfied customers, it is hard to say a bad word about this company or their pressure cookers.
First up, the Instant Pot is versatile and easy to use. You can find a wide range of sizes and functions, so it is possible to find the perfect model for your needs. We checked out the 6 qt model, the Instant Pot Duo Pro. At the time of writing this and it had attracted over 51,000 customer reviews, mainly positive, so this pressure cooker is certainly hitting the right spot with most people. Functions include; slow cooker, steamer, sauté, warmer, and yogurt maker.
You can also choose from 14 one-touch smart programs to cook pretty much on autopilot. You add the food to the pressure cooker and hit the correct button, such as casserole, rice, steam, or more, and your food is fully prepared within a fraction of the normal cooking time.
Although we love the Instant Pot, there are a couple of concerns. The pressure cooking range is not covered by a valid warranty or guarantee, so if things do go wrong, you are on your own. Besides, most customer complaints relate to the unhelpful customer service team. Other claims include questions about durability and the Instant Pot failing to work.
Despite these slight concerns, it is essential to remember that the sheer volume of numbers makes the Instant Pot a pretty good investment. And at around $79 for the Instant Pot Dup Pro, you certainly get a lot of bang for your buck in comparison.
Pros
Versatile
Well priced
Very popular with customers
Cons
Some issues with durability
Customer service general criticized as being awful
What Can We Conclude From The Breville vs Instant Pot Comparison?
There's an adage that says you get what you pay for, and in this case, it does seem that the Breville Fast Slow Pro is the superior appliance. We love the classy finish and the appearance of the pressure cooker, and if this is half as good as the original sandwich maker, it could be that this could be the only pressure cooker you will ever need.
However, the Instant Pot has a lot going for it and is so easy to use and maintain that everyone can use it successfully. Also, the Instant Pot does precisely the same as the Breville Fast Slow Pro, plus a little bit more and at a much more competitive price too.
We cannot, in all honesty, therefore, recommend that people commit to the more expensive model. Yes, you will probably enjoy using the Breville Fast Slow Pro, and many people are extremely satisfied, but the Instant Pot offers so much for such a low price that we cannot advise anyone not to buy it!