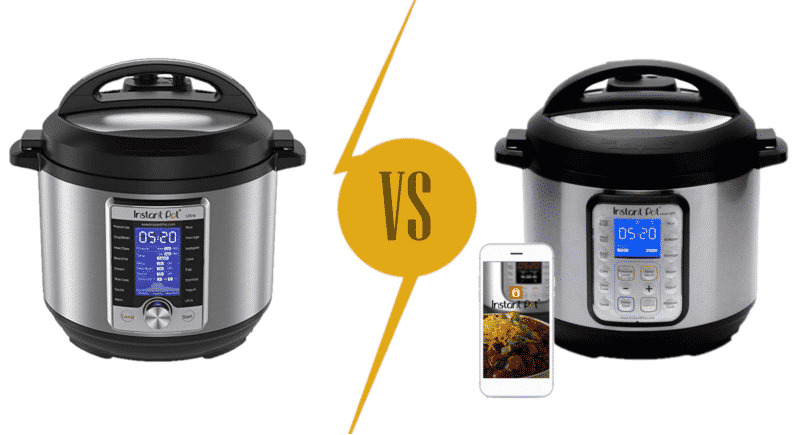 Instant Pot Ultra vs Smart
The Instant Pot brand is well known for technical innovation because this company is always bringing out new models of pressure cookers with added features. Two of the later models on the market are the Instant Pot Ultra and the Instant Pot Smart. But is there really anything that makes one stand out over the other? We take a look at Instant Pot Ultra vs Smart to find out.
Instant Pot Ultra
The Instant Pot Ultra is available in a choice of three sizes; 3qt, 6qt, and 8qt, so it is ideal for a range of family size, although most people choose the 6qt as this size is the most versatile.
The Ultra replaces 10 kitchen appliances, according to the advertising. It can work as a pressure cooker, slow cooker, rice/porridge cooker, yogurt maker, cake maker, egg cooker, sauté/searing, steamer, warmer, and sterilizer. This sounds impressive, but it is important to remember that you can do most of these functions in the cheaper priced Duo – the most popular Instant Pot model.
According to the advertising, the Ultra is fitted with the most updated 3rd generation micro pressure, so the idea is that the pressure cooker will cook more evenly and effectively than before (although we had never noticed a problem with previous models).
Another new feature is an altitude adjustment setting. This will be fantastically useful if you live at high altitudes because the Ultra will make any necessary adjustments to pressure and cooking time automatically. If you do live at high altitude, this feature makes it worth buying the Ultra alone because it will save you the effort of calculations and is just so much easier to use.
Externally, the Ultra Instant Pot does not look much different from earlier models. The sleek stainless steel pot and the blue interface looks impressive as well as easy to use. The interface is easy to control. There is a central dial that enables you to make precise cooking adjustments, and you can customize settings to your requirements.
The Ultra has lots of capabilities, and although like all Instant Pot models it is easy to use – there are 16 one-touch settings, this model offers you more control over the cooking process than more basic Instant Pot models.
The Instant Pot Ultra is somewhat pricy compared to earlier models, too, but if you love pressure cooking and live at altitude, this could be a fantastic buy. Most customers report that they are satisfied, but there have been some complaints about durability and inadequate customer service.
Pros
Easy to use and very versatile
Has a built-in altitude function
16 pre-set functions
Cons
Expensive
Over-engineered for some users
Instant Pot customer service dept is well known for being extremely unhelpful
Instant Pot Smart
Instant Pot Smart is only available in 6qt size as far as we can tell, but as the 6qt size is always the most popular, in some ways, it seems unnecessary making any other size.
Instant Pot Smart is described as an 8-in-1 kitchen appliance. It functions as a; pressure cooker, slow cooker, rice cooker, yogurt maker, cake maker, sauté pan, steamer, and warmer. There are also 13 different one-touch settings so you can cook diverse dishes such as ribs, soups, beans, rice, poultry, yogurt, desserts and more on autopilot.
Of course, the feature that sets Instant Pot Smart from the rest is that it is WIFI-enabled. This means you can control cooking via your Instant Pot app or by using voice commands via Alexa. This makes the whole cooking process easier, and with the thousands of recipes available on the Instant Pot app, you can certainly transform your menus and mealtimes. You will have to add the food to the Instant Pot Smart physically, but that is about as far as it goes regarding cooking.
That said, customers have left complaints about the WIFI. Many people have struggled to connect, and some customers have complained that they have been forced to sign up for the app before they can use the pressure cooker. However, if you are the sort of person who needs to do everything online, you might feel that your pressure cooker needs to be connected to the Internet.
In all truth, it seems hard to work out the advantages of the Instant Pot Smart. This pressure cooker looks much the same as the Instant Pot Duo but comes with an added cost because of the WIFI signal. And we are struggling to see the advantages. Controlling your Instant Pot Smart via your phone may be a good trick, but do you really want to carry out remote cooking? There seems to be little point.
Customers have bought the Instant Pot Smart. However, with only 78% of customers willing to give the Smart a full 5-star review, this Instant Pot model is certainly not as popular as other Instant Pot models. The Instant Pot Ultra, for example, has generated over 11,000 reviews compared with only 2000 people who have reviewed the Smart.
Overall, people are happy with the usual high quality of this Instant Pot. However, many people feel that the WIFI function does not work and that this function is a waste of time.
Pros
Good quality multifunction cooker
Usual well made Instant Pot construction
Cons
Many customers have had issues with the built-in WIFI
There seems little point to having a smart cooking appliance
Expensive when compared to earlier models.
In conclusion
In some ways, Instant Pot's constant innovation and development of new appliances seem to be carried out solely to sell newly updated products. We are all for innovation, but just creating novelty for the sake of it is unnecessary and unwanted.
When it comes to Instant Pot Ultra vs Smart, we confess that we really like the Ultra. It has added features that the customer may actually want, and we like that this pressure cooker is available in a range of sizes. The Smart, by contrast, seems like a waste of time. It is a novelty to have your multifunction pressure cooker online, but when it comes down to it, there seems to be no real reason why you should bother.
Related Video: