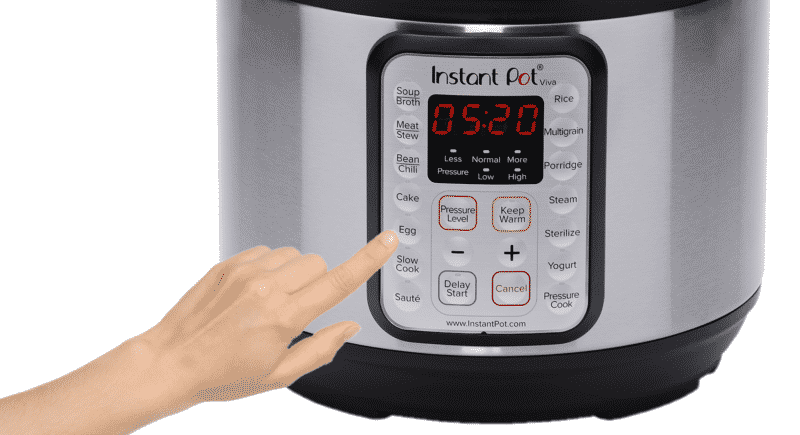 How To Use The Egg Setting On An Instant Pot
Is there any better comfort food than a few hard-boiled eggs? Whether you want them for breakfast, lunch, dinner, or even as a snack when you need to power up, they're fantastic. The only downside is that you have to wait 12-15 minutes over a pot of boiling water in order to enjoy them. Or not! It's about time to learn how to use the egg setting on an Instant Pot.
It's one of the preset functions
Unlike some cookers, there is an egg setting programmed right into the Instant Pot, meaning that it will be as simple as literally pressing a button. The same can be said for many of the Instant Pot's settings, of course! In most pots, it's the fourth or fifth setting. When you hit it, you'll see a preset time of 5 minutes. You can adjust the timing and the use of pressure just like you would with other recipes.
Figure out what kind of eggs you're looking for
As you know, you can enjoy soft, medium, and hard-boiled eggs. The kind you're looking for will determine how long you cook them in the pressure cooker, of course. Soft and medium eggs will be 4 minutes, approximately. Hard-boiled eggs will be 5 or 6 minutes.
How do you use the egg setting on the Instant Pot?
You can fit up to 12 eggs into your pot at one time. Choose how many you want and pierce an end to help the steam escape (optional). Place them on the trivet that comes with the cooker and add one cup of water to the cooker. Put the lid on and then press the "egg" button. The time often is preset to 5 minutes, as mentioned, so you can adjust the time based on what you're looking for. Set the pressure to low and then the start button.
The cooker will take about 5 minutes to heat up before it starts to pressure cook your eggs. At the end of the 5 minutes of cooking, release the steam using the quick release pressure button. Carefully put the eggs into a bowl of cold water to stop the cooking process.
Some cooking factors
If you really like eggs hard-boiled (and not medium), you'll probably want to go for smaller egg sizes (the larger the egg, the longer it takes to cook). Also, don't be afraid to try it for 6 or 7 minutes at first and see if that makes the difference. One of the joys of cooking is adapting cooking techniques to what best suits your needs as they change.
While most don't think of how to use the egg setting an Instant Pot as a priority, it can be exactly what you need when it comes to enjoying your favourite comfort food at any hour of the day with no stress or fuss, cooked exactly to the degree that you want it with little effort. And isn't that what comfort food is all about?
Related Video: