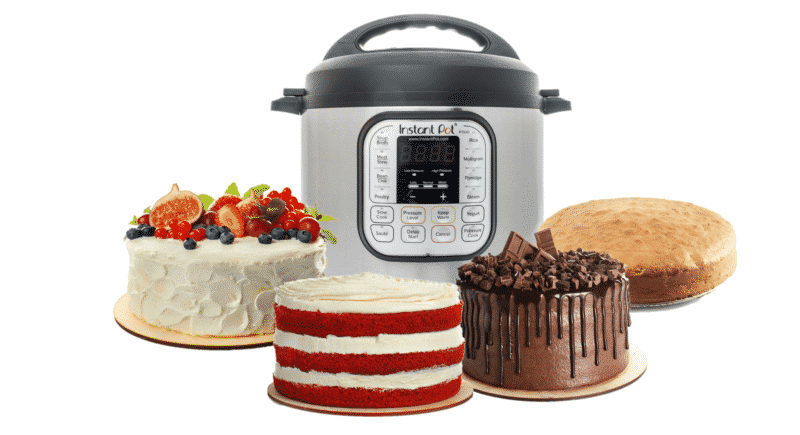 How To Make Cake In An Instant Pot
Not everyone prefers to go out and buy expensive cakes. It is also uneconomical to purchase a cake every day to satisfy your sweet tooth. Similarly, in this monotonous and busy life, not everyone has enough time to bake cake in the kitchen. Taking this into consideration, we will guide you on how to make cake in an Instant Pot. It is an easy and quick way to use the Instant Pot to make cake in less time, and you do not need to be an expert baker!
Our goal is to make your experience in the kitchen as easy as possible and to ensure that your version of this guide is a success.
Ingredients required
You can make different types of cakes, like fruit cakes, cream cakes, and chocolate cakes, etc. Also, there are different types of frosting that you can use to enhance the flavor and delight the cake, like vanilla buttercream, chocolate buttercream, cream cheese frosting, chocolate ganache frosting, and lemon buttercream frosting, etc. To make a cake in an Instant Pot, just follow the procedure after gathering all the ingredients which include, cream butter, sugar, eggs, vanilla flavor, flour, baking powder, vegetable oil, and salt.
Procedure
Cream the butter and sugar. Make a cake mix by mixing them thoroughly with an electric beater until smooth. Add eggs and vanilla in it and mix until you get a smooth mixture. Then add in flour, baking powder, and salt and mix until just combined. Fold in the sour cream. Spray a pan or a steel bowl with non-stick cooking spray so that cake mixture may not stick to it while cooking, and it becomes easier to take out the cake from the pan. Pour the mixture into the pan. Place a trivet and add a cup of water into the pressure cooker and then insert the pan. Next, close the lid of the Instant Pot and set to sealing. Set the time to manual high for 45 minutes. After 45 minutes, allow for a natural release and then check if the cake is fully cooked or not. Use a knife or a spoon to check by inserting them into the cake; if no cake is stuck to the knife, it's cooked. Remove cake from the Instant Pot and let it cool on a cooling rack. Before serving, you can make it look more elegant and give it a more mouth-watering presentation.
How to make it more loveable?
Cake is always loved by all. Both kids and adults admire different types of flavored cakes. If you are going to serve chocolate cake or apple cake, you can also enhance the flavor by adding a scoop of chocolate ice cream or your favorite ice-cream like raspberry or coffee. You can serve an apple cake with salted caramel or bourbon ice-cream. This will boost the fanciness and flavor of the cake. Try this amazing guide at home and enjoy a delicious dessert.
Related Video: