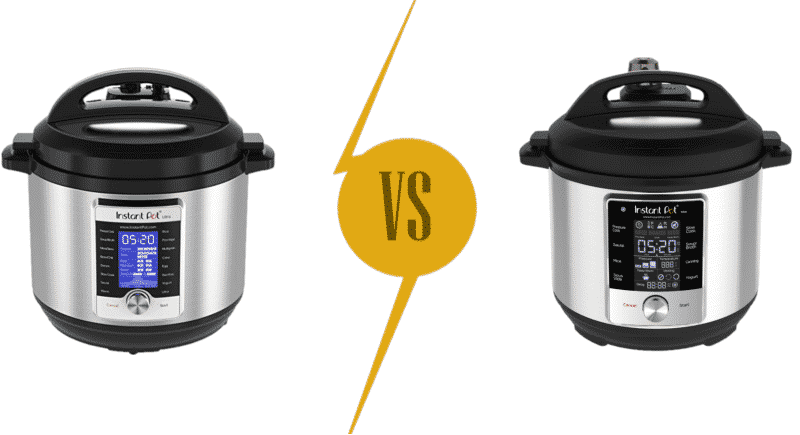 Instant Pot Ultra vs Max
The Instant Pot is America's most loved multi-function pressure cooker brand. And with thousands of satisfied customers who love the ease and convenience of the range, buying the Instant Pot brand seems to be a no brainer! The only difficulty for many customers is trying to decide on the best model for their particular needs. We check out the Instant Pot Ultra vs Max to find out.
Instant Pot Ultra
The Instant Pot Ultra is a 10-in-1 multi-function pressure cooker. This means that it could replace 10 other household appliances by providing you with 10 unique cooking methods. It is available in a choice of sizes; 3qt, 6qt, or 8qt, so it will suit a range of family size.
The Instant Pot Ultra functions as an; electric pressure cooker, sterilizer, slow cooker, rice cooker, steamer, sauté, yogurt maker, cake maker, egg cooker, and warmer, so it is certainly versatile. You might not need your pressure cooker to do all these things, but the choice is there if you want it.
However, it is important to remember that this appliance is essentially a pressure cooker, and for this function, the Ultra works exceptionally well. There are 16 preset one-touch programs to help you, and the good-looking interface layout makes this extremely clear and easy to read. So if you want to cook chili beans or make a soup or broth, you just add your food and hit the button, and the pressure cooker will do the rest!
A great feature of the Ultra is that it comes with a built-in altitude adjuster. Because living above 2000 feet will affect cooking time, this has been a bugbear with many pressure cooker users who have to adjust the cooking time manually. Still, with the Ultra, you just tap in your altitude, and the pressure cooker will automatically calculate for you.
The Instant Pot Ultra is popular with customers. There are over 12,000 reviews on Amazon, and most opinion is positive. However, there are some complaints from customers who have experienced technical issues and have been let down by inadequate customer services. Sadly this is a feature of Instant Pot, and although the products are reasonable, you have no help or no money-back guarantee should things go wrong.
Pros
Good choice of sizes
Great way to pressure cook at altitude
Versatile pressure cooker with plenty of functions
Cons
Customer service team is very unhelpful should things go wrong
Some customers have experienced technical issues
No money-back guarantee
Instant Pot Max
The Instant Pot Max is a 9-in-1 pressure cooker, which means it offers nine separate cooking functions, but the main point about this model is that you can use it for canning. The Instant Pot Max is only available in 6qt size, so this model would be ideal for anyone who wanted a general-purpose pressure cooker and occasionally wanted to can home produce.
Canning is not usually advisable for pressure cookers because there can be issues with contamination and bacteria. However, the Instant Pot Max is designed for this purpose. The Max sustains pressure at 15PSI, which not only cooks faster but also makes canning safe.
Other functions of the Instant Pot Max include; sous vide, slow cooking, sterilizer, yogurt maker, and sauté function.
As with the Instant Pot Ultra, the Instant Pot Max comes with a built-in altitude adjuster. This is a great help to anyone who lives at over 2000 feet as it means you don't have to make your own calculations when it comes to working out cooking time.
Overall the Instant Pot Max looks to be a handy and versatile cooking appliance. However, it has not been overly popular with customers with less than 500 reviews on Amazon and only 79% of opinion positive.
Customer feedback is not overwhelmingly positive. Many customers have complained that this pressure cooker does not work and as ever the Instant Pot customer service team has not been helpful. That said, 79% of customers have been satisfied with the Instant Pot Max.
Pros
Can use for canning
Has a built-in altitude adjuster
Versatile pressure cooker with 9 great functions
Cons:
Not as popular with customers as the Ultra
There are customer complaints about functionality
No money-back guarantee
In conclusion
We like both the Instant Pot Ultra and the Instant Pot Max. These pressure cookers provide plenty of functions, and we love that the Instant Pot Max is suitable for canning. This is not usual with most pressure cookers, and we like that this pressure cooker is family-size. If you wanted to do a lot of canning regularly, the 6qt size might not be big enough, but this size would be ideal for householders and occasional users.
There are some issues regarding Instant Pot Max. It is not popular with customers, and there is very little customer feedback as well as a high level of complaints.
So when it comes to Instant Pot Ultra vs Max, it is a hard decision. Both of these pressure cookers have their advantages, so it comes down to what you need. We prefer the Max because of the canning function, but according to most customers, the Ultra is better.