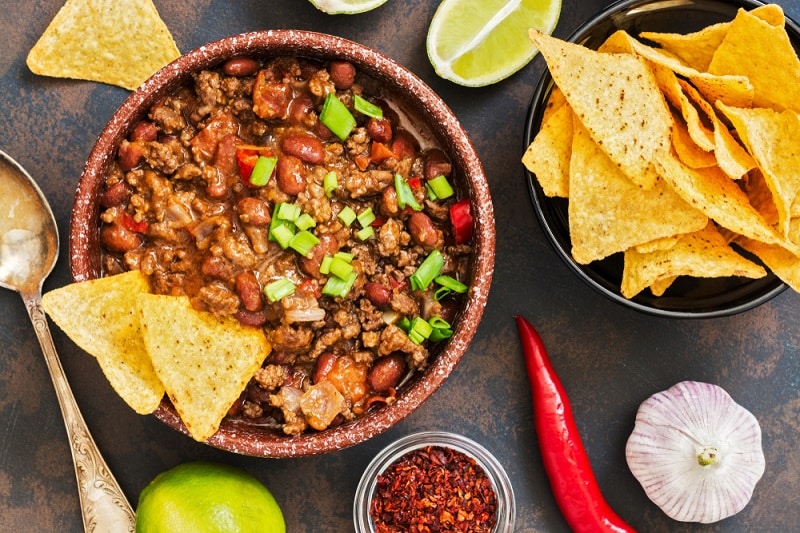 Pressure Cooker Chili Recipe
1. Beef Chili
Ingredients
1 or 2 cup chopped green onions
1 tablespoon vegetable oil
3 cloves garlic
1 onion
1 tablespoon vegetable oil
Salt for taste
1 or 2-pound beef chuck
1 or 2 teaspoon ground black pepper
2 tablespoons ancho chili powder
A teaspoon ground cumin
1 or 2 teaspoons chipotle chili powder
1 or 2 teaspoon cayenne pepper
2 teaspoons Spanish paprika
1 or 2 teaspoons dried oregano
10-ounce canned diced tomatoes
1 or 2 cups of water
1 or 2 cups chopped fresh cilantro
Directions
First, carefully heat the vegetable oil in a skillet over medium-high temperature.
Season the beef smoothly with black pepper and salt; place the meat in the skillet and cook it until brown on all sides, 8 to 12 minutes.
Shift it to plate and set it aside.
After that, heat the vegetable oil over the medium-low temperature in the bowl of a pressure cooker.
Then stir the garlic and onion into the pot; cook it until nearly translucent, 5 to 8 minutes.
Stir in paprika, ancho chili powder, cumin, chipotle chili powder, black pepper, oregano and, cayenne pepper; cook it until fragrant, 3 minutes.
Add in beef, diced tomatoes, and water; stir it to mix.
Then lock the lid of the pressure cooker and increase the temperature to high to build up pressure.
Reduce the heat to low to control pressure; cook it for 14 to 18 minutes.
Remove it from heat and then let rest for 15 minutes.
Make sure that pressure is completely released from the cooker before removing the lid.
Finally, return the uncovered pressure cooker to the stove over the high heat of temperature.
Mix in corn chips and bring it to a boil; cook it for another 10 minutes.
Garnish it with green onion and cilantro.
Nutrition Facts (For Per Serving): calories: 356; fat: 8.7 g; carbohydrates: 8.7 g; protein: 23.9 g; cholesterol: 86 mg; sodium: 279 mg.
2) Classic Chili
Ingredients
2 cloves garlic
1 sweet onion
2 (14.4 ounces) canned diced tomatoes
1 small green bell pepper
2 (14.4 ounces) canned dark red kidney beans
2 teaspoons olive oil
1 jalapeno pepper
1-pound ground beef
2 cups of water
1 or 2 teaspoons kosher salt
3 tablespoons tomato paste
1 tablespoon dark brown sugar
2 teaspoons unsweetened cocoa powder
1 or 2 teaspoon red pepper flakes
2 tablespoons chili powder
2 teaspoons ground cumin
Directions
First, insert the ground beef in the pressure cooker over medium-high temperature; cook it until crumbly and brown, 10 to 12 minutes.
Take out the ground beef, and then drain off the excess fat.
After that, return the pressure cooker to the stove over medium temperature, pour in olive oil, and then stir in green pepper, the onion, and jalapeno pepper.
Stir and cook it for 4 to 5 minutes, until the onion is glassy.
Add in garlic, and stir and cook it for about 25 seconds.
Then in the pressure cooker; pour in the diced tomatoes, kidney beans, tomato paste, cocoa powder, brown sugar, red pepper flakes, cumin, salt, chili powder, and water.
Then lock the lid carefully, turn the cooker up to build up pressure, then reduce the temperature to control the load, and let it cook for 10 minutes.
Remove the stove from the heat, and then let the pressure decrease on its own, for 8 to 12 minutes.
Finally, after the pressure is completely released, separate the lid, then stir the chili, and serve it.
Nutrition Facts (For Per Serving): calories: 353; fat: 14.9 g; carbohydrates: 35.2 g; protein: 22.3 g; cholesterol: 46 mg; sodium: 790 mg.