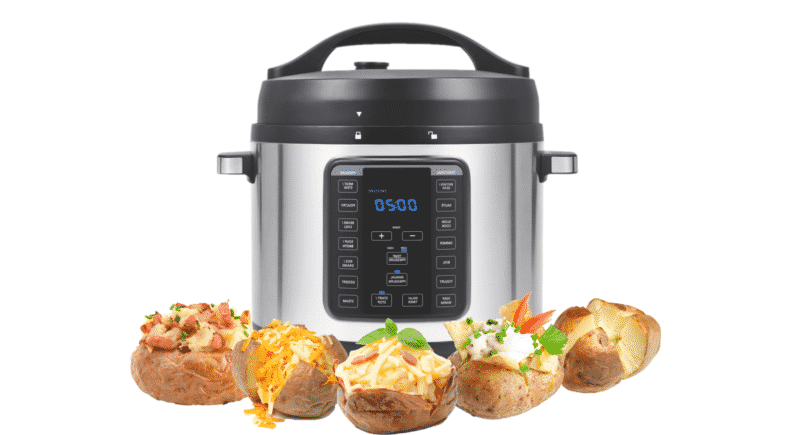 How To Cook Potatoes In An Electric Pressure Cooker
The electric pressure cooker is a fantastic kitchen appliance that can make your life easier in many ways, and ensure that you spend less time in the kitchen. One type of food that many people enjoy, which you can quickly cook in an electric pressure cooker, is potatoes! This article will help you on how to cook potatoes in an electric pressure cooker.
Instead of the traditional kind of cooking using the oven, deep fryer, steamer, etc., there are several methods for cooking potatoes using an electric pressure cooker. That includes anything from mashed potatoes to French fries.
First, you have to choose the type of potatoes you want to cook. Cooking white potatoes is slightly different than cooking sweet potatoes. For the following recipes, you can prepare with any kind of white potatoes, including russet, Yukon Gold, regular potato, or others.
After deciding on the potatoes you like best, you need to wash them and then cut them up into pieces about one and a half inches in size. Of course, if you prefer, you can cook the potatoes whole inside your pressure cooker, but that would take much longer to cook (about twice as long), plus the skins will tend to crack open and become soft. Most people prefer their potato skins to be crispy (especially if you are trying to mimic baked potatoes).
Next, put two cups of water into your pressure cooker (depending on the size of your pressure cooker and how many potatoes you wish to cook). One thing that's a great tip to cook potatoes in your electric pressure cooker is to make sure you are cooking them using a steamer rack. If you don't have one, you can use a steamer basket instead, or use any alternatives. That way they won't absorb water during the cooking phase.
Next, put your cut up potatoes on the rack or into the basket. Start cooking them under pressure for around 8 minutes. Next, perform a quick-release method to release the pressure in the cooker, then check to see if your potatoes are done yet. If not, you can add a minute or two and put the lid back on, set to high pressure and cook, then release pressure and test for doneness again.
Then, remove the lid and drain any water left in the pressure cooker, and your potatoes are ready to use in whatever fashion you desire. You can use the cooked potatoes for mashing or making potato salad, etc. If you need to store them, put them into an airtight container, and refrigerate for as long as five days.
All in all, the electric pressure cooker is a fantastic kitchen tool that helps to make your life easier for cooking lots of different foods quicker and simpler, and that includes delicious and tasty potatoes!
Related Video: