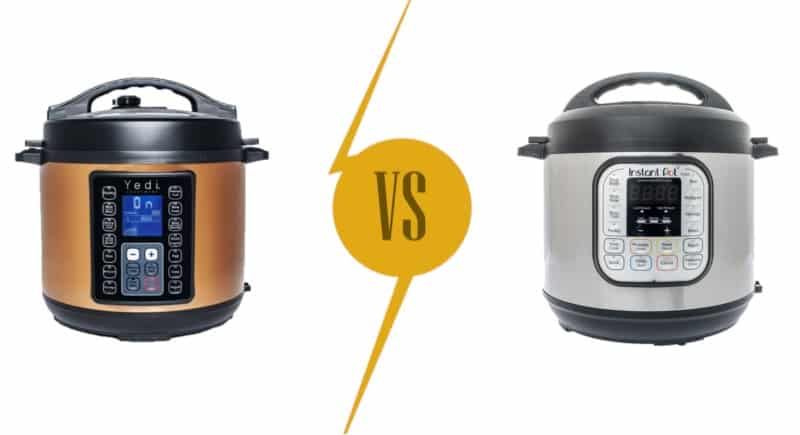 Yedi Pressure Cooker vs Instant Pot
If you are not using a pressure cooker, you are missing out!  These multi-function kitchen appliances offer a variety of ways to prepare delicious meals quickly, to save money, and are extremely easy and convenient to use. The problem is that with so many different brands and models on the market so it can be difficult to choose the best one for you.
The US favorite is the Instant Pot but the Yedi Pressure Cooker seems to offer the customer a lot as well. So which one is best?
Yedi Pressure Cooker
The Yedi Pressure Cooker is available in two sizes; the 6 qt or the 8 qt and also a range of color finishes including copper so it is an attractive piece of kitchenware.
It is advertised as 9 appliances in one so can carry out the usual multi-functions including; steaming, pressure cooking, sauté, slow cooking, yogurt making, and pasteurizing. There is also a keep-warm function, timer, and preset timer.
The control pad is neat and clean to use. There are 15 instant-touch microprocessor functions so it will enable you to cook a range of different types of food such as stews, rice, multi-grains, and meat. If you are not accustomed to pressure cooking this makes cooking extremely easy.
For more advanced pressure cooker cooks you can also set pressure levels and times manually so this model offers a lot of flexibility to the experienced cook without making it too complicated for the newbie.
The Yedi Pressure Cooker comes with an impressive range of utensils, far more than most other pressure cookers. These include; a reinforced glass lid that is suitable for when you are using the slow cook or sauté function. It comes with egg racks and steaming trivets, rice paddle, cooking mitts, extra silicone sealing ring, stainless steel steaming basket, stainless steel inner cooking pot, and a measuring cup.
In addition, each purchase comes with a free cookery book and you can also access more recipes online.
Unlike most pressure cookers on the market, the Yedi Pressure Cooker comes with a free two-year guarantee if you buy via Amazon. The company promises to refund or replace if you have any issues with the appliance.
Customer opinion on Amazon is extremely positive for the Yedi. A couple of customers have had issues and have been very satisfied with customer service. Most customers have not had any issues at all and are very satisfied with the quality and versatility of the appliance.
With nearly 2000 customer reviews, the Yedi has a way to go before it reaches the popularity of the Instant Pot but does seem to be getting there.
Price-wise, the Yedi Pressure Cooker is around the same price as the Instant Pot for the comparable size.
Pros:
Lots of functions and utensils
Great color finish range
Easy to use
Covered by a 2-year money-back guarantee.
Cons
Although customer service is good, some users have had issues with faulty appliances.
The Instant Pot
The Instant Pot pressure cooker is fairly similar to the Yedi and many customers who have switched to the Yedi say that utensils are fairly interchangeable between the two.
Where the Instant Pot scores with customers are that this is the most popular make in the USA and for new users especially it is extremely easy to use. Instant Pot is undoubtedly the market leader and with thousands of satisfied customers on Amazon alone, it is hard to ignore that high level of customer satisfaction. This company is obviously doing something right!
The Duo Nova is the most popular model and is available in a range of size options; 3 qt, 6 qt, or 8 qt sizes so you can buy the size that suits you best.
As a rough guide 3 qt is suitable for cooking for 2-3 people, 6 qt for up to 6 people, and 8 qt for larger gatherings.
The Instant Pot Duo Nova offers the customer seven functions including; pressure cooker, slow cooker, rice cooker, steamer, sauté pan, yogurt maker, and warmer.
Instant Pot Duo Eva is an additional model and offers more functions and more presets and a brighter display but is essentially the same as the Nova.
Instant Pot designs are constantly evolving and adding extra features, however, with all Instant Pot models the key is simplicity.
This make is designed to be used by just about everyone and if you are new to pressure cooking, Instant Pot is a good place to start. It is extremely safe and it is foolproof so you will be able to cook a wide range of great dishes simply by pressing one of the presets.
Instant Pot also has a custom website where you can access thousands of recipes and cooking tips.
There are some customer complaints about the Instant Pot. Some users have complained that it isn't very long-lasting and there can be issues about it failing to reach pressure. Unlike the Yedi there does not seem to be a standard money-back guarantee or two-year warranty either which is a major disadvantage.
Price-wise, the Instant Pot Duo Nova 6 qt is comparable to the Yedi. The Instant Pot Duo Evo is slightly more expensive at $119.00
Pros:
The market leader in the USA
Very simple to use
Wide range of models and sizes
Cons:
No money-back guarantee
Maybe a bit basic for experienced users
Comes with few accessories
Conclusion
We can't deny it! We are blown away by the Yedi Pressure Cooker. We love the versatility of functions and the fact that it is easy to use for new users without being too limited for experienced cooks. We like the color range – the copper model looks great and we are extremely impressed by the 2-year money-back guarantee and the company's exemplary customer service department.
In this Yedi pressure cooker vs Instant Pot comparison, although the Instant Pot is the most popular brand in the USA, in our opinion the Yedi is the much better deal.