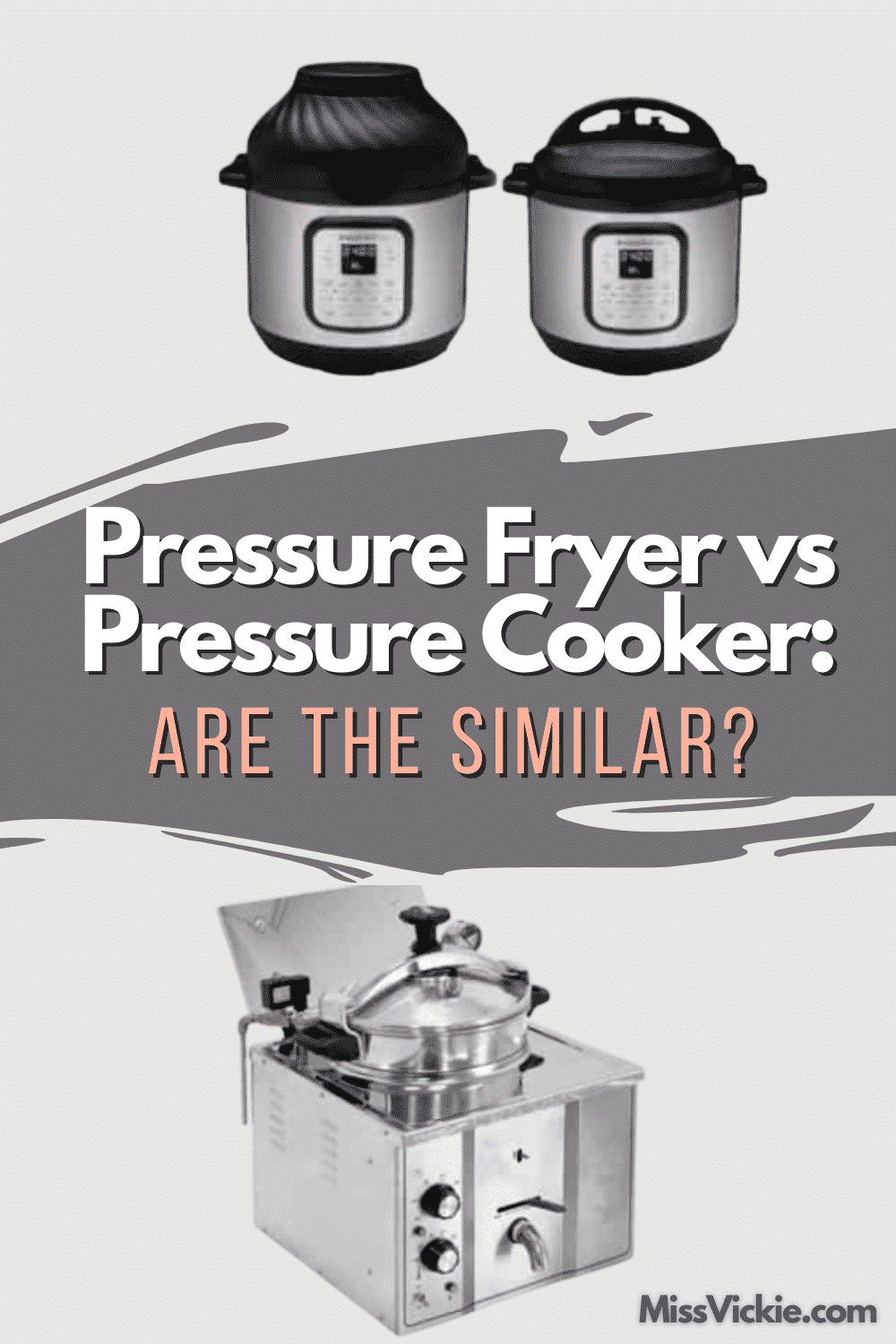 Pressure Fryer vs Pressure Cooker
We are all huge fans of pressure cooking, but a pressure fryer adds a new twist to this technology. Pressure frying is a type of pressure cooking that enables you to fry food very quickly and is most often seen in commercial kitchens such as KFC. If you enjoy fried food, is investing in a pressure fryer be a good idea for home use? Let's take a look at the comparison; pressure fryer vs pressure cooker.
Pressure Fryer
Pressure frying is generally only used by commercial businesses such as restaurants and food manufacturers. So if you want to recreate that Southern fried chicken of your dreams, just like Colonel Sanders himself, you would need to buy a commercial pressure fryer and set it up in your kitchen.
A commercial pressure fryer is big, often around 16 liters capacity for a small one. It can cook a large quantity of food in a very short time. The 16 L model we looked at can cook up to 5 chickens in just 7 minutes. There are built with safety features of course but unless you are contemplating starting up a catering business, a pressure fryer is not going to sit well in a normal domestic kitchen.
A pressure fryer is not an air fryer. A pressure fryer works by increasing the atmospheric pressure within the sealed unit, and this causes the boiling point of the oil and the water contained in the food to rise. So if you are cooking chicken, for example, the high temperature of the oil will seal in the moisture of the meat, leaving it succulent and delicious.
It is important to point out here that you should never attempt to deep fry in a pressure cooker. The pressure cooker is not designed for pressure cooking in oil and it could lead to an explosion.
Pros
Cons
A pressure fryer is very limited in what it can do
Pressure fryers are more usually associated with commercial use
If you want the advantages of a pressure cooker combined with frying capabilities an extra option is to buy a pressure cooker that also works an air fryer.
An air fryer works by reducing the pressure during the cooking time and increasing the circulation of hot air in order to cook the food. Although technically this is not the same as a pressure fryer, which uses high pressure to fry, it is hard to see how anyone will taste the difference in the finished result.
Multipurpose Pressure Cooker and Air Fryer – The Instant Pot Duo Crisp
If you are looking for a pressure cooker that doubles as a fryer, the Instant Pot Duo Crisp offers this, plus a range of other functions.
The Instant Pot Duo Crisp can be used as a conventional multi-purpose pressure cooker so comes with the capacity to slow cook, sauté, steam sous vide, roast and more. It has all the usual Instant Pot preset functions, so it is easy to use as well as versatile and space-saving in your kitchen.
In addition, the Instant Pot Duo Crisp can be used as an air fryer. It comes with a stainless steel basket for frying and can be programmed in the same easy way as every other cooking function. According to the advertising, the Instant Pot Duo Crisp is a healthy way to enjoy fried food because you need very little oil. Instead, the air fryer provides a healthy alternative.
The Instant Pot Duo Crisp is an impressive kitchen appliance that seems to do just about everything, and with thousands of positive customer reviews, it is yet another Instant Pot success story. However, it is more expensive than a multipurpose pressure cooker at around $180.00, and it only seems to be available in the large 8qt size.
Pros
Versatile; fries, pressure cooks and lots more
Easy to use
Cons
Expensive compared to a multi-purpose pressure cooker
Only available in the large 8 qt size
Pressure Cooker
With so many great pressure cookers on the market, you have a fantastic choice of models to choose from. The Instant Pot range, for example, offers a wide range of sizes from mini (3 qt) to 10 qt plus size and these multi-function kitchen appliances really offer you plenty of bang for your buck.
You can slow cook, sauté, steam, make yogurt and pressure cook. Pressure cooking is also very versatile and with the easy pre-set options, you really only have to add the food and hit the preset button and the multi-function pressure cooker does it all for you.
Pros
Wide choice of models and sizes available
Easy to use and versatile
Inexpensive
Cons
You can't fry food in most pressure cookers
In conclusion
A pressure fryer is totally unsuitable for domestic use but if you do want to enjoy fried food in a more healthy way, an air fryer might be a good choice. However, with the range of multi-function pressure cookers available, some of which offer air frying as an additional function, you can combine frying with pressure cooking, slow cooking, and everything else.
A commercial pressure fryer is not at all suitable for home use. A designated pressure fryer in your kitchen will take up space and how many times a week can you face fried chicken anyway? Nobody would do this; it is not a sensible option even if you love fried food and have a large family. Nobody regularly cooks 5 chickens in 7 minutes unless they are running a catering business!
If you are passionate about frying, an air fryer is suitable for home use. We like that the Instant Pot Duo Crisp offers this option but the size of this multi-purpose pressure cooker will be only too big for many households. That said, if you do have a large family to cook for and you do enjoy fried food, this could be an excellent option.
Related Video: