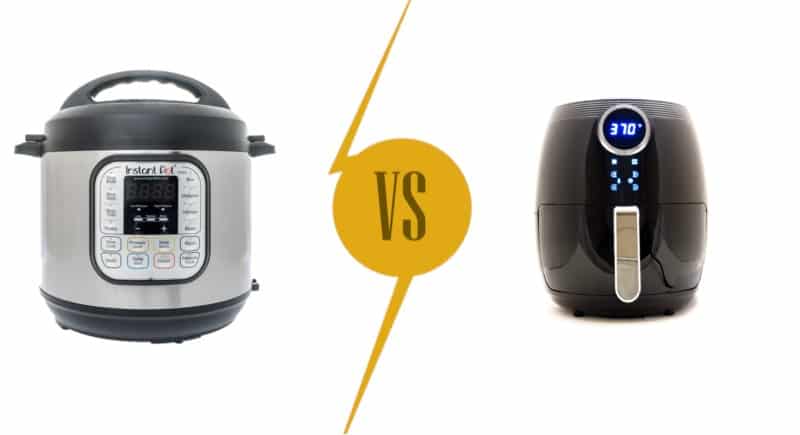 Instant Pot vs Air Fryer
We love the Instant Pot and we love that you can cook such a wide variety of different foods in this multifunction appliance! But we also love our French fries!  And although the air fryer 's main function is frying, it is an exceptional fryer that delivers great tasting results, including beautifully cooked crispy fries. So which one is best between the Instant Pot vs air fryer? Let's take a look to find out more.
Instant Pot
The Instant Pot is a pressure cooker that offers a wide range of different cooking functions and according to the advertising and to customer reviews, it does the job of numerous other kitchen appliances. You can sauté, steam, fry and cook rice. You can make roast meals, casseroles, and stews. With an Instant Pot, you can even cook your morning porridge and poach or scramble eggs. It also functions as a slow cooker and yogurt maker.
Theoretically, if you removed every other appliance, saucepan or frying pan from your kitchen, you could actually use the Instant Pot to replace them all and you could still provide a truly varied choice of meals for your family.
The Instant Pot is also extremely easy to use. You can use one of the many preset functions such as stew for example and after adding your ingredients to the pot, you can be enjoying a homemade stew in less than an hour. The cooking time is on average 70% faster than conventional cooking when using the pressure cooking option, so if you are looking for speed and simplicity the Instant Pot delivers every time.
In addition, the Instant Pot is extremely popular with customers and has generated thousands of positive customer reviews. The models vary too so you can get the one that best suits your needs. You can choose between a range of size options to suit your family needs; it is available in a small 3qt size right up to 10qt. many of these come with added custom functions. For example, the 10qt Instant Pot Duo Evo can also be used as a canner.
Despite all the variety and the great choice of cooking options, there is one thing that the Instant Pot can't do very well and that is to fry! Yes, you can sauté but if you want to cook homemade fries, you will have to use something different and either do it old style by heating up oil on the hob for deep frying or invest in a fryer. Too much fried food is not actually that good for health, but sometimes only a serving of fries will do!
Pros
Versatile multi-purpose kitchen appliance
Thousands of satisfied customers
Easy to use
Cons
It doesn't cook French fries!
The Air Fryer
The air fryer offers a new dimension to frying. There is a wide range of different brands available and as a concept, they look really good. The unit looks similar to a multipurpose pressure cooker and in the same way, as these take the danger out of pressure cooking, the air fryer takes the danger out of frying.
An air fryer is a sealed unit that works by circulating hot air at an extremely high temperature around the food within. This creates a fast cooking time and as an added bonus it requires less cooking fat or oil than conventional fryers, making it a more healthy option.
Many air fryers come with extra functions. As well as frying you can grill, roast steam and bake in them. All cooking functions are controlled by the control panel;  you simply choose your preferred option, add your food and let the air fryer do the rest.
The Flexicon air fryer, for example, comes with 8 preset options. There is also a keep-warm function so that your food can stay hot until it is ready to be served. In addition, there is a timer.
According to the advertising, the air fryer is perfect for creating the perfect French fries every time. You can also fry shrimp, steaks, roast meat, grill, and steam. And because the unit is sealed, it does not fill your kitchen with the smell of frying.
We love that the air fryer provides a safe and healthy way to make French fries. And with the old fashioned fryers being a common cause of house fire, we love that this appliance is a much safer alternative
Pros
If you enjoy fried foods you will love it
A healthier way to fry – cooks with air and requires less oil
Additional functions.
Cons
It is more limited than the Instant Pot and it does not have the same range of cooking options
There are many different air fryer brands but no market leader
Some customers have complained that the directions are hard to follow with certain brands
In conclusion
What is similar between the Instant Pot vs air fryer is that they have provided a modern safe alternative to once dangerous kitchen appliances i.e. the old fashioned jiggle top pressure cooker and the chip pan. And in truth, we love both appliances because they are so easy to use and convenient. If you have ever made French fries over the hob in the old fashioned way or tried to use an old fashioned pressure cooker, you will probably share this opinion.
On balance, if we had to choose one, we would go for the Instant Pot because it is more versatile but on the other hand… freshly cooked French fries are very tempting.
In our opinion there cannot be a winner or a loser here. If you enjoy fried foods and want to be able to fry in a healthy and safe way, you should definitely go for an air fryer. But for just about everything else the Instant Pot wins hands down.
Related Video: