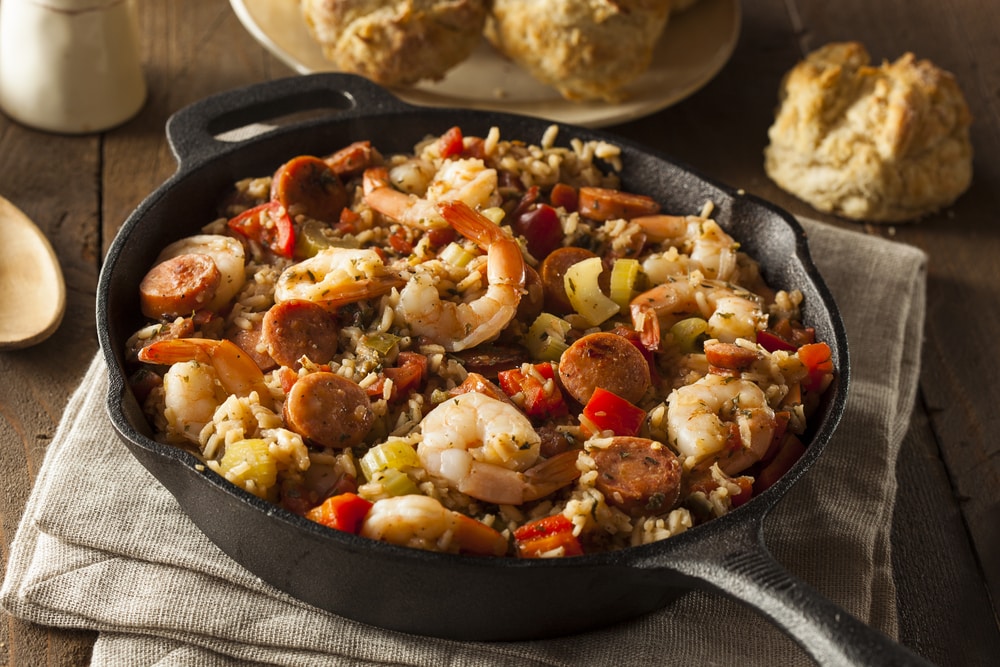 It can be sometimes tricky to get the most out of leftover food items. However, if you're creative, then there are a lot of methods that can be used to transform the leftover food items into a complete meal. So, you should try and experiment with different recipes and ingredient mixtures if you wish to minimize the wastage of the items. That way, you'll be able to get ahead of the learning curve while also making the most out of available ingredients.
Recently there have been many questions on what to do with leftover Jambalaya. If you're also unsure about how to manage this dish, then the following details should help you with a better perspective on this problem.
What To Do with Leftover Jambalaya?
You can use the leftover jambalaya to make a variety of interesting dishes for breakfast and lunch. The only limit is your imagination, and the ingredient mixture of the jambalaya brings a ton of versatility to the users. You can easily use the leftover jambalaya by rolling it up in a warm tortilla and then eating it afterward. Similarly, many users transform the Jambalaya into an omelet by using butter and eggs. So, you can change the leftover variety into different recipes to help reduce food waste.
The best thing about all of these methods is that you won't have to put any extensive time into managing the texture, flavor, and final presentation of the dish. The leftover Jambalaya will take care of all of these concerns, and all you will have to focus on will be the addition of more ingredients. That way, you will optimize the cooking timer and also enjoy a delicious meal.
Rolling up the jambalaya in a tortilla is one of the easiest methods that can be used for quick meals. In this method, you won't have to add any extra ingredients, and all you have to do is heat up the tortilla to create a jambalaya wrap. On top of that, you can also choose to create a separate sauce to personalize the final flavor of the dish further. So, you're free to modify the recipe according to your preferences.
With that said, you'll have to put in a bit more effort while creating an omelet from jambalaya. If you're not looking for anything fancy, then a small section of butter and a few whipped eggs should do the trick. Depending upon the serving size of the jambalaya, you will have to modify the ingredient mixture accordingly for best results. Ideally, you shouldn't need any more ingredients to enhance the flavor of the omelet, but some people do prefer to use extra vegetables.
All in all, you can rely on a variety of methods to manage the jambalaya recipe if you're not getting anywhere with the leftovers. From creating patties for burgers to developing a delicious wrap, there is no limit to the variety of ingredients that can be used to enhance the flavor of your jambalaya. There is no guarantee that you'll develop the perfect recipe every time but be sure to try out different mixtures to discover the optimal fit for your taste.
Should You Grind Up Leftover Jambalaya?
While most people prefer to maintain the existing consistency of the jambalaya, there are a ton of users that seem to be confused about the grinding process. This method can be quite effective when you're trying to store the jambalaya in the freezer. After the grinding process, you can create smaller balls of the mixture and then fry it in the oil of your choice. You can also rely on the air fryer for this method if you have one in your kitchen.
With that said, you can also use this ground jambalaya in soup, noodles, and other recipes. This dish is quite versatile, and there are limitless methods to help you improve the final flavor. So, there is no point in throwing away leftover jambalaya unless it has gone bad. To check the freshness of the jambalaya, you can always judge the smell or check for mold. That should help you divide whether or not you should be using the leftover sections in your recipe. Hopefully, this information will help you better manage food wastage.