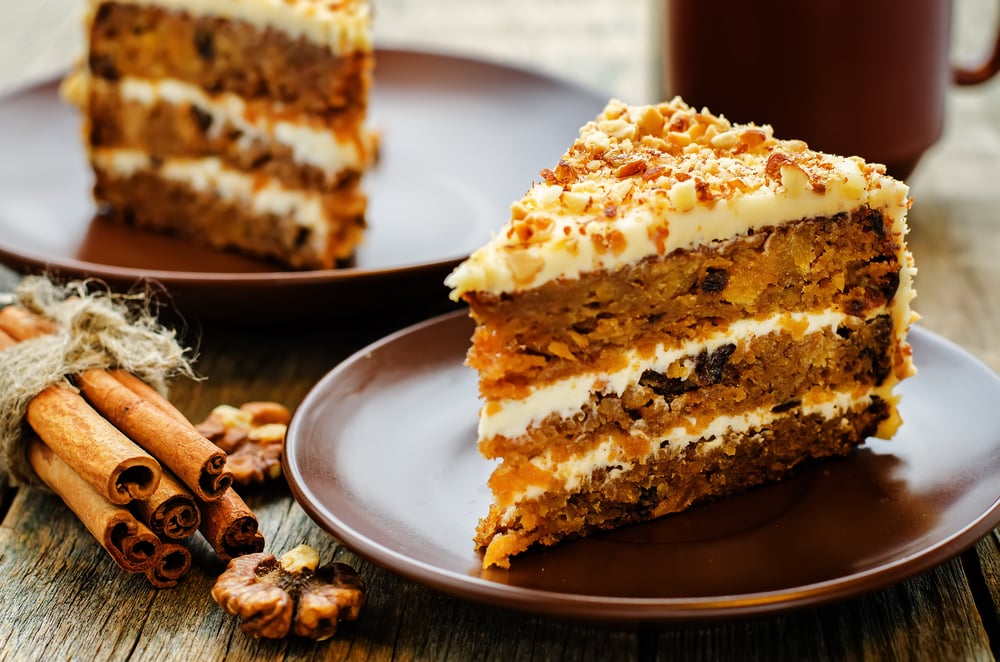 Desserts are amazing but making desserts is no joke. Well, even if you are successful in making the dessert, mastering the serving takes years. This is the prime reason why even the experts ask, "what ice cream goes with carrot cake?" In case you are wondering the same, we are sharing all the information you need!
Carrot Cake – What Is It?
Before we talk about ice creams, it is better to understand what a carrot cake is. That's because it helps make the right contrast. So, carrot cake is made with a batter that has carrots in it. The majority of carrot cakes come with white frosting (the cream cheese frosting, in particular). In addition, some people add pecans and/or walnuts to the batter to add a crunchy texture. As far as the condiments are concerned, cinnamon, ground mixed spices, and ginger are added to the carrot cake. As for the sweets, shredded coconut, pineapple, and raisins are used for creating a combination of savory and sweet. Now, are you ready to check out the ice creams that go well with carrot cake!
What Ice Cream Goes With Carrot Cake?
1. Vanilla Bean
This is often labeled as real ice cream and is readily available in grocery stores. Vanilla bean ice cream tends to be expensive, which makes it a bit hard to find. As far as the flavor is concerned, this ice cream gets the real and rich flavor from unprocessed grains (the grains that are available in the vanilla pods). In fact, you will be able to see the black grains in this ice cream. So, take a scoop of vanilla bean ice cream and serve it with carrot cake!
2. Simple Vanilla Ice Cream
If you cannot find the special vanilla bean ice cream, you can surely opt for simple vanilla ice cream. This ice cream is readily available in restaurants, grocery stores, and milk bars. It has produced in bulk and is flavored with pure extract or vanilla flavoring. Since the vanilla ice cream is made with concentrated vanilla, you won't be able to see vanilla but has an off-white or white color. So, it's another option that goes well with carrot cake.
3. Ginger Ice Cream
In case you aren't a vanilla person, ginger ice cream is a great option, and it can elevate the flavor of carrot cake even more. Truth be told, it tastes just like the holiday cookies, or the flavor could be even better. Ginger ice cream is punched with rich and spicy ginger tones. The best thing about ginger ice cream is that it's creamy and has a pleasant spiciness. Not to forget, there is a kicking aftertaste along with sweet yet floral notes. Surprisingly, there are floral and vanilla notes, but they don't take away from the savory notes.
4. Cinnamon Ice Cream
To be honest, ginger ice cream isn't for everyone because of the spicy flavors, and for all those people, you can simply opt for cinnamon ice cream. This is an ultimate treat with a creamy and rich texture. There are prominent hints of cinnamon which perfectly complements the carrot cake flavor. In addition to carrot cake, it's a suitable choice to serve with apple pie. However, it is suggested to buy cinnamon ice cream from the right brand because it can directly influence the flavor. On the contrary, if you are making cinnamon ice cream on your own, opt for fresher cinnamon because it will create a more potent aroma and flavor. Moreover, you can always add some vanilla extract to add more kick.
5. Maple Walnut Ice Cream
Since nuts go well with carrot cake, it's only natural to pair carrot cake with maple walnut ice cream. It will add the perfect nutty flavor and crunchy texture. In addition, it is mixed with maple syrup to bring out the much-needed sweetness. Moreover, some ice cream brands add maple flakes which enhances the crunch. In addition to carrot cake, you can serve maple walnut ice cream with apple pies and apple crisps. Last but not least, if you want to make this ice cream on your own, you should chop the walnuts and roast them before adding them to the ice cream.
To summarize, these are some delicious ice creams that go perfectly with carrot cake. However, if you like to have more options, cheesecake ice cream is another option!