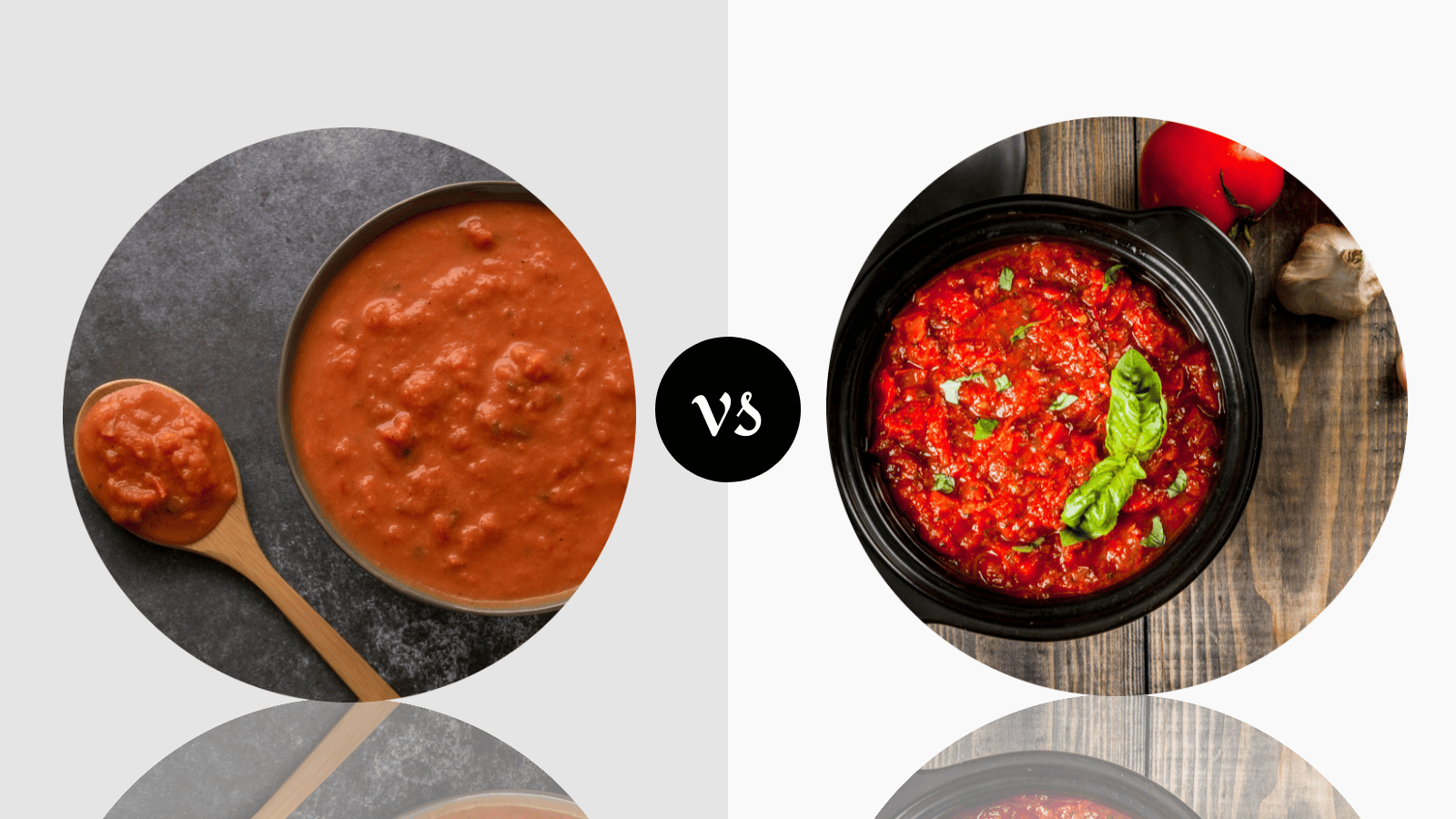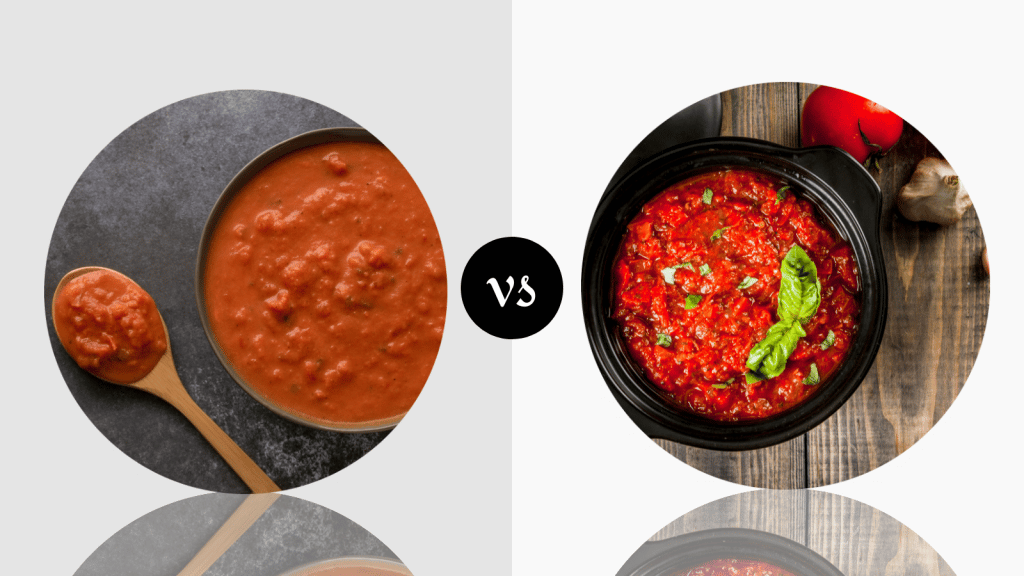 Every pasta needs an accompanying sauce to truly define it. The sauce is exactly what gives it flavor and its identity, as, without it, any pasta is just a plain old bunch of macaroni or noodles.
Sauce is crucially important, and there are several kinds of popular sauces out there famous for their unique taste and the mouthfeel that they add to recipes.
Two classic choices that no foodie will be able to forget are vodka sauce vs. marinara. Our comparison will give you everything that you need to know to make an informed choice between these two favorites.
Vodka Sauce Vs. Marinara Comparison
| | | |
| --- | --- | --- |
| | Marinara Sauce | Vodka Sauce |
| Origin | South Of Italy, Naples/Sicily | Debated Origin – Either New York Chef, Dante Restaurant In Bologna Italy Or Roman Chef Working For Vodka Company |
| Ingredients | Tomatoes Or Tomato Sauce, Garlic, Onion, Herbs, Wine (Optional) | Tomato Paste, Red Pepper Flakes, Vodka, Heavy Cream, Butter, Herbs, Parmesan |
| Taste | Pure Rich Intense Fresh Tomato Flavor | Creamy Sharp Tomato Flavor |
| Texture | Velvety Smooth Consistency | Creamy Consistency |
| Serving Suggestion | Meatballs And Spaghetti | Pizza Sauce | Penne Alla Vodka |
| Best Pasta | Spaghetti, Linguine, Fettuccine, Vermicelli, Capelli D'angelo | Penne, Ziti, Macaroni, Fusilli, Rigatoni, Mostaccioli, Chifferi, Elicoidali |
Vodka Sauce Vs. Marinara Sauce
There are perhaps no two more famous Italian sauces than vodka sauce and marinara sauce. Let's take a closer look at their defining characteristics and how each classic compares to its counterpart.
Marinara Sauce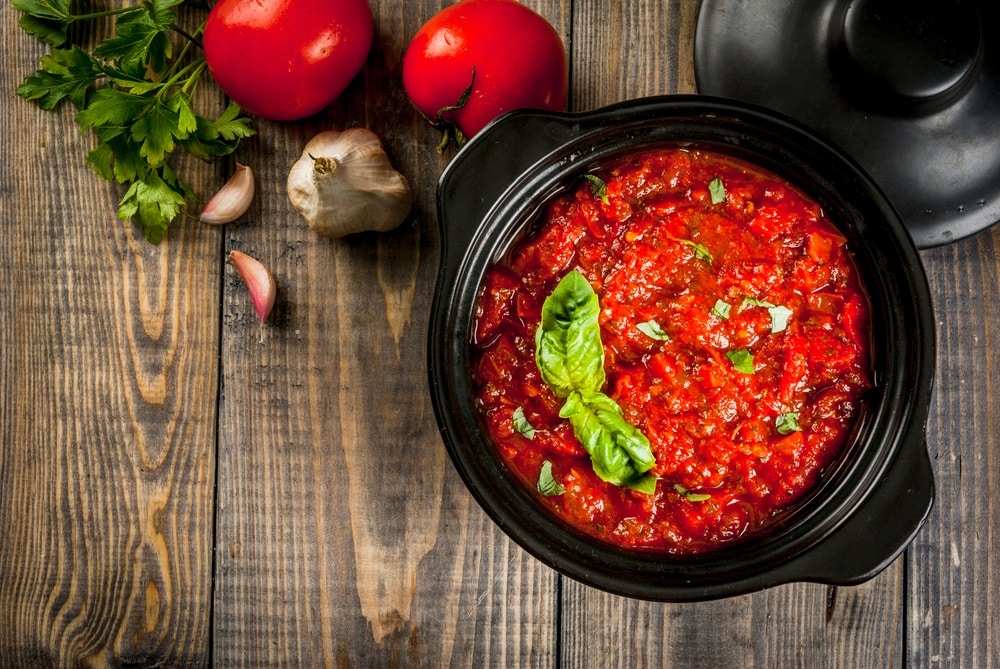 There is no tomato-based sauce that's as foundational as marinara. Marinara sauce is the quintessential Italian pasta sauce made from just a few basic ingredients.
Don't let the simplicity fool you, as marinara is a worldwide favorite thanks to its rich, complex depth of flavor and bold overall taste. Here is a breakdown of marinara sauce and how it compares to vodka sauce.
Origin
As one of the oldest Italian pasta sauces, the exact origin of Marinara sauce is debated. We do know that it was created in the South of Italy, and scholars are divided about whether it originated in Naples or Sicily.
Ingredients
The first major differences between the two lie in their ingredients. Marinara sauce features a very basic set of ingredients, including tomatoes or tomato sauce, along with garlic, various herbs, and onions.
There's also the inclusion of wine in the recipe in some cases. The recipe for vodka sauce is quite different.
Taste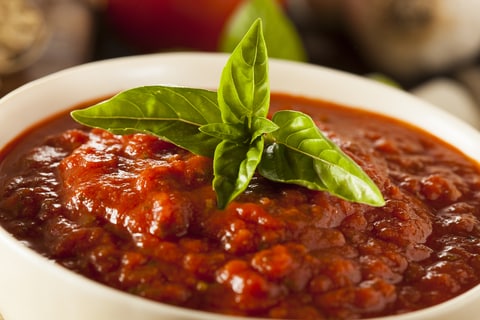 Marinara sauce has a taste that is loved by many thanks to how simple yet delectable it is when prepared correctly, at least! The flavor is similar to tomato sauce, but it has a few unique twists.
Added olive oil fortifies the flavor and grants it a rich feel while elevating the taste of each of the individual ingredients. Essentially, a perfectly cooked marinara sauce should pop with fresh tomato flavor.
Texture
Marinara sauce varies in consistency from thick to thin, but regardless of the degree to which it's reduced down, marinara always has a rich, velvety texture.
Serving Suggestion
One of the most popular ways of serving marinara sauce is with meatballs and spaghetti covered with a generous helping of grated cheese. Another great way to use marinara sauce is as the base sauce for pizzas.
What Pasta Goes Best With Marinara Sauce?
Marinara sauce has a smooth texture which makes it best suited to thin noodles. Spaghetti is generally the best choice, but linguine, fettuccine, vermicelli, and capelli d'angelo (angel hair pasta) all work well.
The thicker the marinara, the thicker the noodle, so keep this in mind when working with a chunky sauce.
Basic Marinara Sauce Recipe
Heat two tablespoons of olive oil in a heavy-bottomed saucepan over medium heat.
Saute a chopped garlic clove and chopped onion, chopped to chunky consistency until translucent.
Stir in a tablespoon of red pepper flakes and a tablespoon of dried oregano.
Add a 28-ounce can of whole peeled tomatoes (San Marzano recommended) to the pot and turn the heat down to low.
Allow the sauce to simmer for roughly forty-five minutes to an hour, or until oil begins to form atop the tomato sauce.
Ensure that the tomatoes are all crushed to an even consistency before allowing the sauce to simmer finished.
Season with salt and pepper to taste, and serve atop your favorite pasta. Alternatively, combine the pasta directly with the marinara sauce and a little of the pasta water it was cooked in.
Vodka Sauce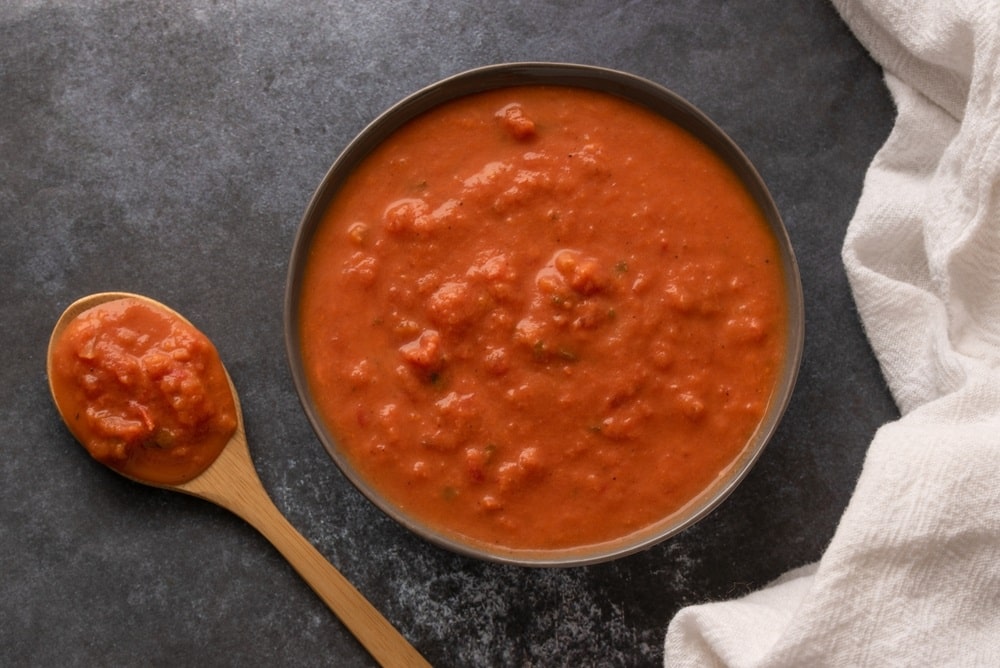 The way that alcohol helps to solvate flavors and unlock immense taste from tomato is made vodka sauce the second most searched pasta dish in US search engines. Here is a close look at what vodka sauce is, how it's made, and how the tasty delicacy compares to marinara.
Origin
The origin of Vodka sauce is debated. The first group of historians claims that New York-based chef Luigi Franzese invented the sauce when creating the meal 'penne alla vodka' sometime during the seventies.
Other scholars claim that vodka sauce was invented by James Doty, another New Yorker, in the eighties. Tracing the origin even further back are those who believe that it came from Italy.
Those convinced the sauce is of Italian origin state that it was either invented by a restaurant name Dante in Bologna or it was the creation of a Roman chef whom a vodka company employed.
Ingredients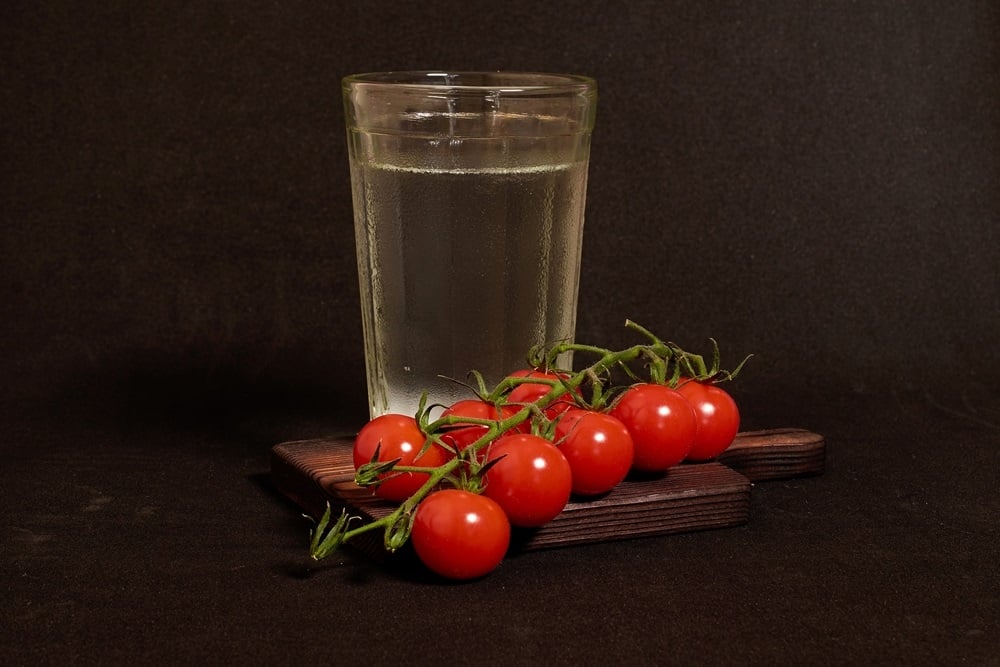 The ingredients of vodka sauce feature herbs and tomato sauce too, but there's also heavy cream, additional tomatoes, and of course, the vodka itself.
Keep in mind that these ingredients can vary a little bit depending on the person preparing these sauces, but these are the core ingredients.
Taste
Vodka sauce has a tomato-based flavor as well. It is not only the inclusion of tomato sauce but also how the tomatoes meld with the vodka when cooked over a slow heat, spreading throughout the sauce and developing a rich taste all of its own.
The alcohol in the vodka sharpens the bittersweet flavor of the tomato, granting it immense depth of flavor.
Texture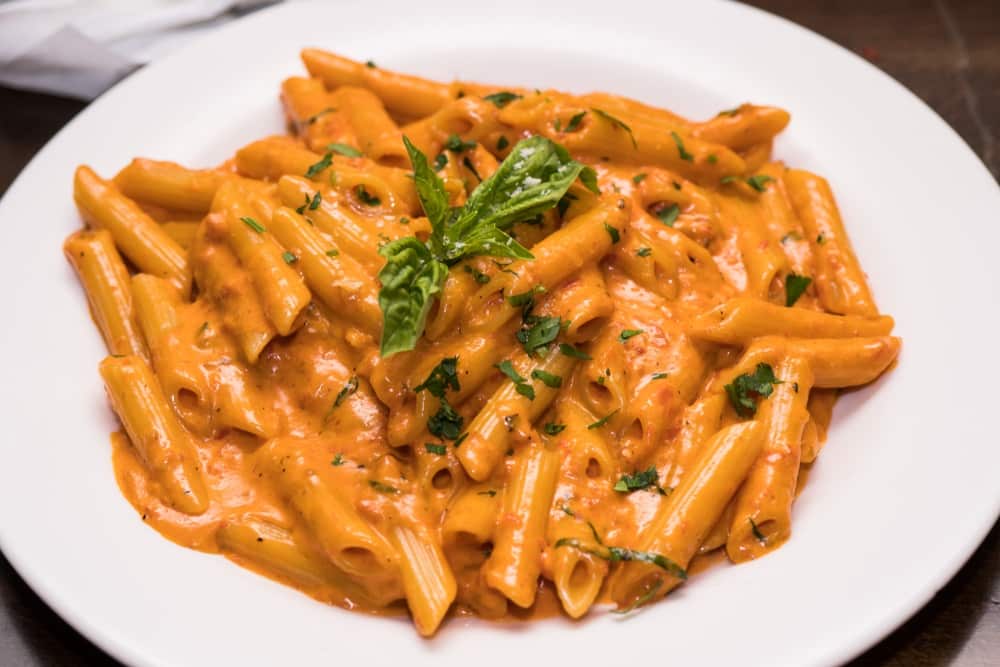 When vodka comes together with tomato and slowly cooks over an extended period, the sauce develops a jam-like texture. Instead of flowing and being pourable like even a chunky marinara normally is, vodka sauce is sticky and jammy.
Serving Suggestion
The traditional way to serve vodka sauce is in the dish called 'penne alla vodka,' which many believe to be the sauce's origin.
Vodka sauce is cooked together with penne pasta and often includes sausage, pancetta, or peas. One can typically use vodka sauce for any creamy pasta that's focused and built on the taste of tomato.
What Pasta Goes Best With Vodka Sauce?
Penne is the optimal pasta to serve with vodka sauce, but ziti, macaroni, fusilli, rigatoni, mostaccioli, chifferi and elicoidali are all suitable substitutes.
Basic Vodka Sauce Recipe
Heat a quarter cup of olive oil in a pan or dutch oven.
Saute one finely chopped shallot and one finely chopped clove of garlic until translucent, and then stir in half a cup of tomato paste and two tablespoons of red pepper flakes.
Turn the heat down and simmer until the tomato paste begins to caramelize, forming an oil atop.
Mix in four tablespoons of vodka and reduce until all the liquid is gone.
Season to taste with salt and pepper (roughly a teaspoon of each.)
Stir in one cup of heavy cream and cook until well combined, which should take a minute or two.
Add your choice of pasta along with two to three tablespoons of pasta water.
Turn off the heat and stir in two tablespoons of butter, and it's ready to serve. Many chefs opt to add parmesan cheese at the same point as the heavy cream to elevate the flavor.
Serve with extra grated parmesan atop and chopped fresh basil.
What Is The Difference Between Vodka Sauce And Marinara Sauce?

The main difference between vodka sauce and marinara sauce is that vodka sauce combines vodka, tomato paste, and cream to create an almost-sticky creaminess, whereas marinara sauce uses tomato, onion, herbs, and olive oil to form a rich, velvety smooth sauce without creaminess but instead featuring bolder, sharper flavors.
Which Is The Best, Vodka Sauce Vs. Marinara Sauce?
The best option between vodka sauce vs. marinara sauce depends on your personal preferences.
If you're looking for a pasta dish that's bold in flavor, exuding tomatoey richness in every bite with sharp tastes throughout, marinara sauce is your top choice.
However, for those looking for creamy pasta with a subdued but flavorful tomato base, vodka sauce is unbeatable.
Ultimately, vodka sauce is better for those who prefer creamy pasta, whereas marinara sauce is a well-rounded choice that's packed with pungent flavor instead of creaminess.