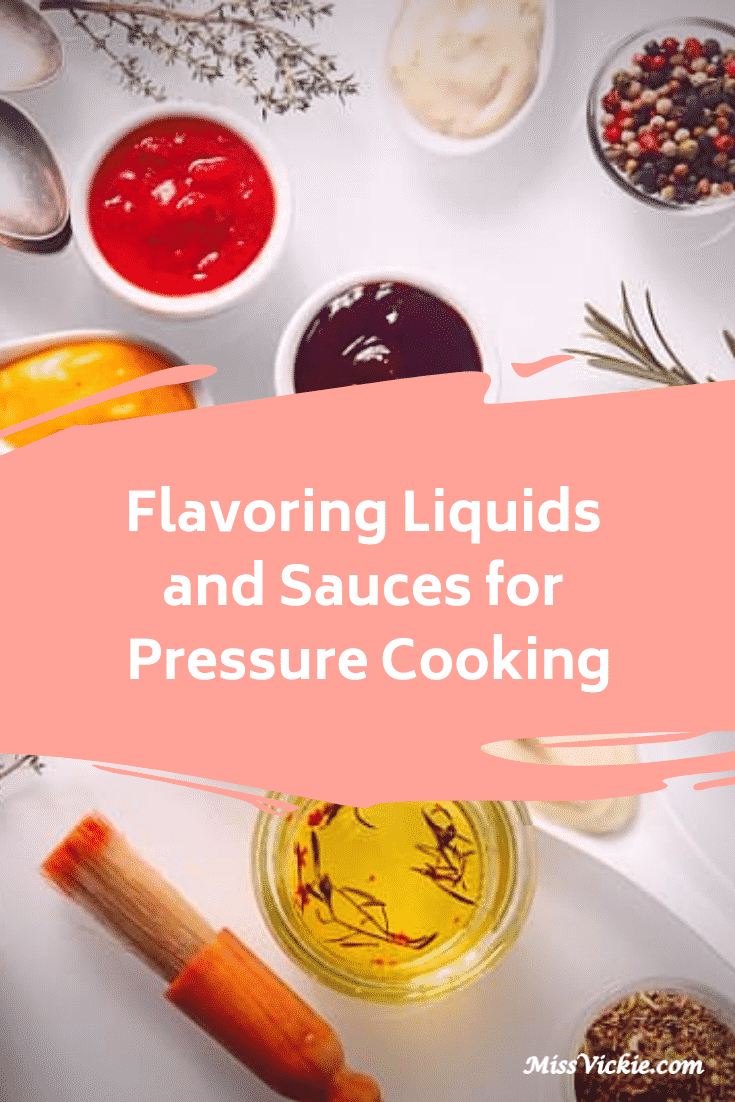 Every good home cook knows that building flavour is essential for good cooking. The capacity to build flavour is what separates one great home cook from an average one. As such, other than just relying on water, you are always advised to use a flavouring liquid or cooking sauce that will help to enhance the flavour of the food that you are preparing considerably.
Flavouring liquids and sauces help to add not only flavour but also moistness, texture, viscosity and appeal to any dish. Flavouring liquids and sauces help to pull together the different components of a dish to make it whole and alluring. Sauces also help to add distinct or complementary colours and flavours to a dish, therefore helping to make it interesting throughout one's dining experience.
Flavouring Liquids and Sauces that you can use for pressure cooking
Thin liquids
Thin liquids such as fruit juices, beer, wine, broth, thin marinades, citrus juices, soy sauce, vinegar, and so on can be used freely when pressure cooking. Such liquids can also be combined with other thin liquids or mixed with water to create the perfect consistency for pressure cooking. Thin liquids are vital for pressure cooking as they are used to provide sufficient steam that will pressurize the cooker.
Thick liquids
Thick liquid cannot be used for purposes of providing steam for the pressure cooker. thin liquids must always be added to thick ones to prevent the thick sauces from scorching or overburning. The thin liquid is the one that will provide the steam needed to cook the food through while still adding a flavour profile.
Fats and oils
Fats and oils are not considered flavouring liquids. So, when you are using them, you should always remember to follow the recipe to avoid making mistakes.
Dairy products
When using a pressure cooker, you should never add milk, cream, cheese or any other dairy product at the beginning stages of the cooking process because dairy products burn up very easily. When exposed to high heat, dairy products will separate and leave a curdled appearance, which is why they are always added during the last stages of pressure cooking.
Cooking with stocks
Stocks are examples of flavouring liquids that are often used in the preparation of stews, soups and sauces. Stocks are simply prepared when various ingredients are simmered gently in water. Most stocks are typically based on game, poultry, seafood and meat before aromatics, herbs and spices are added. Vegetable stocks are typically prepared using an assortment of vegetable products such as leeks and tomatoes.
Stocks are also commonly known as broths or bouillons. Broths are generally reserved for meats while stocks are mainly made using bones. Bouillons, on the other hand, refers to any liquids that are made by simmering or boiling ingredients in water. Stocks are primarily categorized into white and brown stocks. White stocks are generally uncoloured and come with a subtle flavour while brown stocks utilize roasted components that help to create a deep flavour profile and a rich colour.
Flavoring Liquids Chart
Thin Liquids

Thick Liquids

Dairy Products

Fats And Oils

May be used freely to the maximum fill level
Must be thinned for pressure cooking
Add after pressure cooking
Limit to 1/4 cup during pressure cooking
Soda Pop Beverages


Fruit Juices


Citrus Juices


Soy Sauce


Vinegars


Beer


Wine


Meat or Veg. Stock


Broth


Consumme


Thin Marinades
Steak Sauces


BBQ Sauces


Salad Dressings


Tomato Sauces


Teriyaki Sauce


Ragu Sauces


Cooking Sauces


Fruit Nectars


Ketchup


Salsa


Condensed Soups


Canned Gravy


Thick Salsas


Thick Marinades


Tomato or V8 Juice


Vegetable Juices
All Milk


Cream


Yogurt


Sour Cream


All Cheeses


Cream Cheese


Velveeta


Cheese Sauces


Half & Half


Canned Milks


Powdered Milk


Buttermilk
Cooking Oils


Shortening


Lard


Butter


Margarine


Bacon Grease


Ghee


Chicken Fat