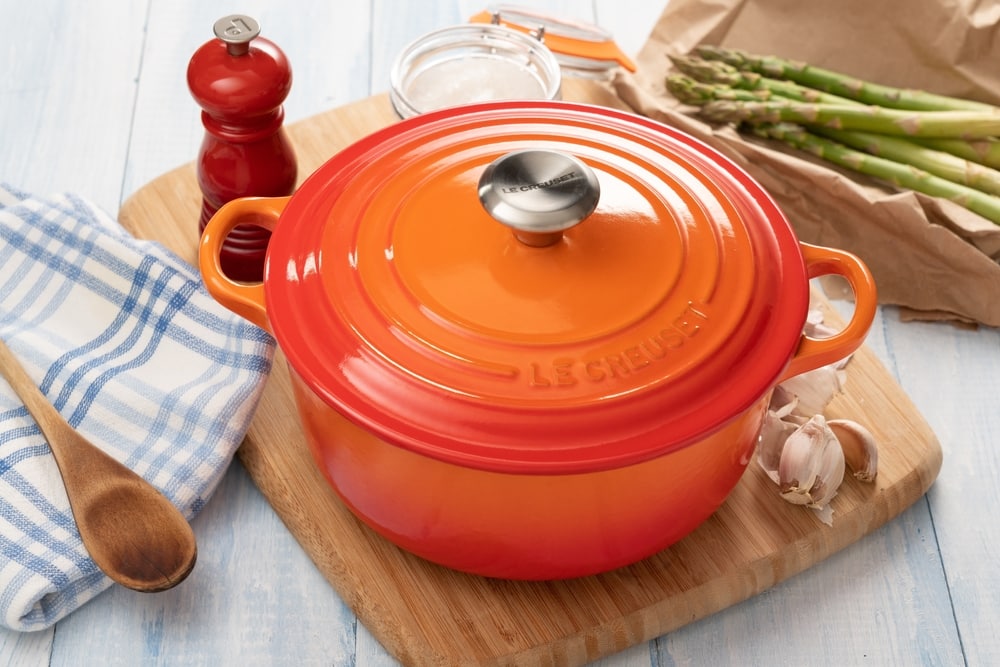 Ranging from braisers to Dutch ovens, both of them are well-known cast iron cookware items. The Dutch ovens are known for making stews, casseroles, and soups, while braisers are meant for roasting and shallow frying.
Le Creuset is a well-known brand and has a wide range of Dutch ovens and braisers available for users. However, with the wide range of cookware, it can be challenging to choose one, which is why we are offering a Le Creuset braiser vs Dutch oven review!
Le Creuset Braiser vs Dutch Oven
Le Creuset Braiser
Le Creuset has used enameled cast iron to make this braiser, which is why it's a recommended choice for browning. A braiser has a wide surface as compared to a Dutch oven, which means it has short and sloped sides. When it comes down to braising, it needs the users to brown food on a stovetop, particularly when you've to braise tough meat cuts.
Before you add liquid to the pan, you can place the lid on the braiser pot, which is transferred to the oven for slow cooking. The best thing about using a Le Creuset braiser is that it can help brown the food and the wide surface area promises better water evaporation. It has cast iron construction, which makes it suitable for browning meat as well as meatballs – they can be simmered in tomato sauce as well.
In addition, it can be used for searing the speaks and roasting the chicken thighs. Since the braiser has low sides, it can be used for shallow-frying the food (it's not suitable for deep frying). Having said that, a braiser can be used to fry chicken cutlets, fritters, and donuts. The braiser is designed with looped and wide handles, which make it easier to put in the oven (taking it out of the oven will be easier as well).
In addition, it can be used to roast a whole chicken. It wouldn't be wrong to say that it's an everyday pot, as it can be used for a variety of cooking tasks. The braiser is integrated with huge molded handles, promising easier transfer. The wider opening of the braiser makes it suitable for searing and sautéing the ingredients before you start the cooking progress, and it is a perfect choice for cooking tough meat cuts.
Le Creuset Dutch Oven
If you are looking for a high-quality and durable pot, nothing matches the quality of the Le Creuset Dutch oven. The company has a gold standard for Dutch ovens because the coating is durable and is suitable for a variety of recipes. The Dutch oven has been integrated with ergonomic and roomy handles, making it easier to handle. The Dutch oven is more lightweight, and the handle is easy to grab with the pot holder or a towel.
The enamel coating is pretty sturdy because it doesn't chop, promising value for money. For this reason, it has become a suitable choice for professional chefs as well as home cooks. It has been crafted from enameled material, making it suitable for slow cooking, frying, roasting, braising, and baking. It has higher heat retention that helps lock in flavor and moisture to achieve exceptional results, irrespective if you use it on the stove or oven.
Le Creuset has designed their Dutch ovens for durability, which is why they have chosen porcelain enamel that not only looks vibrant but is easier to clean as well. Also, the enamel finish reduces the need for seasoning and prevents sticking. In addition, it has a dishwasher-safe design, promising easier cleaning. The Dutch oven has exceptional heat distribution, which promises evenly cooked food, and the interior has a light color, which promises easier monitoring of the food progress.
The lids are designed with a tight-fitting design, which helps build and circulate steam. In addition, the steam buildup makes it easier to retain moisture in the food. The handles are designed with ergonomic handles and knobs, promising easier lifting. The interior has a nonstick coverage, and the material is PTFE-free and PFOA-free, promising a safe cooking experience. The lid is made from a combination of stainless steel and cast iron, promising utmost durability. It can be cleaned in a dishwasher, and the scratch-resistant build means better aesthetics of the cookware. Also, the Dutch oven has a temperature range of 500-degrees Fahrenheit, which makes it suitable for stovetop as well as the oven.