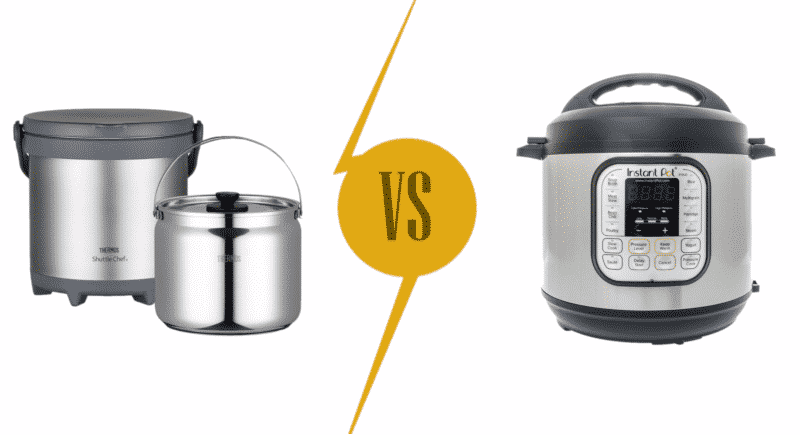 Thermal Pot vs Pressure Cooker
We love our kitchen appliances! It might be a weird hobby to some people, but we like nothing better than checking out all the many different ways you can cook in your kitchen without spending hours standing over a stove. When it comes to the thermal pot, we admit we are blown away by its capabilities, but how does it really compare to pressure-cooking? We check out thermal pot vs pressure cooker to find out more.
Thermal Pot
The thermal pot is not a new invention. The basic principle dates back to the medieval age when people needed to cook without the use of electricity or fire. Back then, thermal cooking was achieved by simply putting a pan of boiling food into an insulated pot, which was then tightly covered with hay, leaves, or clay. The residual heat of the pot and the insulation meant that it would cook on its own for hours without any external power source.
Today the thermal pot has moved on, but the principle is the same. You don't need electricity or any heat source to be able to produce a cooked meal, so if you are on the move or you live in an area with a dodgy power supply, this is a great way to save money and to ensure a hot meal at the end of the day.
There are a number of thermal pot models on the market, but they all work in the same way. There is an inner pot that is housed within an outer insulated pot, and it is this that keeps your food cooking in a similar way as when you use a thermos flask.
To use a thermal pot, you simply prepare your meal in the inner pot over the stove. You can sauté the meat and add your vegetables and then bring to the boil. Once you have done this, you then place the inner pot inside the outer pot housing and leave it for a couple of hours. You do not need any electricity or to do anything more to your meal; just leave it, and it will cook. You don't need to worry about leaving the electricity on if you are out of your home. This is probably the safest cooking method there is and certainly one of the most economical.
Although the thermal pot does have its fans, there are some drawbacks. The main one of these is that they are expensive; the cheapest one we could find on Amazon is over $80, and with prices more usually set around the $170 price bracket, it does not come cheap. Also, you may find that its use is slightly limited.
Pros
Easy to use
Extremely economical and safe
Can be very convenient especially if you are on the move
Cons
Expensive to buy
Their use may be fairly limited to soups and casseroles
Not very popular
Pressure Cooker
At the other end of the scale, you have the pressure cooker. These days the old fashioned stovetop models are mainly a thing of the past, and today's pressure cooker is a multi-function appliance that can carry out a range of cooking methods quickly and efficiently.
Very popular with customers, a pressure cooker can be used for a variety of purposes, including; slow cooking, rice cooking, and yogurt making. You can use it to roast meat, make casseroles and soups, steam vegetables, and much more.
Pressure cooking does use state of the art technology, but a great thing about it is that it is very versatile and very economical, enabling you to cook cheaper cuts of meat in a fraction of the time of conventional cooking.
If you are new to pressure cooking, these electric multi-function pressure cookers make it very easy by providing a range of preset options. You just add your food to the instant pot and sauté if required. Then hit the preset button, and it will cook automatically in around 30 minutes or so. Not bad for a home-cooked casserole that with other cooking methods would take hours.
A great point about pressure cookers is that they are not overly expensive to buy. The most popular model on the market, the Instant Pot Duo, generally costs around $79, so although this might seem slightly expensive, it is generally cheaper than a thermal pot, and it offers excellent value for money as well. Popular with customers who often use their pressure cooker every day, it can revolutionize your kitchen and your menu.
Pros
Very versatile – you can produce a wide variety of different meals from the same appliance
Cook very fast so will save you money on power
Not overly expensive to buy
Very popular with customers
Cons
There is more to go wrong with a pressure cooker than a thermal pot
If you do have a power outage, you cannot use it
Although today's pressure cookers are safe to use and come with built-in safety features, you do need to follow the instructions in order to use it safely
In conclusion
We actually love the thermal pot. The problem is that it is expensive, and in most cases, we just don't use it. The thermal pot would be ideal if society broke down, and we all needed to survive in the wilderness, but our main issues are that it is very expensive and fairly limited with what it can and can't do.
By contrast, the pressure cooker offers fantastic value for money and provides a whole range of cooking capabilities. So if you are debating thermal pot vs pressure cooker, in our opinion, the pressure cooker wins hands down. However, if you do live in an area with patchy electricity, have to travel a lot, or you have decided to go off-grid, a thermal pot could be a great addition to your kitchen that is well worth the expense.
Related Video: