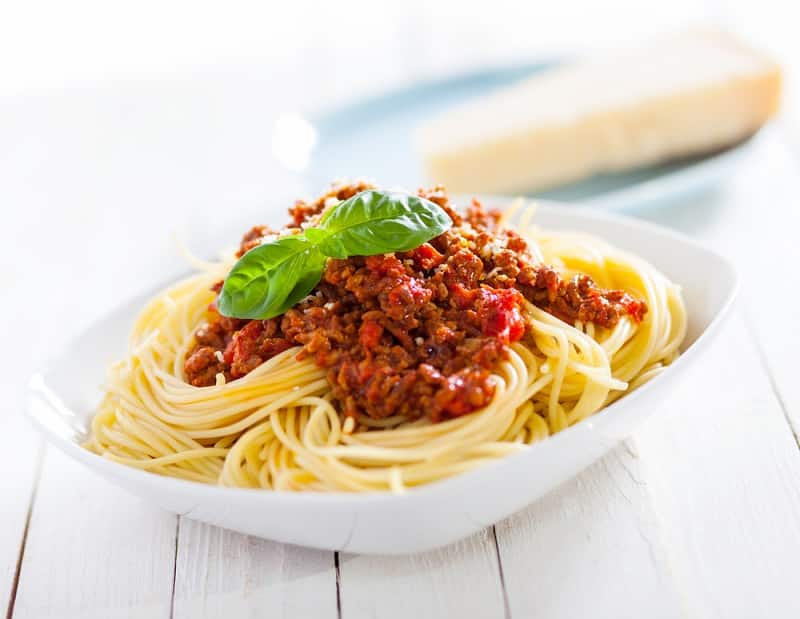 Pressure Cooker Spaghetti Recipe
Spaghetti is one of the most popular meals in the world, but preparing spaghetti the traditional way takes time—and that's not to mention that it creates plenty of dirty dishes. You can reduce the time and dirty dishes required to make a spaghetti dinner with the following delicious pressure cooker spaghetti recipe.
1. Classic Spaghetti
This classic spaghetti recipe has all the hallmarks of traditional spaghetti, including a flavorful meat sauce.
Ingredients
1 lb. ground beef – choose your preferred leanness
1 lb. spaghetti noodles
36 oz. water
1 can diced tomatoes – or 14.5 ounces diced fresh tomatoes
1 tsp Italian seasoning
1/2 tsp salt
1 tsp garlic powder
1 tsp onion powder
24 oz. spaghetti sauce – preferred brand or homemade
Instructions
Turn your pressure cooker onto the "sauté" setting.
Add your ground beef and continue cooking as you move on to the next step.
Add your seasonings and mix well with your ground beef as it cooks.
Make sure that your ground beef is totally browned, then turn off your pressure cooker.
If there is excess grease inside the cooker, drain it before continuing.
Now, add your uncooked spaghetti noodles into your pressure cooker.
Pour your tomatoes, water, and spaghetti sauce into the cooker; make sure that the noodles are totally covered in liquid.
Set the pressure cooker to high pressure on manual mode, and cook for 8 minutes.
Use manual release to release the steam, then stir well before serving.
2. Vegan Spaghetti
This is a vegan-friendly recipe that is just a hearty as a traditional meat-based spaghetti recipe thanks to a plethora of vegetables.
Ingredients
12 oz. vegan pasta
4 cups water
2 cups spinach
2 cloves garlic – minced
1 onion – chopped or diced
1 jar vegan spaghetti sauce
2 tomatoes – finely chopped
2 green peppers – diced
1 zucchini – chopped
1 eggplant – chopped
1 tsp Italian seasoning
2 tsp salt
Instructions
First, turn on the sauté function of your pressure cooker.
Add your onion, garlic, and a bit of water; cook until onions begin to turn soft, then add your other vegetables and cook for about 1-2 minutes until they are beginning to soften up.
Turn off your pressure cooker once your vegetables have cooked for about 1-2 minutes.
Then, add your pasta, water, seasonings, and spaghetti sauce to your pressure cooker.
Stir gently but do not break the spaghetti noodles as you stir.
Make sure that the spaghetti noodles are covered (you may add more water if more is needed); then turn onto the manual high-pressure setting and cook for about 8 minutes with the lid locked.
Once the cooking time is finished, let the steam manually release. This may take several minutes.
After the lid is released, you may want to taste and add more seasonings if needed.
Once it's done, stir well in order to reduce the wateriness of the spaghetti sauce and serve immediately.
Related Video: