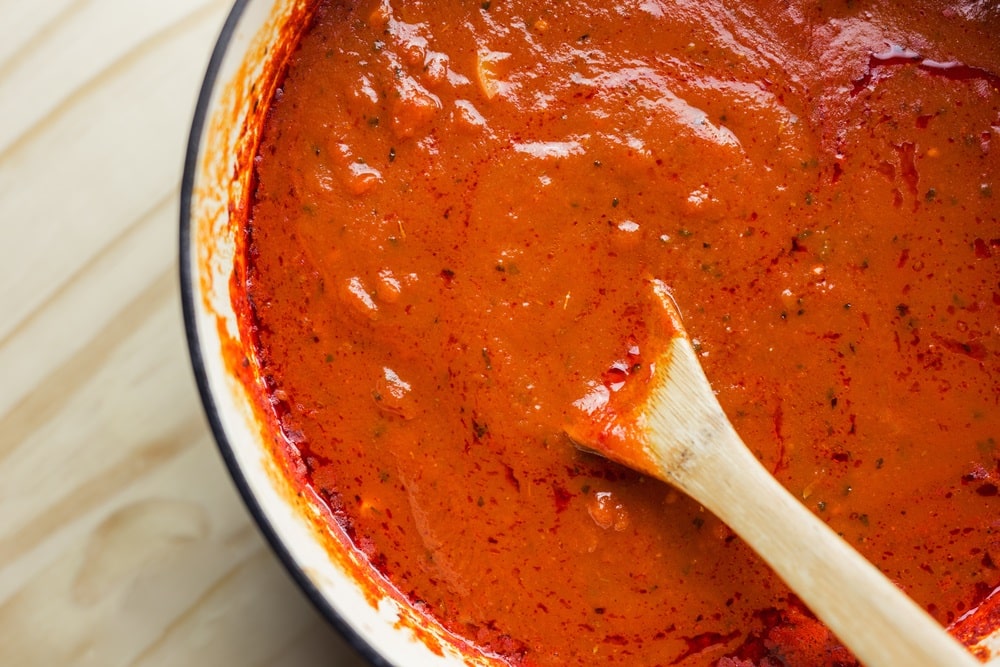 There are various recipes for spaghetti sauce. Some use both ground meat and sausage, while others focus on the tomato component only and are suitable for vegans.
Whichever one you choose, the recipe is bound to call for some sort of oil. This is usually olive oil.
Add to this the fat that renders out of the meat if you're using it, and you have the potential for an oil slick. While a little grease is vital for a good flavor and consistency, too much will ruin your dish.
In this article, we're going to first look at how to prevent a greasy spaghetti sauce, and then we'll give you some tips on how to get grease out of spaghetti sauce. Lastly, we will give you a recipe for a delicious spaghetti sauce with just the right amount of fat.
Preventing Oily Spaghetti Sauce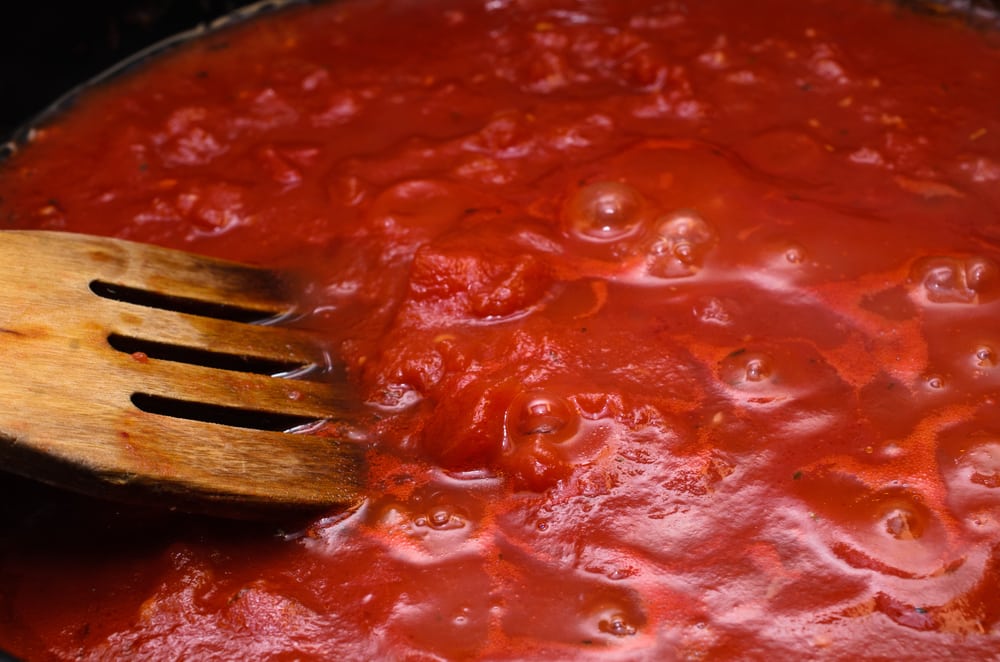 1. If you are making sauce with meat, be sure to choose good quality ground beef and sausage. Cheaper options tend to be bulked out with too much fat. Look for regular ground beef that is 70-77% lean.
This allows for enough fat to add flavor and give a good mouth feel without too much greasiness. If your recipe calls for sausage, you can use either Italian sausage (more authentic) or pork sausage (works well too).
Again, check the quality and try not to add too much as sausages tend to be fatty.
2. The second way to prevent an oily sauce is to be very careful when you add olive oil to the pan for frying. Don't just pour it into the pan directly from the bottle. Rather, use a spoon to measure it.
You need very little oil, especially if you are using meat. Once the meat heats up, its fat will start to render.
How to Get the Grease Out of Spaghetti Sauce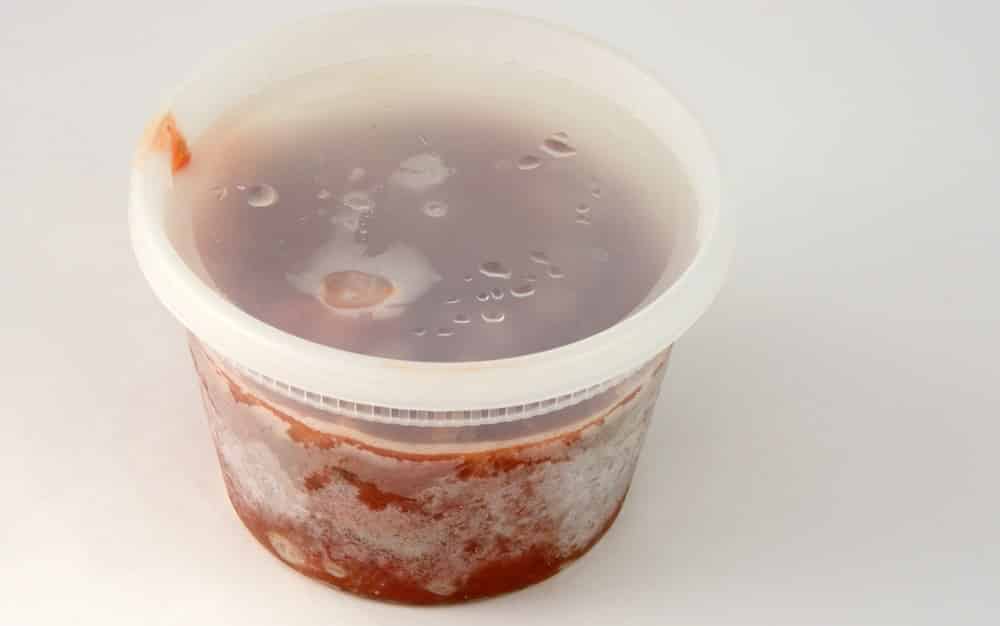 What if you have already made the sauce and it's too greasy? We have a few ways to fix the problem.
Luckily, grease always floats to the top. Leave the pot off the heat, slightly tilted if possible, for about half an hour. Now, take some paper towels and put them where you see the liquid grease. The towels will absorb most of the excess oil and can then be thrown away. Easy! You can now reheat your sauce and serve it.
A similar method uses slices of bread (remove the crusts) to absorb the oil from the surface.
You can also hold the pot carefully with oven mitts and use a spoon to scoop the fat off the top. Have a cup or an old can handy to throw the grease into. Please remember never to tip this fay down the drain as it will block your drain. Always discard it in the garbage.
If you have more time, you can refrigerate your sauce. This will cause the

grease on top to solidify

. It can then be

lifted easily off the top

and discarded.
Our Choice Non-Greasy Spaghetti Sauce
Try our spaghetti sauce recipe and you'll not need to be skimming fat off the top. It serves six people.
Ingredients
1 pound ground beef – 77% lean
¼ pound good quality pork sausages
2 medium onions, chopped fine
4 cloves garlic, crushed
2 x 14 ½ oz cans chopped Italian tomatoes
1 x 3 oz can tomato paste
2 tablespoons white sugar
2 tablespoons Worcestershire sauce
1 tablespoon olive oil
A handful of fresh parsley, finely chopped
A handful of fresh basil, chopped or 1 teaspoon dried
½ teaspoon dried oregano
½ teaspoon dried marjoram
2 bay leaves
½ teaspoon salt
¼ teaspoon cayenne pepper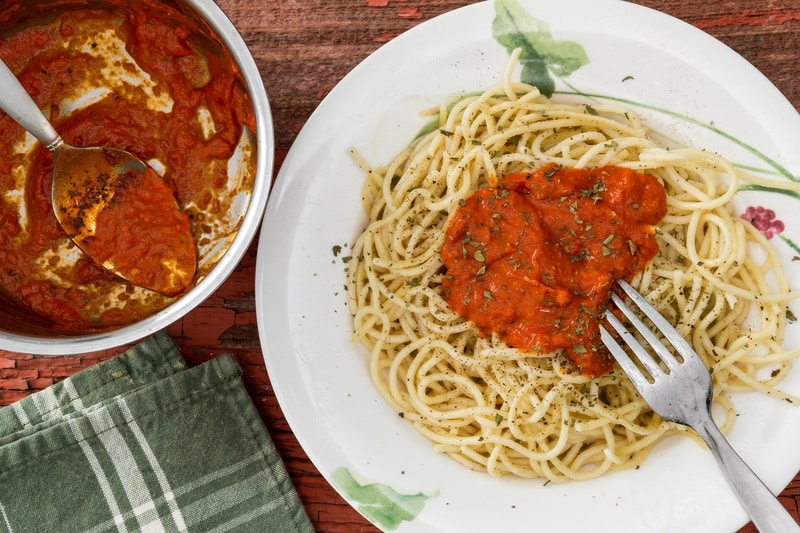 Instructions
Use a heavy-based pot.
Heat the oil over a medium flame and cook the sausage and onions over medium heat until the sausage meat renders its fat.
Add the beef mince and garlic and fry until browned
Add the tomatoes, tomato paste, sugar, Worcestershire sauce, and other ingredients.
Put the lid on and cook on low heat for at least an hour, preferably two.
Add a little water if it becomes too dry.
Taste and adjust seasoning.
Remove the bay leaves and serve with spaghetti.