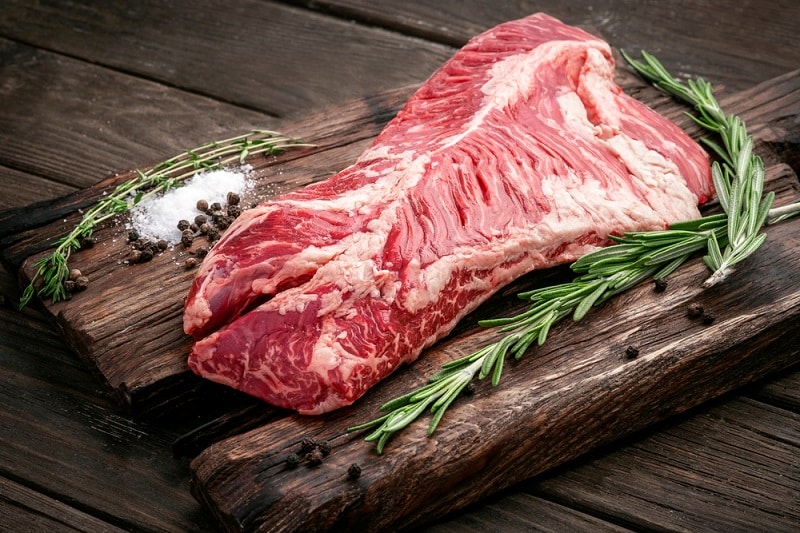 It's fun to explore the taste adventure of all the wonderful different cuts of beef available. Have you tried hanger steak? It is a delicious, tender cut but unfortunately not that easy to find.
You probably haven't seen it in your local supermarket and may have to go to a specialist butcher for it.
Hanger steak is also known as butcher's steak. It got this name because long ago, butchers seldom sold it but preferred to keep it for themselves.
This should tell you how tasty it is! Its other names are bistro steak, hanging tenderloin, to name but a few.
What part of the animal does hanger steak come from?
Although most people think that it's one of the cheaper, tougher cuts, in reality, it is one of the tenderest. It is something like a flank steak in flavor and texture.
This cut is extracted from the plate section, which is beneath the animal's ribs. This cut forms the "legs" of the diaphragm muscle. It "hangs" from the animal's diaphragm, hence the name.
Hanger steak has full-fat beef content. From the same rib section, you get short ribs and ground/minced beef. Skirt steak is also taken from the same region. Hopefully, that gives you a better idea of where the cut comes from.
Why do I rarely find hanger steak?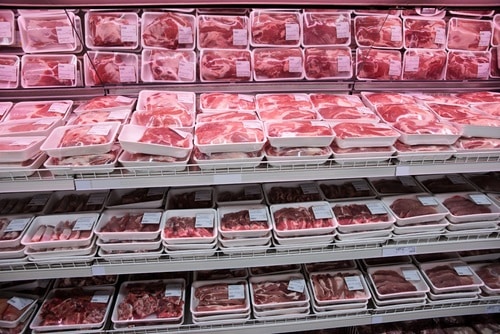 As we have discussed, most grocery stores stock significantly small quantities of hanger steaks. The main reason is that cows have a single hanger per animal.
This article aims to inform you about which cuts are the nearest in flavor and texture to a hanger steak. They will still ensure that your recipe is a success if you cannot obtain that particular cut.
How is hanger steak usually cooked?
Some people like to marinate their steak for extra flavor before cooking, but this is a matter of preference. It certainly isn't necessary to tenderize it because it's not a tough cut. However, a marinade is a great idea if you're going to barbeque the meat.
Alternatively, bring the meat to room temperature, then season it just before cooking. Pat a little oil all over the meat. Heat a mixture of oil and butter (about a tablespoon) in a heavy-based frying pan on the stovetop.
Fry the steak over high heat for a couple of minutes on either side until a crust forms. Turn the heat down and finish cooking – about 7 minutes in total should do it.
Hanger Steak Substitute
If we've got your mouth watering by this time for a nice hanger steak, here are some commendable hanger steak substitutes if you can't find any. Choose whichever is readily available or seems to suit your recipe best.
Shoulder tender steak
Skirt steak
Flank steak
1. Shoulder Tender Steak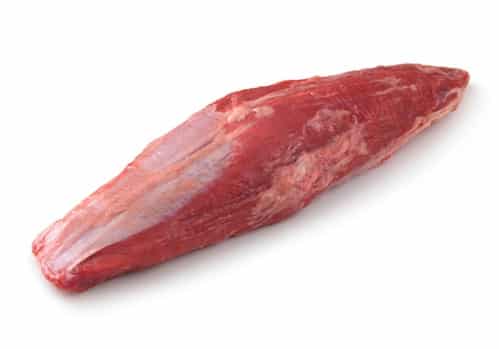 Shoulder tender steak is probably the best hanger steak substitute. We can safely say that it is as delicate, juicy, rich in fat, and tasty as hanger steak.
Shoulder steak is from the large primal area in the shoulder region of the cow. This cut of steak is prized for various recipes for its richly beefy flavors.
Shoulder steak, just like hanger steak, can be slow-cooked but can also be barbequed or pan-fried.
2. Skirt Steak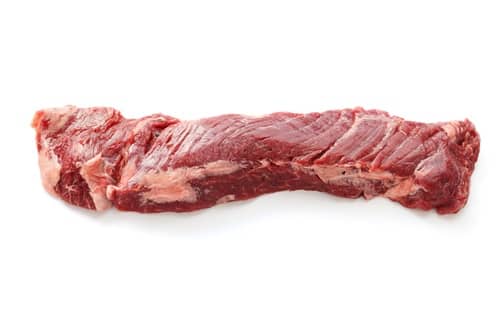 Skirt steak is another option for a tender, tasty, affordable beef cut, and it is often overlooked. Skirt steak holds the same rich grain and beefy flavor as hanger steak.
You can tell the difference between the two by looking at the grain of the meat. Skirt's grain runs across the meat's width, while flank's grain runs lengthwise.
Remember when carving any of these cuts that you should cut across the grain, not with it, for ultimate tenderness.
Like flank and hanger, this steak just needs a quick searing in a hot pan or a short time on the barbeque over hot coals. If you want to spruce it up a little, then, by all means, add spices or a marinade.
Its intense meaty flavor can cope with this treatment, and prepared this way, this cut of beef is often used for tasty fajitas. There is little connective tissue or fat in this cut, so it does well if cooked quickly over high heat.
Remember that skirt steak actually comes in two parts – the outside skirt, which is more tender and has a finer grain, and the inside skirt, which is thinner, coarser, and tougher. Always ask for the former.
3. Flank Steak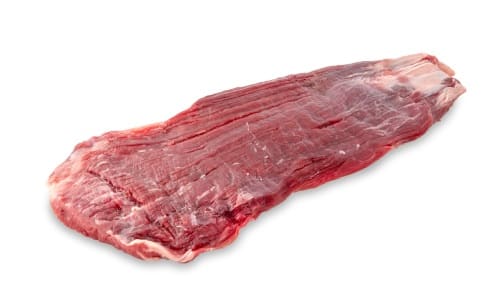 When the butcher extracts a piece of flesh from the abdominal muscles and lower chest region of a steer, he ends up with a flank steak. Being taken from the rich muscle region, this steak is highly prized among beef lovers.
French butchers call the flank steak bavette, while Brazilians refer to it as Saldanha. Whatever you choose to call it, this cut of meat is delicious if cooked right but is tough and dry if it's not.
Bring the meat to room temperature before cooking
This cut is good with a marinade
Cook quickly over a hot flame
Never overcook the flank steak. It's the best medium rare
Always rest the meat for a few minutes before carving it to allow the moisture to sink back into the meat. Otherwise, all the delicious juices will end up on your plate.
For ultimate tenderness, carve the steak correctly. Use a very sharp knife and slice the meat into thin slices. Cut against the grain at a 45-degree angle.
Final Thoughts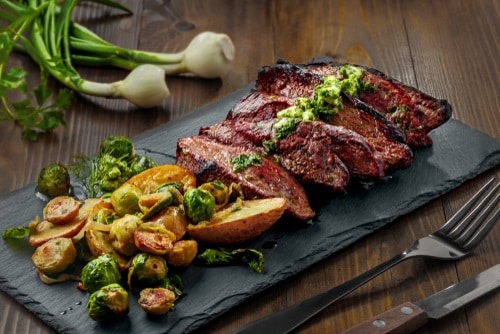 If you see hanger steak, do get some and try it. However, if you cannot find it, you can safely use the hanger steak substitutes that we've selected.
Bear in mind that there are no "inferior" cuts of beef. They all need to be treated and cooked a little differently for optimal flavor and tenderness. If you're unsure about anything, feel free to ask us in the comment section below.