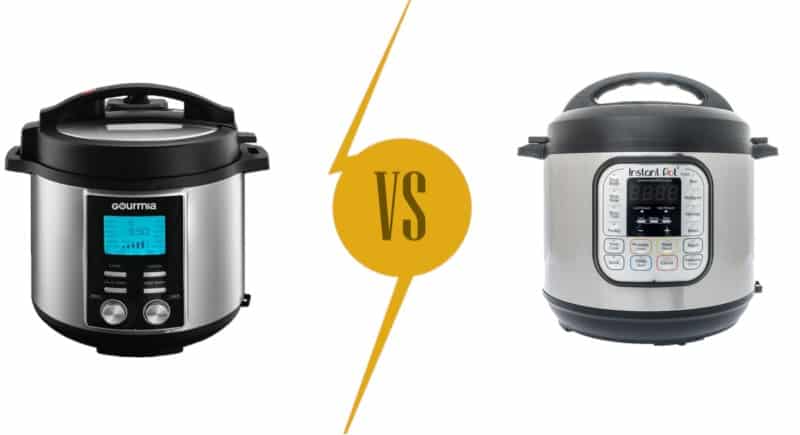 Gourmia vs Instant Pot
Electric pressure cookers come with a range of extras that make pressure cooking easier than it once was. In addition, they provide a wide variety of other cooking methods such as steaming, slow cooking and more. You might imagine that this means that all multifunction pressure cookers are much the same but in fact, different brands and different models can vary a great deal. With this in mind, we take a look at the Gourmia vs Instant Pot to find out which of these is best.
Gourmia Pressure Cooker
Gourmia is a US company that specializes in engineered cooking tools for a healthy lifestyle, so it produces everything from air fryers to coffee machines and of course pressure cookers. There are four so-called smart pots in the range from the small 4 qt size right up to 12 qt. Apart from the size, these are identical and provide a range of cooking methods and options.
The Gourmia Smart Pot features 13 cooking presets so you can cook many different recipes by simply adding ingredients to the pot and touching the digital control. Settings include; rice, porridge, eggs, cake, poultry, meat/stew, beans and more. You can also use the Gourmia Smart Pot as a slow cooker or a sterilizer.
According to the advertising, the Gourmia features some unique features. It enables the pressure cooker to release the steam automatically and hands-free. You can release pressure remotely just by pressing the remote release button and there is an automatic function that stirs the food inside the pot with steam. These features all look good and seem very easy to use.
The Gourmia Smart Pot is an attractive and well-thought-out kitchen appliance. We like the sleek black design and the brightly lit interface. We like that it is ETL-certified so it is fully compliant with the North American safety standards and the fact that the inner pot is made from stainless steel is also a good point. Stainless steel is easy to clean and you can be confident that coating or aluminum is not going to wear off in your food.
As with all pressure cookers, the Gourmia Smart Pot enables you to cook food on average 70% faster than with conventional cooking so it is a great addition to any home where home-cooked food is important but time is limited.
Despite the smart features of the Gourmia, this pressure cooker is nowhere near as popular with customers as the Smart Pot. There are only around 20 customer reviews on Amazon over the last 12 months, so it is obviously not selling in high numbers. That said customer opinion is positive.
Pros
Automatic steam release
Easy to use and to clean
Good looking kitchen appliance in a wide choice of sizes
Cons
Very little customer feedback so obviously not very popular
No customer warranty or guarantee
More expensive than Instant Pot
Instant Pot Pressure Cooker
The Instant Pot is the pressure cooker market leader in the USA and it is easy to see why. There is such a wide choice of sizes and models so you can easily decide on what is best for you. In addition, Instant Pot is always coming up with new refinements to the design and they do tend to keep ahead of the competition.
One of the best points about the Instant Pot is that it is extremely easy to use. Depending on the exact model, you tend to get 14 presets so you can cook in a wide variety of ways at the touch of a button. Most Instant Pot models can be used to make yogurt as well as all the usual features such as; slow cooker, rice cooker, steamer, sauté pan, warmer and more. However, not all Instant Pots come with an advertised sterilizer so function you might not be able to use it for this purpose.
A great point about Instant Pot is that buying one of the pressure cookers gives you access to a free app where you can find thousands of recipes and pressure cooking tips. In addition, all customers say that the Instant Pot is very easy to use and with many Instant Pot models generation in excess of 50,000 positive reviews on Amazon alone, you can't deny the popularity of this brand.
Price-wise, the Instant Pot is generally cheaper than the Gourmia. We looked at the 6 qt Gourmia model ($99.00) and found that the same size Instant Pot was $20 dollars cheaper at $79.00.
There are a few issues with Instant Pot. The customer service dept is generally considered to be unhelpful and this brand does not come with a guarantee or warranty. However, for the vast majority of customers, this is unlikely to be an issue as most people are extremely satisfied.
Pros
Popular with customers, with hundreds of thousands of models sold
Well priced and versatile.
Easy to use
Cons
No guarantee or warranty
Customer service dept unhelpful
In conclusion
We like the Gourmia Pressure Cooker range.  This good looking kitchen appliance is by all accounts easy to use and maintain and we love the hands-free pressure release and automatic stirring function.  However, if you are new to pressure cooking we would tend to go for the Instant Pot. Not only is the price better, the fact that these pressure cookers sell in thousands means that this company is obviously doing something right. Most customers are extremely satisfied with Instant Pot and although there are issues with the company's customer service team, this will not affect most users.
Gourmia is undoubtedly a good quality machine but we have serious concerns that it might not be around for long. By contrast, Instant Pot is on sale just about everywhere and spares such as gaskets and seals are easily available. We like the Instant Pot App too with recipes and customer chat lines. So, overall of Gourmia vs Instant Pot, the Instant Pot is probably the better buy for most users, even though it is not necessarily the better machine.