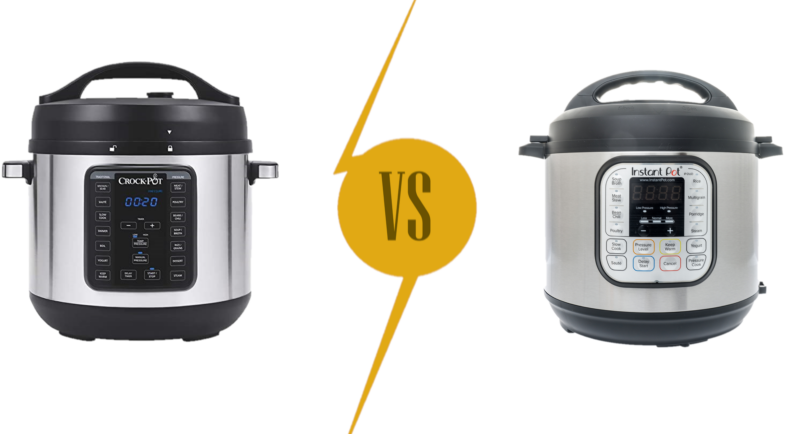 Crock-Pot 8-qt. express Crock XL Pressure Cooker vs Instant Pot
When you buy an expensive household appliance, you need to know that you are purchasing a quality product that works, so it is always reassuring to go for a named brand. Here we have the Crock-Pot 8-qt. express Crock XL Pressure Cooker vs Instant Pot. These are both much-loved brands in the USA, so which one is best? Let's find out.
Crock-Pot 8 qt Express XL Pressure Cooker
The Crock-Pot name is synonymous with slow cooking. This company produced the much-loved Crock-Pot slow cooker back in the 70s and revolutionized food preparation by providing an easy way to produce home-cooked meals with minimal effort.
Today the Crock-Pot company has moved with time and has also moved into the electric pressure cooker market.
The Crock-Pot 8qt Express XL Pressure Cooker is a multi-function electric pressure cooker that offers a wide range of cooking functions that go far beyond the original slow cooker function. The 8qt size is versatile and is suitable for cooking for 10 or more people and is also useful for cooking in bulk for the freezer.
This all in one appliance enables you to pressure cook, slow cook, brown, sauté, steam, boil, and simmer. There are also pre-set pressure cooking options, including meat/stew, beans /chili, poultry, soup/broth, and dessert.
We love how the interface is arranged because it is so simple to use. The line of buttons situated on the left-hand side of the interface is for traditional cooking methods and includes slow cook, sauté, brown, sear, and boil. On the right-hand side is the list of pre-set options for pressure cooking, mentioned above.
You also have a choice of pressure settings. You can choose high or low or use the manual setting for everything in between making this pressure cooker ideal for experienced users. The pressure cooker is also programmable with a timer delay button.
Many customers rate the Crock-Pot 8qt Express XL Pressure Cooker very highly. When compared with the Instant Pot, you may find that this one is faster to reach pressure. We also love the additional feature of the status bar that tells you exactly what is going on under the lid helping you to track pressurization and preheat modes.
Overall, customer opinion is good. That said, there are some issues with the Teflon coating of the inner pot coming off in the food after burning or other cooking accidents. Although the makers say that the coating is PFOA-free (Perfluorooctanoic acid), in our opinion, it is always better to have a non-coated stainless steel liner as it is easy to clean and longer-lasting. We all have the occasional cooking disaster after all, but the Crock-Pot 8qt XL Pressure Cooker does not seem to be very forgiving.
Pros
Much loved brand name
Very fast to reach pressure
The status bar helps you track the cooking progress
Well priced at less than $100 for an 8qt model
Cons
Some customer complaints about the coating of the inner pot
Not as popular as Instant Pot
Instant Pot
The Instant Pot name is to pressure cooking what the Crock-Pot is to slow cooking leading brand in the USA. Many people use the Instant Pot name as a description for all multi-function pressure cookers in the same way as we say Hoover meaning vacuum cleaner or Crock-Pot, meaning slow cooker.
There are loads of Instant Pot models on the market, and the brand comes in all sizes, although the 6qt size is undoubtedly the most popular.
A great point about the Instant Pot is that it is easy to use. Regardless of the model, all pressure cookers have at least 7 different cooking functions. You can use it for pressure cooking, and there is a range of pre-set options making it even easier.
You can also use it for slow cooking, sauté, for yogurt, and more. In most cases, you can cook a complicated meal in one pot, just adjusting the functions as you go.
There is a trendy fan base for the Instant Pot. Many people love this kitchen appliance, and you have access to a wide range of advice, tips, and tricks from committed Instant Pot users. Also, the Instant Pot company provides a website and an app where you can find thousands of great ideas and Instant Pot recipes.
The Instant Pot company specializes in pressure cookers and are always quick to update their models and functions. Construction is of high quality. The inner pot is constructed from stainless steel with no coating, so even if you do have a cooking fail, it does not adversely affect future use.
The most popular model is the Instant Pot Duo, which has attracted many thousands of customer reviews on Amazon alone and provides excellent value for money at around $79 for the 6qt model.
Customer feedback is generally good, and with a range of models and different prices, you can find just what you need and for a reasonable price. That said, some customers have struggled with the customer services in the case of malfunction, and there is no standard guarantee on offer.
Pros
Well known trusted brand
Easy to use
Stainless steel inner pot
Cons
No money-back guarantee
Some customer complaints regarding customer services department
In conclusion
Suppose you are an experienced cook that generally cooks in bulk or for more than 10 people, the Crock-Pot 8-qt. Express crock XL Pressure Cooker is a great deal at less than $100. This is a versatile appliance with some great features that offer the cook complete pressure control. The non-stick coating will help make it easier to use and to clean.
However, for cooks that are less experienced and don't want something quite as big, the Instant Pot is better. The Instant Pot is more forgiving, and if you do burn the food or get something stuck to the inner pot, there is no risk of ruining the coating. Besides, the Instant Pot is straightforward to use, and there is a wealth of great support from other customers.
There is no clear winner. We rate both these pressure cookers very highly, so when it comes to Crock-Pot 8-qt. express Crock XL Pressure Cooker vs Instant Pot, the decision comes down to personal choice and cooking style.