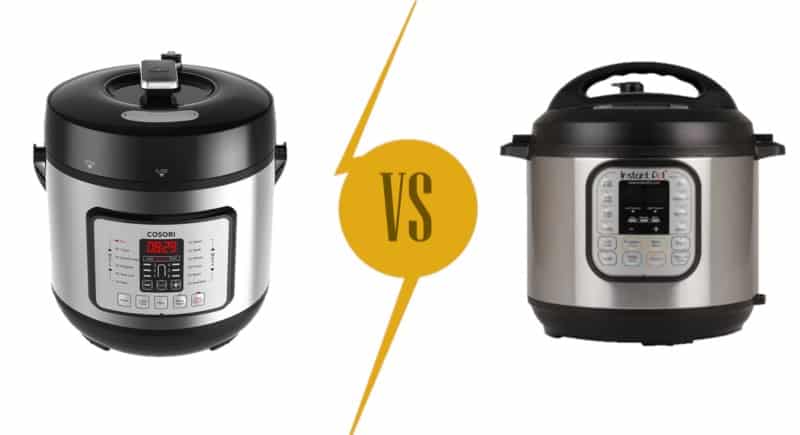 Cosori Pressure Cooker vs. Instant Pot
Pressure cookers are going through a renaissance right now.  Gone are the days when cooking on a pressure cooker seemed like a complicated business of hissing steam and jiggling weights. These days the new generation of pressure cookers offer a range of great functions, convenience, and safety. No wonder they are becoming so popular.
The most popular brand on the US market is the Instant Pot but other makes are also available. One of these is the Cosori pressure cooker. So which one is best? Should you stick with the proven US favorite or is the Cosori pressure cooker a better deal?
Cosori Pressure Cooker
The Cosori pressure cooker is available in 2 sizes; the 6qt size which should suit meals for 4 to 6 people and the 8 qt size for a larger family. Whichever size you choose, this is a smart electric appliance that will sit well in any kitchen and it seems very easy to use.
There are 8 functions. As well as a pressure cooker, you can use the Cosori as a slow cooker, rice cooker, yogurt maker hot pot, steamer and warmer. There is also a function for sautéing and for browning.
If you already use a pressure cooker you will know that most of these functions apart from yogurt making and slow cooking, are achievable in any pressure cooker but it doesn't hurt to point this out.
The Cosori is fitted with 16 smart programs. These are; Meat/Stew, Poultry, Soup, Beans/Chilli, White Rice, Brown Rice, Multigrain, Steam Vegetables, Slow Cook, Yogurt, Pasta/Boil, Steam Potatoes, Hot Pot, Sauté/Brown, Bake, Reheat, Automatic Keep.
There is also a timer and a delay cooking function of up to 12 hours.
We like that the Cosori enables you to move away from the programmed settings. There are two manual cooking modes and 6 different pressure levels so it will suit you if you want to get creative.  It is also easy to use. The manual is easy to follow and all models come with a recipe book.
Manufacture seems sturdy. The stainless steel liner is removable and dishwasher compatible. There is no chemical coating and it comes with plenty of extras including a reinforced glass lid, ladles, rice spoon, and recipe book.
Despite the Italian sounding name, the Cosori pressure cooker is an American design that is manufactured in China.
Customer feedback is overriding positive. Some customers have had technical issues but with a 2-year warranty and good customer support, any faulty units can be replaced.
You can buy the 6 qt Cosori Pressure Cooker from a range of outlets. Price-wise it compares well with similar other brands, kicking in at around $66.00
Pros
Well priced and easy to use
Overwhelming positive customer feedback
Comes with a 2-year warranty
Cons
Instant Pot
The Instant Pot is the USA's leading pressure cooker brand. You can buy a range of different sizes and models are frequently updated so you have plenty of choices. The latest model is the Duo Nova and this is available in 3 qt, 6qt or 8 qt sizes.
There are seven functions with the Instant Pot Duo Nova; pressure cooker, slow cooker, rice cooker, steamer, sauté pan, yogurt maker and warmer. According to the product information, cooking under pressure is 70% faster than conventional cooking methods.
The control panel interface is easy to use. There are two pre-set pressure levels Low and High. You can also decrease and increase pressure via the plus and minus signs.
Other food settings on the interface are Soup/ Broth, Rice, Bean / Chilli, and Porridge. You can choose between Steam, Slow Cook, Yoghurt and Pressure Cook.
The Instant Pot is easy to use. You can choose between 10 one-touch smart programs such as; rice, poultry, beans, and meat and with clear instructions provided and a website available with hundreds of recipes, this multi-cooker may help transform your meals.
There are also plenty of safety functions. The instant Pot looks foolproof to use and you are unlikely to run into any issues while using this pressure cooker.
Despite American popularity, the Instant Pot was designed in Canada and is made in China so if you are considering choosing this brand to support the US industry, don't bother. That said with thousands of customer reviews on Amazon alone (35,000 buyers) the Instant Pot is certainly popular.
There are some customer complaints. Some customers have reported that the Instant Pot is not very long-lasting. There have been cases of it not reaching pressure or simply not working within a year. Unlike the Cosori the Instant Pot is not advertised with a warranty or two-year guarantee and although there is some customer support, it is not clear whether this stretches to a refund or replacement.
Where the Instant Pot scores are with the fact that it is so easy to use and is the most popular US model so you know that this brand is not going to disappear if you need to update your seals or have any questions about how to use it.
Price-wise, there is very little difference between this and the Cosori. The 6 qt size costs around $64.00 depending on the retailer and this size is the best deal. The mini pot (3qt) costs around $75.00 and the largest size (8qt) costs $90.00
Pros
Very easy to use
The most popular brand in the USA
Foolproof safe design
Cons
Basic compared to some models.
Complaints about reliability.
No money-back guarantee or sales warranty as standard.
In conclusion
On balance we feel that the Cosori offers you more for your money than the Instant Pot and will suit experienced pressure cooker users, who may become frustrated with the limitations of the Instant Pot. However, if you are looking for an extremely easy pressure cooker to use, the Instant Pot will probably fit your needs.
Related Video: