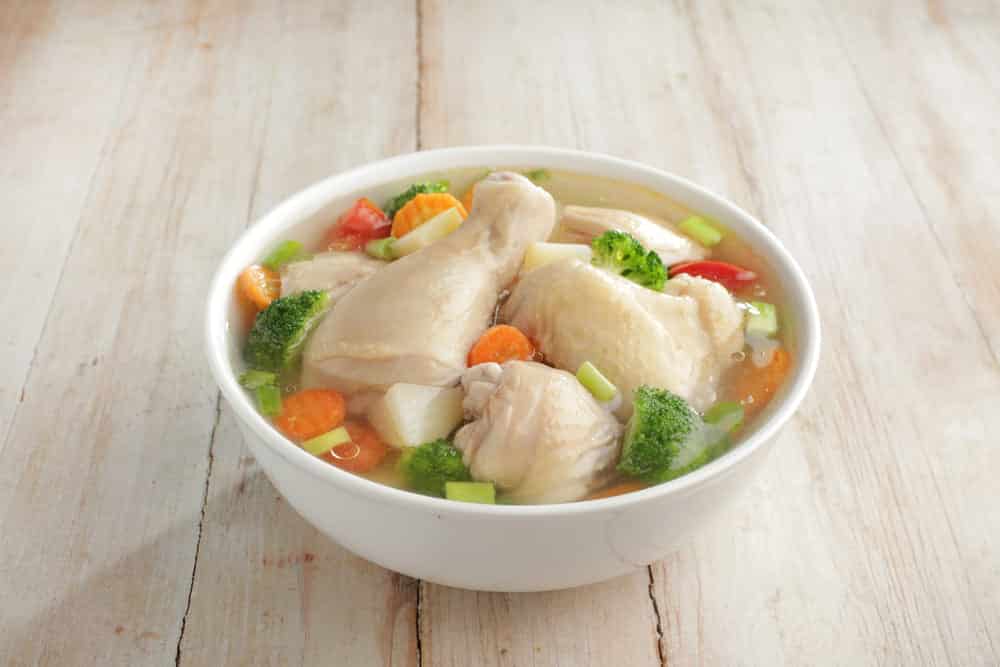 Chicken soups are usually made by making a stock first with some chicken bones and root vegetables such as carrots, leeks or onions, and perhaps turnips. Most stocks are flavored with herbs such as celery, thyme, and marjoram.
Seasonings like salt and pepper are also added. This stock is simmered very gently for several hours to extract as much flavor as possible before being strained.
The vegetables and other solids are discarded, and this stock base is then used as a foundation for the soup. Whole, raw chicken pieces such as thighs or breasts can be added to the stock as it's cooking for use in the soup later.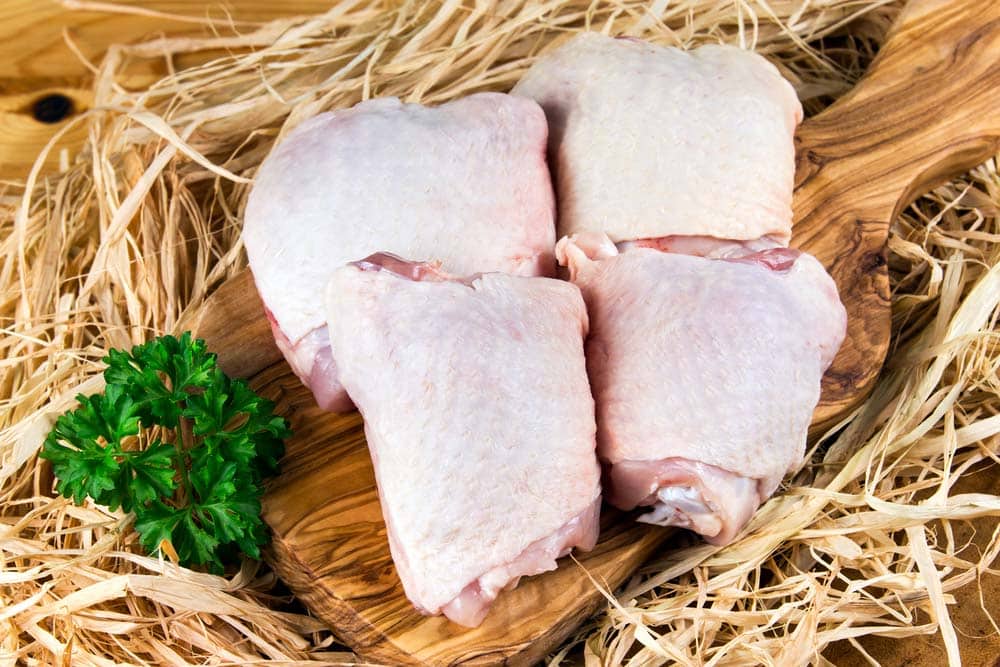 Can You Cook Raw Chicken In Soup?
It's best to defrost them first. Instead of discarding the pieces with the other ingredients, these cooked pieces are removed from the stock after the cooking time is up, skinned, deboned, and shredded.
This meat is then added to the finished soup at the end of the cooking time. If you are following the one-pot recipe for making soup, you can add raw chicken to the stew pot along with the vegetables.
However, in this case, you have to be mindful that the heating temperature is high enough to ensure the safety of the chicken. It is perfectly fine to add raw chicken to the pot but you must ensure a long enough cooking time.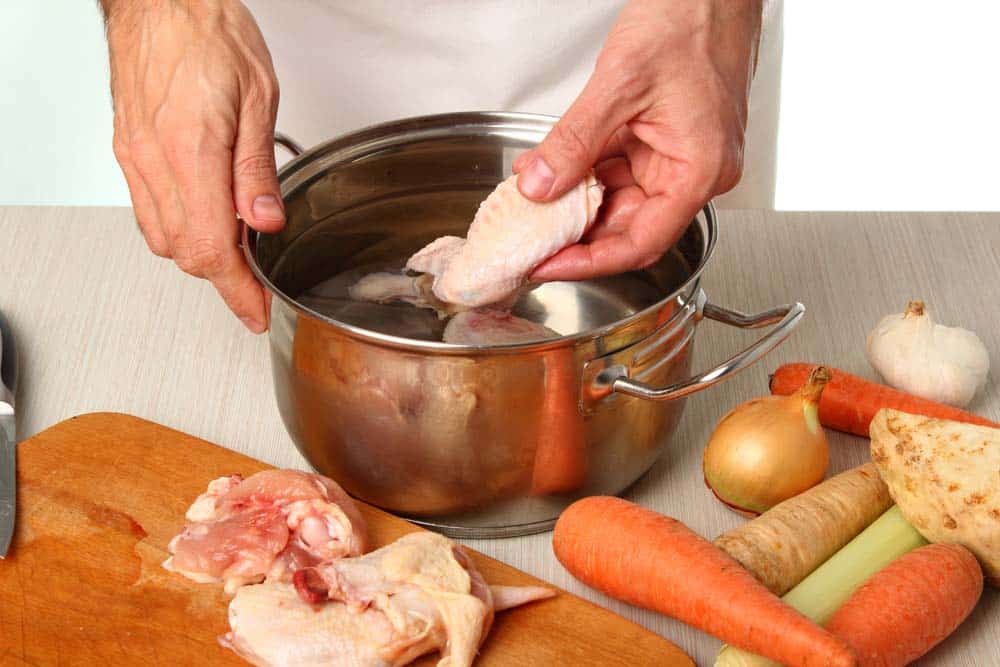 You will know when the chicken has cooked for long enough because it will begin to fall off the bones. According to culinary experts, raw chicken can be added to the soup without compromising on safety.
However, it is better to sear the chicken first because this will result in better flavors and a savory umami taste. Also, when you add seared chicken, it gives the soup a lovely rich, golden color.
Additional Things To Consider
When it comes to chicken, there is always a risk of harmful bacteria which must be destroyed during cooking. For this reason, it is essential to cook chicken for ample time (at least thirty minutes for chicken pieces) because this will kill the bacteria.
You can add uncooked vegetables and chicken to the stoup pot together (the bacteria will be killed when the pot reaches 160-degrees Fahrenheit). However, the safe cooking times are different for every chicken piece.
For instance:
Boneless chicken = 1/2 hour
Bone-in breast = 40 minutes
Wings and thighs = 50 minutes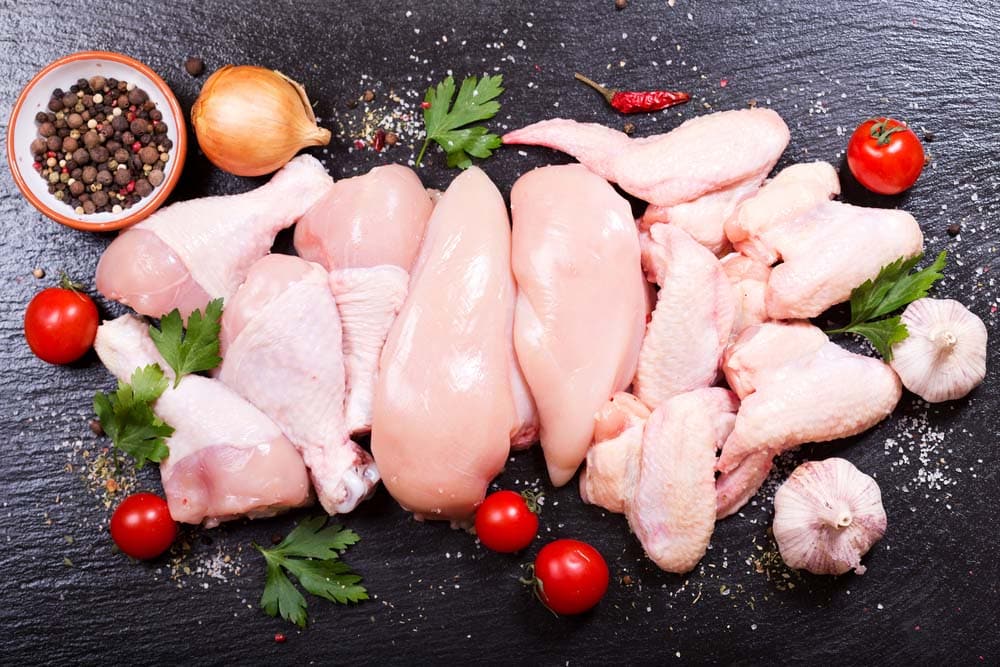 To get you going, here's a delicious chicken soup recipe using raw chicken:
Best Ever Chicken Soup
Ingredients
1 tablespoon cooking oil of your choice
3 garlic cloves, crushed
1 small onion, finely diced
1 celery stalk, finely diced
1 big carrot, peeled and finely diced
2 teaspoons freshly grated ginger root
½ teaspoon dried turmeric
4 cups homemade chicken stock
½ pound skinless, boneless chicken breast or thighs, chopped
1 sprig fresh rosemary, finely chopped
A few sprigs thyme, leaves plucked
A little salt and pepper
½ cup pearl couscous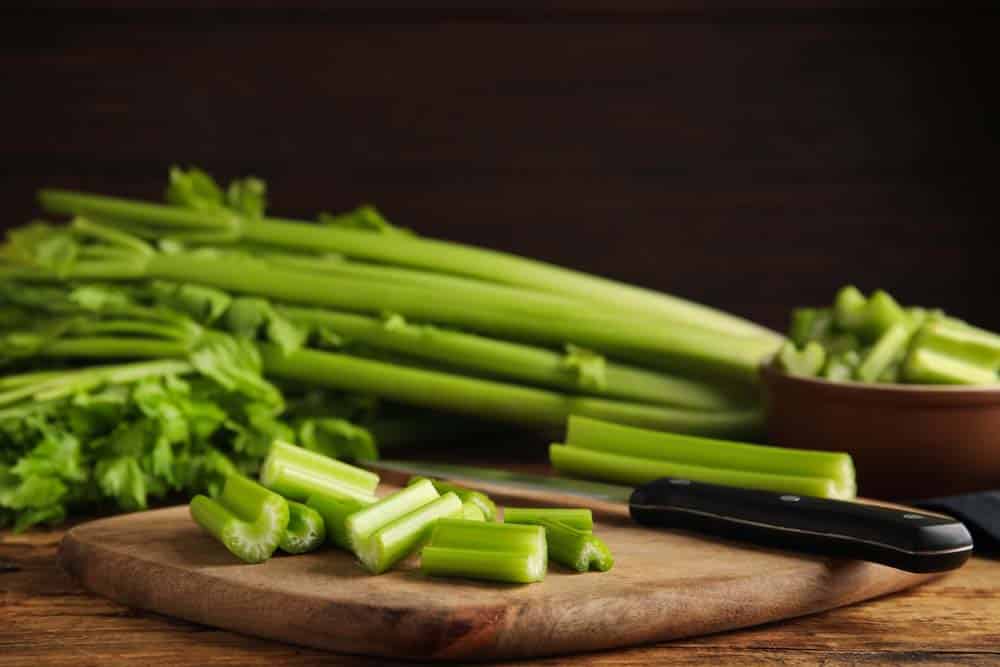 Instructions
Put a big soup pot over medium heat and put the oil in.
Add the garlic, onion, celery, and carrot.
Stir until the vegetables soften and the onion is clear.
Add the ginger and turmeric. Stir for a minute before adding the stock.
Add the chicken, rosemary, thyme, seasoning, and couscous.
Reduce heat to low, cover the pot with a lid and simmer for about 30-45 minutes until the chicken is well cooked.
Stir now and then to prevent the couscous from sticking.
Add more stock if you feel it's too thick.
Season at the end of cooking time if needed.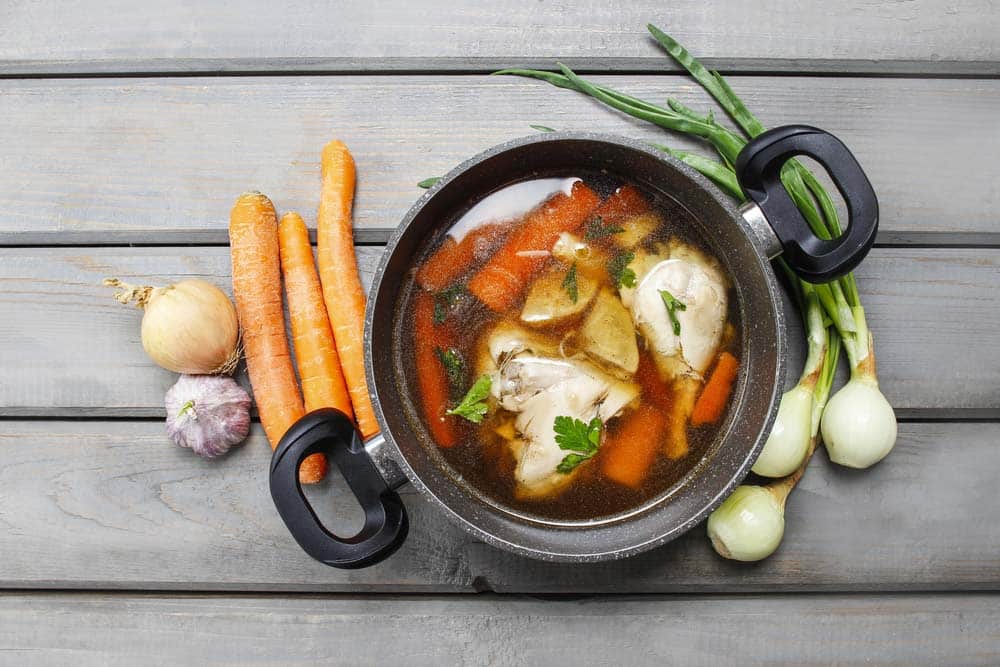 You can see now how to add raw chicken to soup. You just need to cook it long enough to ensure safety and deliciousness. Let us know how it works for you!