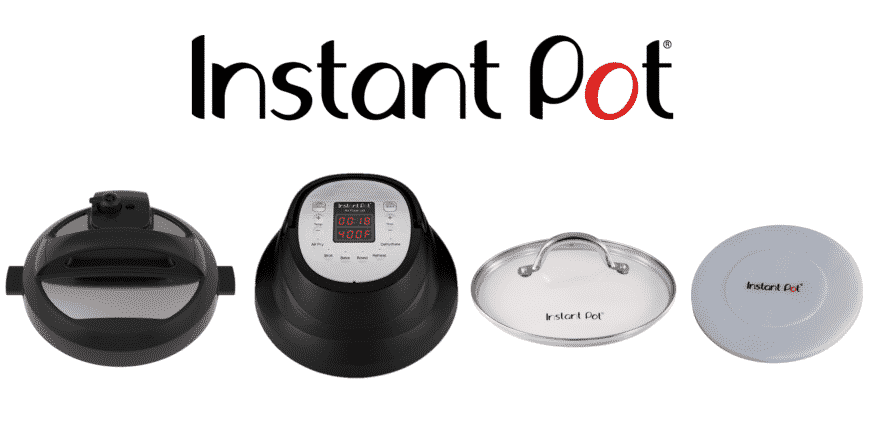 Instant Pot Lids
If you use your Instant Pot regularly, you've got to do your due diligence in making sure that you can keep it in service and properly cared for. That depends on the kind of lid that you have, too. Here's what you'll want to know about your Instant Pot lid and its requirements.
The types of Instant Pot lids
Some Instant Pots come with all of these lids, and others are add-ons (made by the company for trust and proper use) that you can consider depending on your preferences and purposes of the pot itself.
Traditional lids: These are the ones that feature black rimming around the stainless steel and often have the shields and steam valves built right into the design. These are made from food-grade stainless steel and come with a sealing ring that is designed to fit the pot perfectly.
Air Fryer Lid: These innovative lids turn your pressure cookers into air fryers with a 6-in-1 functionality (air fry, broil, bake, roast, reheat, and dehydrate).

With 

a 

wide 

bright 

dual 

monitor 

and 

easy-to-use 

controls, it's

 

a 

breeze 

to 

pick 

programs 

and 

make 

changes 

– e

ven 

when 

cooking. 

Simple 

to 

clean 

up 

too.

Glass lids: These lids are made from a durable tempered glass that can be used on your pot as well as in the oven for multi-purpose use. It has a passive steam vent built right into the lid, and this is often preferred for slow cooking in an Instant Pot.
Silicone lids: These lids are used to promote an airtight seal and also keep your pot both spill-proof and watertight. They are made from silicone and can be used the same as other lids if you wish to.
How to care for your Instant Pot lids
Both the glass lid and the silicone lid can both be put in the dishwasher to be cleaned. It's recommended that you put it on the top right or slid it into a plate part if you have the larger glass lid. The traditional lid is a bit more complicated.
Preparation: To clean your lid, remove the sealing ring and the anti-block shield for the lid itself for better, more thorough cleaning of all parts.
The lid: The now separated lid can be placed and washed in the dishwasher on the top rack only.
The anti-block shield: These pieces should be hand washed by warm and soapy water in order to get all residue off and to help get in all of the little nooks.
The sealing ring: This can be washed in the dishwasher or by hand using hot water with plenty of soap. The more precise you are, the freer it'll be of odors and staining.
A lot of people don't know that there are alternative lid options out there for their Instant Pot, so even learning that could open up cooking and use possibilities. Regardless, the way that you use and care for your lid is going to determine how long you can use your Instant Pot for without having to replace it. While the silicone ring will often need to be replaced first, it's nice to know that doing your part to clean all parts after each use properly will help give you the most use possible out of it.
Related Video: