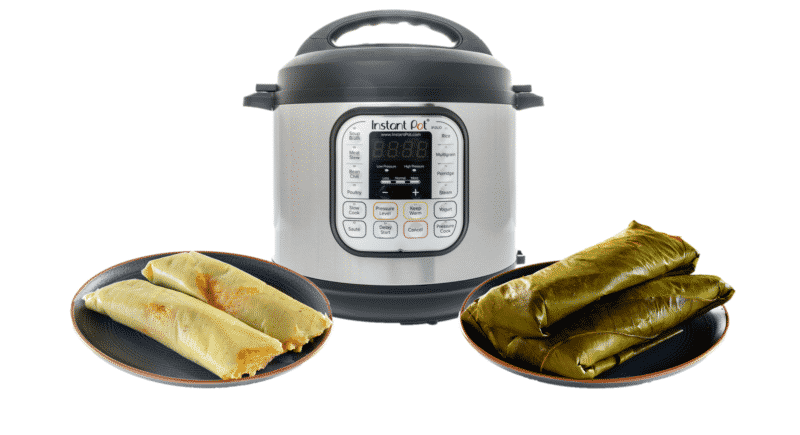 Yes! You can steam tamales and many other delicate foods in your Instant Pot.
Your Instant Pot is an incredibly versatile little piece of technology. You'll find that you can make more dishes with a little bit of experimentation than you imagined.
Don't be one of those people who only use their Instant Pot to make soup! With a little practice, you'll soon be making almost all your meals quickly and efficiently in your Instant Pot.
Tamales are a great example. If you've never tried making tamales before, don't be intimidated. These rustic little parcels of deliciousness are simple to make and quick to steam in your Instant Pot.
The assembling takes a little time and patience, but it's great fun, and if you make a few extra, you can store them in the freezer. That way, you'll have tamales in 20 minutes the next time around!
You can customize tamale fillings to suit your taste. They can be vegetarian or a meat mixture. Finish them with a spicy sauce, and you'll have your family and friends licking their fingers.
Many people steam them on the stovetop or in a bamboo steamer, but your Instant Pot will do the job perfectly.
What are tamales?
People outside of the Americas may not know what tamales are. Here's what you've been missing! They are a traditional dish all over Central and South America, but the Mexican variety is probably the best known.
They consist of a corn-based dough (masa) wrapped around a filling such as a pork or beef mixture. This is then wrapped in a parcel using corn husks. Once everything is wrapped in neat little parcels, the tamales are steamed.
Basic tamale ingredients
Dried corn husks for wrapping
Masa harina for the dough
Corn oil or other mild-tasting oil like canola
Stock in a flavor to match your filling, such as chicken, beef, or vegetable, for making the masa dough
Seasoning for the masa according to your recipe
Fillings such as meat, cheese, beans, or vegetables
Sauce – usually a salsa-type sauce
Toppings to serve such as cilantro, avocado, sour cream
Making tamales in your Instant Pot
First, the corn husks need to be rehydrated. Fill a pot or bowl with hot water, put in your corn husks, and soak them for about half an hour until soft. Drain them well.
Mix the masa dough by hand, or use a mixer according to your recipe. Cover it with a damp cloth and chill it until you are ready to make your tamales.
Prepare one or more flavors of fillings, then set them aside in a covered bowl in the refrigerator until you are ready.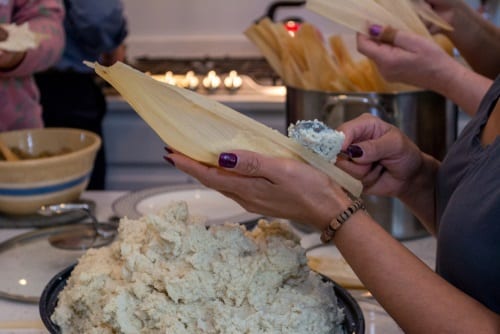 It's helpful to work with a friend or family member here. Lay out your corn husks on a clean work surface.
Spread about 4 tablespoons of masa onto each one, spreading it into a rough rectangle shape. Using a cookie dough scoop will help you measure the same quantity of dough for each one.
Put about a tablespoon of filling onto the center, then fold the corn husk in half lengthwise. You want to enclose the filling completely with the masa.
Keep folding/rolling it until you have a cylinder shape. Next, fold the top over to enclose one short side.
Tie the tamale up with string or a strip of corn husk to make a little parcel.
You are now ready to steam the tamales in your Instant Pot.
How to steam tamales in your Instant Pot
Put a cup of water into the Instant Pot.
Put the steamer basket inside.
Arrange the tamales in the basket.
Cover with the lid and cook on

"Steam" for 45 minutes

.
Quick-release the pressure as soon as the time is up.
Test if they're done by checking if the masa pulls away easily from the corn husk. Be careful not to burn yourself. If the masa sticks, steam them for another 5 minutes.
Serve fresh out of the steamer with your toppings.
To eat them, unwrap (don't eat the husk!) and enjoy side dishes like salad, refried beans, guacamole, and salsa.
Wrapping up (while you unwrap your tamales!)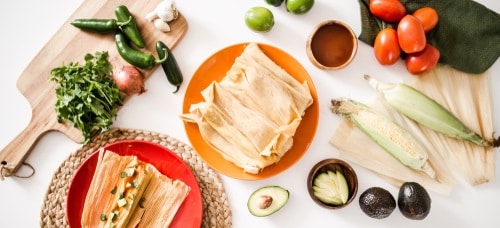 As you can see, this yummy traditional dish is so easy to steam in your Instant Pot. Let us know in the comments section how they work out for you.