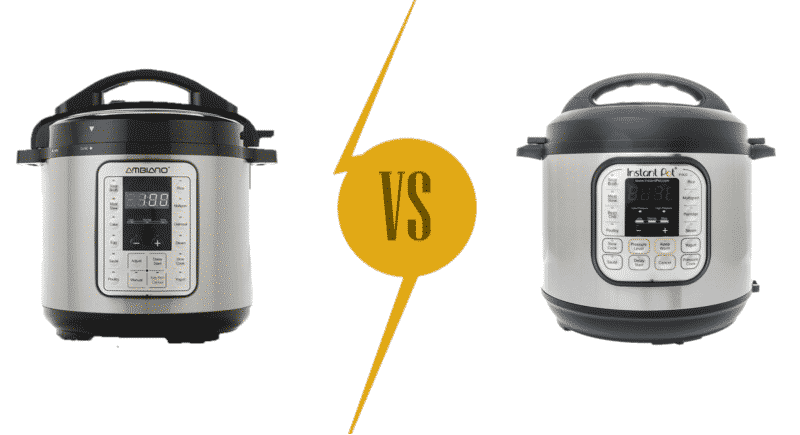 Ambiano Pressure Cooker vs Instant Pot
We found the Ambiano pressure cooker on sale in the so-called "aisle of shame" at Aldi. We have to say now that we love Aldi and, after all, who hasn't gone into the shop for some regular household items and come out with a must-have bargain like a wet suit, MIG welder, or a sports bra! The price of the Ambiano is great, and it looks good, so when it comes to the Ambiano Pressure Cooker vs the Instant Pot, how does the Aldi brand compare with the most popular pressure cooker on the market? Let's take a look.
Ambiano Pressure Cooker
The latest Ambiano Pressure cooker is a 6qt model. It offers 6 cooking functions so it can be used for all the usual multi-functions we have come to expect, such as pressure cooking, slow cooking, sauté, soup, different types of meat, fish, and steam.  There is also a delay/timer and a keep warm setting.
The Ambiano is made from stainless steel. The control panel is clear, easy to operate, and unusually is situated at the base of the pot, rather than on the side. Other than that, it looks much the same as many other pressure cookers on the market.
The inner pot is coated with Teflon, so you will have to be careful not to damage this with metal cooking implements or to burn food because there is a high risk of this becoming detached and coming off in the food.
Because this is Aldi, no product website provides any real information before you buy it. However, it does come with a user's manual that looks pretty straightforward, and many customers have been satisfied with their purchase.
The Ambiano pressure cooker does not work as well as the Instant Pot. It does not reach pressure as quickly, and your food will take longer to cook, so if you are using Instant Pot recipes, you will need to consider this. However, it does come with some recipe suggestions. Once you become accustomed to using it, you should be able to work it out.
The best thing about the Ambiano Pressure Cooker is the price. This is a fantastically good deal at just $33.49, which is less than half the price of the Instant Pot Duo. There was an earlier Ambiano model in 8qt size, which was $20 more and offered more functions such as yogurt making as well as a stainless steel inner pot, but this is no longer on sale as far as we can tell. The larger 8qt version seemed to be the superior model.
That said, both the Ambiano models are a bargain, and if you are thinking about trying a pressure cooker, either one could be the right choice.
Pros
Very low price
Does most things that a pressure cooker is supposed to
The 8qt version has a stainless steel inner pot
Cons
Not as fast as the Instant Pot
Not much in the way of customer support
Some users will find the manual complicated
Instant Pot
When you buy the Instant Pot, you can be confident that you are buying quality and a brand that is well known and trusted by thousands. The Instant Pot is the most popular pressure cooker make in the world, and this company was instrumental in revitalizing the pressure cooker. Instant Pot turned the pressure cooker from being a dangerous, noisy stovetop cooking pot into a safe and convenient electrical appliance that is easy to operate and loved by millions.
One of the best features of the Instant Pot is that it is effortless to use. There are preset pressure cooking functions that enable you to cook complex meals automatically and in a fraction of the time of regular cooking. The Instant Pot can also function as a slow cooker, rice cooker, sauté pan, soup maker, and yogurt maker.
When you buy an Instant Pot, you have access to a wealth of cooking tips and recipes via the app or the website. Because this is such a popular and well-known make, you will not struggle to find online tutorials if needed, such as via YouTube.
The Instant Pot is not perfect. There can be technical issues occasionally, and the customer service team is generally unhelpful. But if you are new to pressure cooking, you have the confidence that the Instant Pot is safe and is easy to use.
Pros
Much loved brand
Easy to use
Very safe
Cons
More expensive than the Ambiano
Things can go wrong sometimes
You might struggle with claiming a refund from customer services
In conclusion
The Ambiano is a great bargain, and as with all Aldi items, it is not bad quality. If you fancy trying out pressure cooking on a limited budget or you already are familiar with this type of cooking, it could be a great deal. Many people have bought the Ambiano around the world and have used it successfully. We especially like the 8qt version because it has a stainless steel inner pot, but either model looks perfectly adequate.
However, when it comes to the choice between the Ambiano Pressure Cooker vs Instant Pot, in our opinion, the Instant Pot is vastly superior. It has more power, so heats and cooks far quicker, and it is also much easier to use.
Related Video: