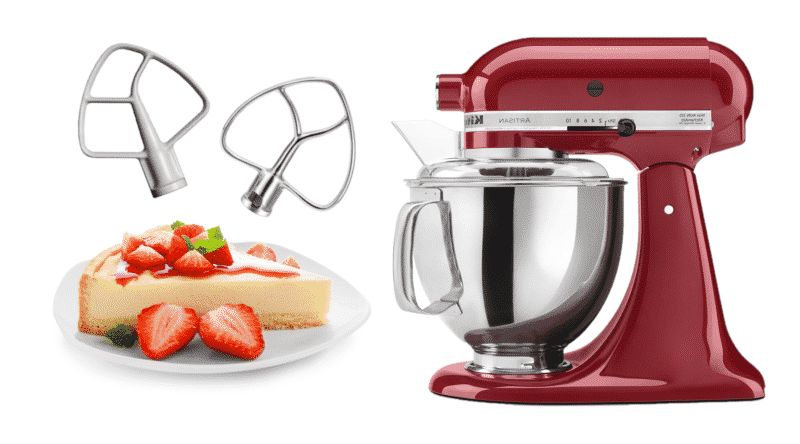 DISCLOSURE: This post may contain affiliate links, meaning when you click the links and make a purchase, I receive a commission. As an Amazon Associate I earn from qualifying purchases.
Owning a KitchenAid mixer is a rite of passage for many home cooks. They're great if you want to achieve professional results with your home cooking.
This durable, stylish, and simple mixer helps a lot when whipping egg whites and beating cake batters. The easy kneading attachment saves you from getting tired hands when you're making bread dough.
But what if you get overwhelmed by so many attachments? There are a lot! From meat grinders to pasta makers and graters, there's an attachment for every kitchen job.
All of them promise to increase the machine's efficiency and how frequently you'll use it. Perhaps you're wondering which attachment can be used when making a cheesecake?
Cheesecakes, like most desserts, are very easy to make if you follow the rules. However, they sometimes crack or break while baking if not mixed properly.
This can happen to even the most experienced home cooks, and it's nothing to be ashamed of. Luckily for you, you can save face at your next dinner party by presenting a perfect cheesecake if you use the following invaluable tips.
We'll tell you how to use the right Kitchenaid attachment for making your cheesecake.
What is the purpose of the attachments provided you're your KitchenAid?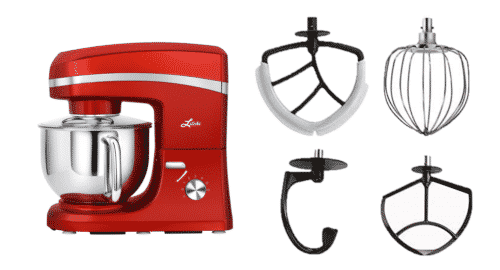 The usual accessories that come with your new KitchenAid stand mixer are a flat beater, dough hook, and a wire whisk. There are more than 80 others!
Some recipes explicitly specify which accessory to use, but many do not. To obtain the best results, it's important to use the right tool for the job.
Only one attachment from all of these is good for cheesecake. So, let's find out the perfect attachment for your cheesecake filling.
Which KitchenAid Attachment to Use for Cheesecake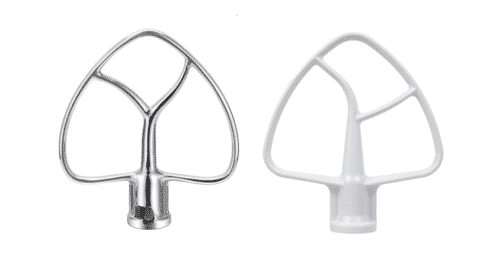 Have you been using your kitchen mixer for your cheesecake filling but still have lumps in it? The small lumps are the main reason behind your cheesecake cracking during baking.
We recommend attaching a flat beater (instead of the whisk mount) onto your KitchenAid for this job.
This is the main multipurpose attachment for this mixer and is best for removing excess air from the mixtures and breaking up those small lumps of fat like butter and lard in cookie doughs and lumps in mashed potatoes.
First, for your cheesecake filling, soften the cream cheese to room temperature, then beat it with the flat beater until smooth and creamy. After that, add the sugar, eggs, and other filling ingredients. Mix everything at a low to medium speed.
The flat beater is also good for fast and thorough mixing of cake frosting and meatloaf ingredients.
Why is the flat beater perfect for cheesecake?
The flat beater actually works as the "wooden spoon" of the KitchenAid stand mixer. It breaks up small lumps, resulting in a perfectly smooth mixture with all the ingredients well incorporated.
Using a flat beater, you can mix many things, creating creamy batters like silky butter and sugar, egg yolk and sugar, and smooth cookie doughs.
Whenever a recipe calls for you to "rub in" or "beat" thicker mixtures, this is your go-to attachment. Where "whipping" of thinner ingredients like egg whites is called for, it's better to use the wire whisk attachment.
This flat beater makes a perfect batter for your cheesecake. It mixes the cheesecake filing batter thoroughly without introducing too much air.
Softly beating the batter at lower speed results in soft, smooth cheesecake, while overbeating the cheesecake batter can cause it to crack when baked.
Caring for your flat beater
Now that you've learned just how versatile your flat beater attachment is, you'll want to take good care of it. A flat beater with a white coating is dishwasher safe as long as it's on the top shelf.
The burnished aluminum ones are not dishwasher safe. If hand washing, simply uses warm soapy water. Try to wash the attachment as soon as possible to prevent the food from drying on it. This would make it difficult to clean properly.
In a nutshell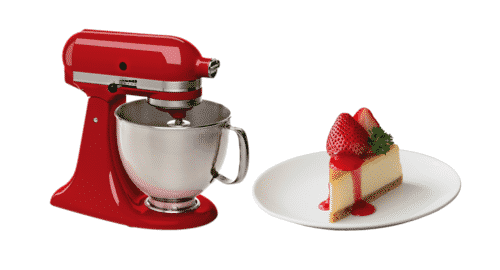 A flat beater is a perfect attachment for making the cheesecake filling with your KitchenAid mixer. You can also use it to mix the dough for the base.
This small attachment can save you a lot of time and effort and give you a reputation for being an expert cheesecake baker.