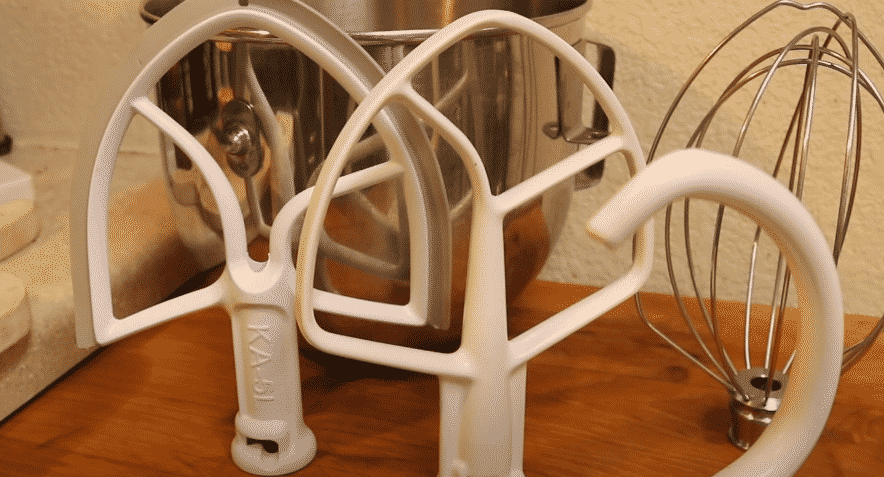 There are different kinds of attachments available for your KitchenAid mixer. However, one of the most used and primary KitchenAid mixer attachments is the Flat beater which is a multi-purpose beater and can be used for various kitchen tasks. It can be great for mixing up heavy and thick mixtures, for example, sometimes you want to bake a cake and you have to make its batter, then a flat beater is the best option for mixing your batter.
Not only thick but you can also mix a light but foamy liquid like the frosting of your cake. It can also be great for mixing up the cookie batter because cookie batter needs a very fine consistency and the chewiness of a cookie depends on the type of mixer and its mixing.
Apart from all of these flour and sugar ingredients, you can also mix meatloaf with perfect consistency by the help of this flat beater. Potatoes are very easy to mix ingredients but flat beaters can be a great choice for them as well. But from all of the above-listed ingredients, it can also be great for so many others because of its shape and acceptability for food ingredients.
The Jaws of flat beaters are made very open and wide that can let penetrate the food ingredient which makes it able to mix the food ingredients very finely to create a finely mixed product. Unlike other attachments like whipping wires, the flat beater comes with wider jaws which let's thick food pass through it and Mix well.
But when it comes to deciding that if you need a KitchenAid burnished flat beater vs white coated flat beater then you can get confused. It depends on the model of KitchenAid mixer you purchase which flat beater it let's to fit in. Many KitchenAid mixers come with burnished aluminium flat beaters but the newer KitchenAid mixer models are now coming with white-coated flat beaters as an attachment. However, first of all, you must know the difference between a burnished aluminium flat beater and a white-coated flat beater.
KitchenAid Burnished Flat Bearer vs White Coated Flat Beater
Burnished Beaters
A burnished aluminium flat beater is made with aluminium metal and it is not dishwasher safe which means you cannot wash it inside the dishwasher and you can only wash it yourself in a Kitchen sink.
So many people prefer the fine and professional look of the burnished beater.
Burnished beaters are not dishwasher safe and must be washed and dried immediately after the use for preventing the oxidation of the beater.
If they are left in the dishwasher for soaking up then they can catch the oxidizing layer.
White-coated Beaters
A white-coated flat beater is the one which is dishwasher safe because it has a polyester coating. Using white-coated dishwasher safe flat beater is a great option because it gives you an ease of washing after use.
Many models of KitchenAid mixers come with coated beaters which have a white polyester coating and they are feasible for washing inside the dishwasher because they won't catch oxidising layer after soaking.
In 2018 subtle silver polyester coated beaters were introduced.
These white-coated beaters are considered safe for indirect food contact because they are certified by the US FDA as a safe material.
The white-coated beaters are burnished aluminium beaters which have a powder coating layer in either white or subtle silver on them.
But there is still one drawback of using powder-coated or white coated flat beaters and that is it's chipping. White beaters experience chipping and because of that, you will have to perform a dime test which will prove that your beater is not losing any chips and layer of white coating in your mixing bowl. To perform the dime test you will place an Empty bowl in your mixer and then fix the white-coated flat beater, now start or turn on the flat beater to check if any chips or white coating is falling off in your mixer bowl.
Hopefully, this blog was helpful enough for deciding the right flat beater for your KitchenAid mixer.