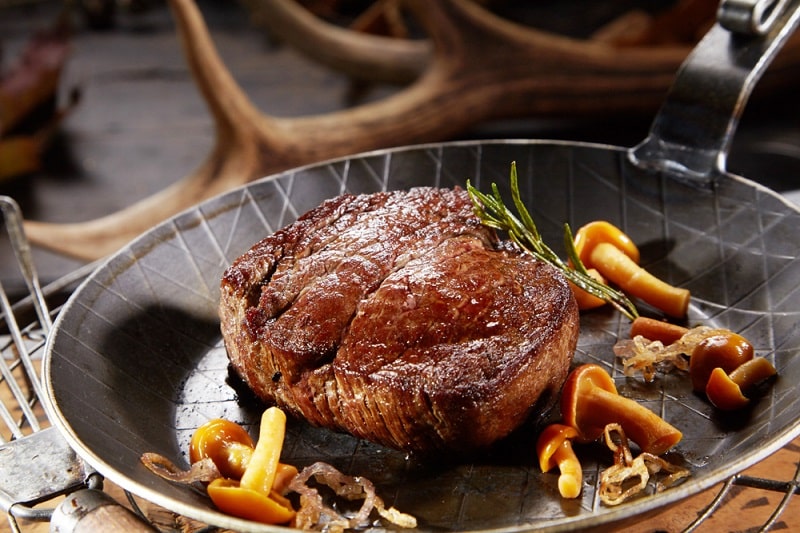 Venison is meat from deer and similar wild animals such as buffalo, wild boar, and hares. The meat is extra-lean and nutrient-rich. The main thing you need to beware of when cooking is overcooking.
The meat has short, firm muscle fibers that become fairly tender and smooth if cooked properly. By "cooked properly," we mean definitely not overcooked. Venison is strongly flavored, so it does not require much in the way of spices or marinades. However, it benefits from extra oil in the form of bacon, lard, or butter.
This space will explain what temperature venison needs to be cooked and if undercooked venison has any health issues. We look at if overcooked venison tastes bad as well. Read on to find everything you need to know about the best venison cooking temperature.
Venison Cooking Temperature
1. What Is the Most Suitable Temperature for Venison Cooking?
Venison is an easy meat to cook, but it requires good temperature control.
Venison steaks are best brushed with oil and cooked over intense heat on the grill for a short time. They are best done to medium-rare, with an internal temperature of not more than 145 degrees Fahrenheit.
Venison burgers can also be done over a high temperature on the grill but should still be pink in the middle. Remember to add extra fat to your burger patty mix – some people add pork.
Venison roasts are best done using low heat for a longer time.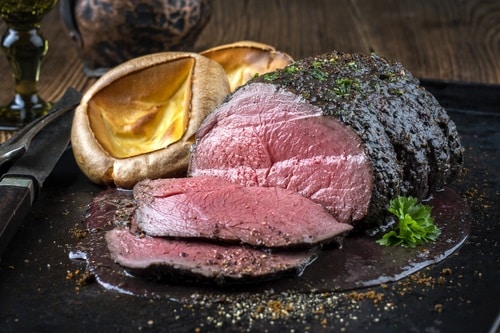 We recommend cooking a roast at 325 degrees Fahrenheit. Preheat the oven before putting the meat in to prevent it from drying out. The roast should be wrapped in bacon or spiked with lard, then placed in a roasting dish with about an inch of water in the bottom.
Cover the roast with the lid or some foil before putting it into the oven. A 3–4-pound roast should take 2 ½ to 3 hours to cook. The meat should be tender when done. Remember to use the delicious pan drippings for gravy!
Venison stewing meat can also be cooked low and slow using a Dutch oven, casserole dish in the oven, or your slow cooker. Brown the meat and onions in a generous amount of bacon fat or olive oil before adding the liquid and other ingredients. This will provide both flavor and fat to the finished dish.
2. Is Undercooked Venison Unsuitable for Human Consumption?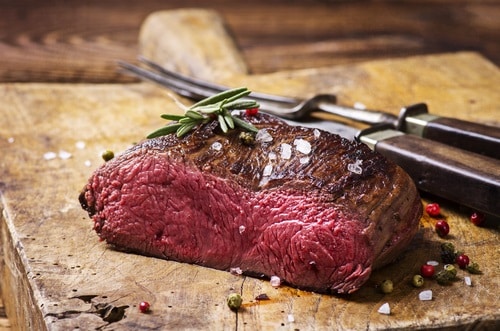 Many people are wary of undercooked meat. This causes people to mistake overcooking their venison, rendering it tough, dry, rubbery, and gamey. However, you may be wondering if it is safe to eat a rare venison steak.
Venison is best cooked until there is still some pink color left in the middle. Unlike pork, it does not have to be thoroughly done all the way through. That said, you don't want to be eating your venison too rare either, as the CDC warns that it may lead to illnesses from organisms like salmonella, E. coli, or parasites.
3. Does Overcooked Venison Taste Bad?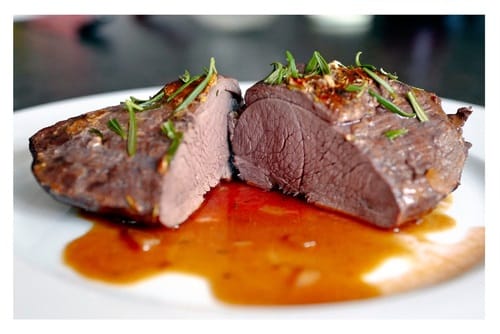 Yes, it does! If you overcook your venison, the moisture and juices will be gone for good, and there is no way of putting it back. You cannot disguise dry, overcooked meat no matter how much gravy you pour over it.
However, you can cook venison on the bone at a low temperature for an extended time. The heat will slowly and gradually penetrate inside the venison and cook the whole piece of meat perfectly.
If you happen to make a mistake and end up with overcooked meat, all is not lost. We recommend that you mince it, add moist ingredients such as onion, tomatoes, and gravy, then turn it into a cottage pie!
4. How to Tell if Venison is Good to Eat
Once the meat has defrosted, check the color. It is good to eat if it is a dark brick red without an unpleasant smell or sliminess. However, if the meat has a metallic sheen to it and the color is greenish, dark brown, or blackish, it is probably bad and should not be used.
Conclusion
We hope this has answered your questions about how to cook venison. Remember, it is similar to beef because the tender cuts like steaks should be cooked quickly over high heat, while roasts and stewing cuts are done slowly over a gentle heat with added fat and moisture. So do let us know how your venison turns out in the comments below!