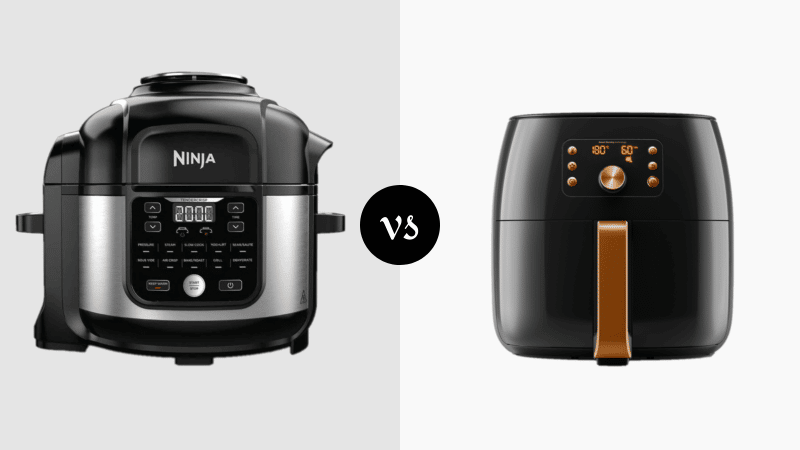 Just after deciding that it's about the right time for a new frying appliance, one has to begin considering several popular options. The Ninja Foodi and standard Air Fryer offer excellent versatility, but each comes with its own set of benefits.
While it may be true that every kitchen needs one, deciding which is best can be tricky. Read on, and rest assured that you'll be buying the best unit with the right features for your needs.
Ninja Foodi Vs. Air Fryer Comparison
| | | |
| --- | --- | --- |
| | Ninja Foodi | Air Fryer |
| Features | Pressure Cooker And Air Fryer With Up To Twelve Separate Cooking Modes | Air Fryer Replaces Deep Fryer, Grill & Baking/Broiling Pan – Cooks Using Rapid Hot Air Circulation |
| Functionality | Pressure Cook, Steam, Slow Cook, Sear/Saute, Air Crisp, Broil, Dehydrate, Bake/Roast | Deep Frying Without Oil Or Fat Just Hot Air |
| Basket | Enlarged Capacity Non-Stick High Durability Basket | Metal Basket With Non-Stick Coating |
| Product Lines | Ninja Foodi Toaster Ovens, Pressure Cooker-Air Fryer Hybrid, Air Fryer Ovens, NeverStick Non-Stick Cookware, Power Blended, Toaster | Available Product Lines Relative To Each Air Fryer Manufacturer |
| Best Uses | Pressure Cooking, Air Frying, Dehydrating | Low Fat Cooking – Air Frying, Deep Frying, Grilling, Baking/Broiling, Dehydrating |
| Composition | Aluminum Construction With Ceramic Non-Stick Coating (PTFE and PFOA Free) | Composition Depends On Manufacturer – Generally Plastic With Non-Stick Metal Basket |
| Size | Same Size As Average Air Fryer – 6.5-Quart & 8-Quart Available | Same Size As Comparable Ninja Foodi |
| Display | Large LCD With Crystal Clear Character Display | Various Displays, Generally Rudimentary And Small |
| Advantages | Wide Range Of Accessories, Outstanding Customer Support, Handy Practical Features/Cooking Modes | Huge Range To Pick From – Higher Performance Than Ninja Foodi Air Fryers Available, Highly Affordable Low Cost Air Fryers Available |
| Considerations | Inconsistent Oven Temperature Has Issues Cooking Hand-Cut Chips And Other Vegetables To Perfectly Done On The Outside And Cooked Inside | Only High-End Air Fryers Compare To Efficiency Of Ninja Foodi However The Right Air Fryer Will Exceed Oven Performance Of Ninja Range |
Ninja Foodi Vs. Air Fryer
Depending on your cooking habits, many chefs may say that an air fryer of some sort is essential.
The Ninja Foodi is both a pressure cooker and air fryer, but this doesn't automatically mean that it is the better choice. Our comparison has everything you need to know to make the best buy possible.
Ninja Foodi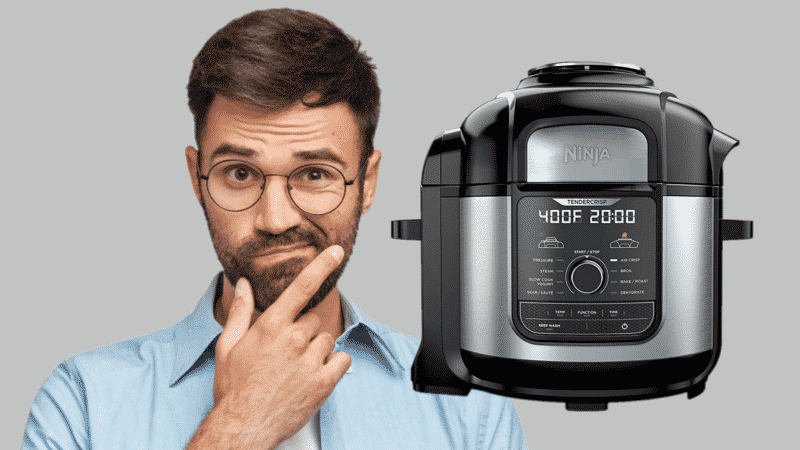 The Ninja Foodi combines a pressure cooker and air fryer into a single stylish, durable kitchen appliance packed with features. Here is a breakdown of what you can expect from the range.
Features
The Ninja Foodi is essentially a pressure cooker that can pressure cook and air fry. Several Ninja Foodi models are available, each offering more features than its counterpart.
The most basic Ninja Foodi offers just five functions, whereas the most advanced model delivers no less than twelve separate cooking modes.
Functionality
The very least that you can expect from any Ninja Foodi is pressure cook, steam, slow cook, sear/saute, air crisp, broil, dehydrate and bake/roast modes.
Basket
Every Ninja Foodi has an enlarged capacity for cooking a greater amount of food than most air fryers can handle. The inner basket is big enough for making chips in bulk.
All Ninja Foodi baskets are made from the highest quality material and come coated with a durable non-stick coating that's vastly superior to most competing units.
Product Lines
It is hard to narrow the classification of the Ninja Foodi down to one isolated unit. Yet, the majority of machines are either toaster ovens, pressure cooker-steam fryer hybrids, or air fryer ovens.
Ninja Foodi also has NeverStick non-stick cookware, a power blender system, and a regular toaster available.
Best Uses
Whether you're slow cooking or air frying, the Ninja Foodi always facilitates quick food. It can also be used to dry/dehydrate fruits and vegetables, and it works equally well for making jerky.
Any model within the Ninja Foodi range is capable of cooking meat to perfectly done from frozen in just 20 minutes flat. Defrosting is lightning quick. The crisping lid supplied ensures that meals come out crispy, letting you air-fry, bake, roast, and broil.
Composition
You won't find a Ninja Foodi with any Teflon present. Instead, the inner cooking pot is made from aluminum coated with a non-stick ceramic coating that's PTFE and PFOA free.
The entire design has been created to be bigger, with a higher volume than most competing products.
Size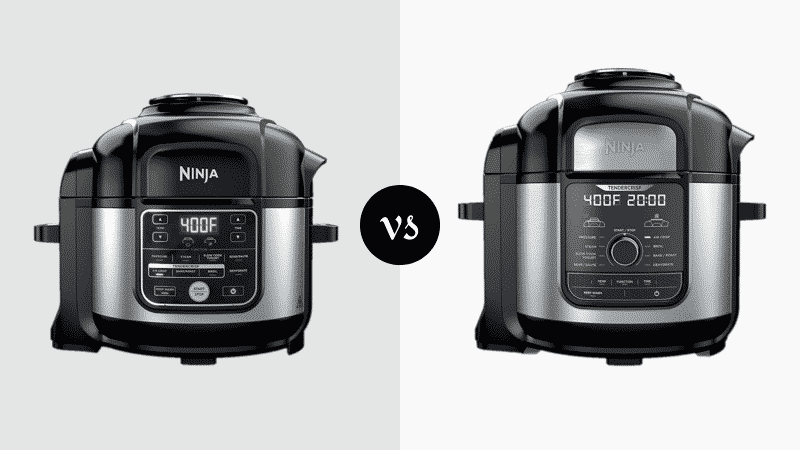 There are two general sizes of the Ninja Foodi on offer, namely a 6.5-quart and an 8-quart unit. The inner pot of the Ninja Foodi measures 9.5″ in diameter and is 6.5″ inches deep when inspecting the 15-in-1 model.
Display
A large black LCD display shows you the temperature and timing. One couldn't hope for a clearer display. The characters displayed are massive and brightly illuminated, making the Ninja Foodi extremely easy to read and use.
Advantages
No matter what support you may need in the future, Ninja Foodi offers help.
From a steam, diverter to redirect steam away from pets to the best customer support most people would have ever encountered if/when things go wrong, the Ninja Foodi is awesome.
It's the extras that make this unit so much better than most other competing fryers.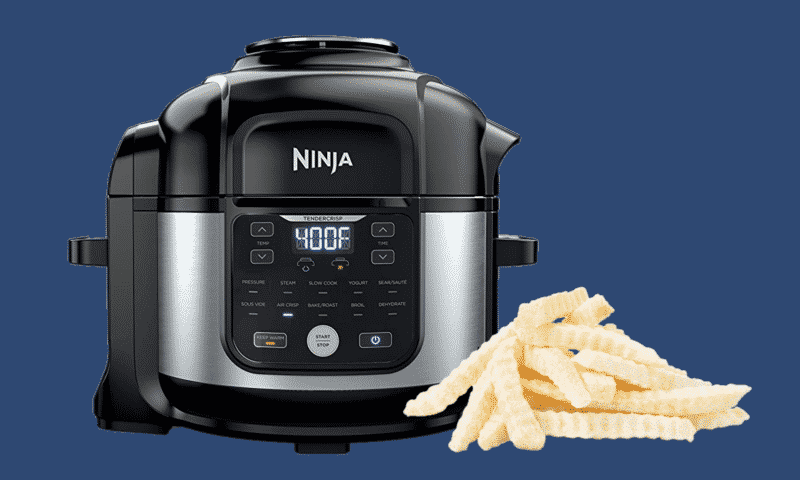 Considerations
Unfortunately, hand-cut chips show the inconsistency of the oven in terms of an even temperature.
Manually cut chips, as opposed to frozen chips, come out with a strange texture that's midway between a firm skin crispy in places and half-cooked interior texture regardless of how long they've been cooked for.
Air Fryer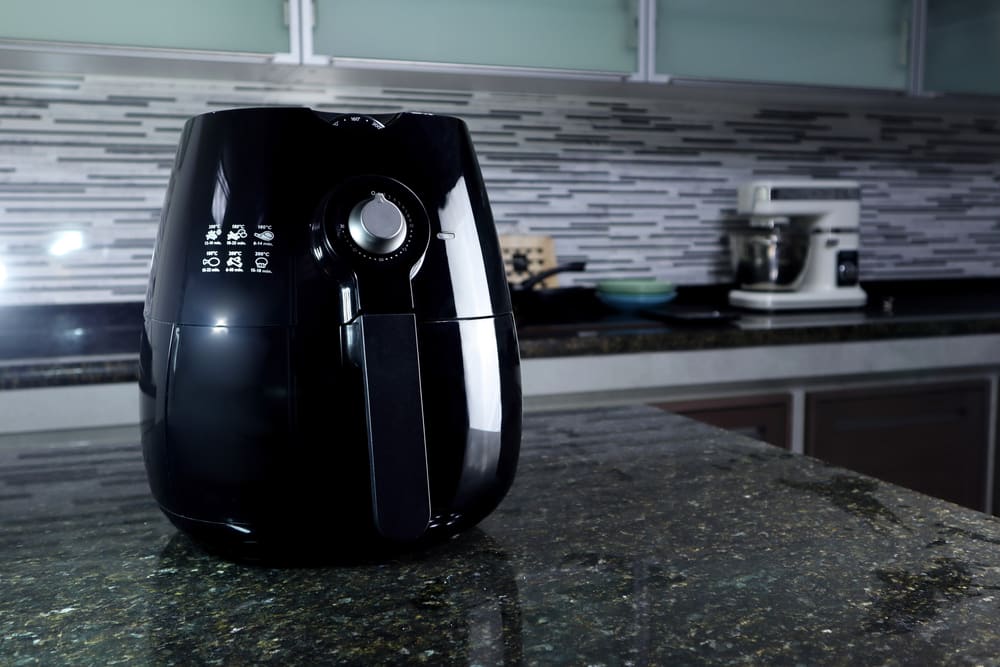 Let's take a closer look at why air fryers are so useful to the modern kitchen while comparing the features and functionality of the ever-popular Ninja Foodi range.
Features
An air-fryer is the kind of gadget that can replace so many traditional cooking methods like deep frying, grill pan, baking pans, and the like.
With the help of an air fryer, you can enjoy your favorite food even if you're on a diet, thanks to the ultra-low fat cooking style that prevents you from consuming 80% extra calories on average.
As a dedicated unit, the only features offered are cooking at various temperatures while the duration is typically set by means of a convenient timer. Each air fryer cooks by means of rapid hot air circulation.
Functionality
Air fryers are fitted with a heating mechanism and a fan and rely on the quick circulation of hot air to perform what is essentially the same function as deep-frying, just without the oil or fat. Anything that can be deep-fried can be air-fried.
Basket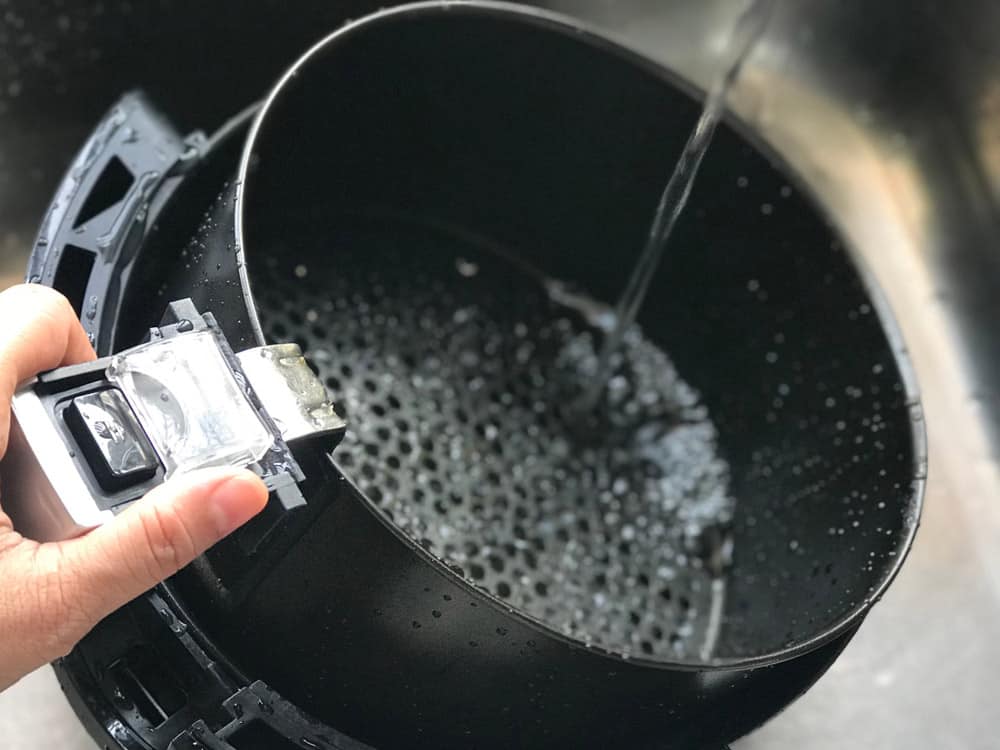 Every air fryer will feature a different style of basket. However, most baskets are made from metal and come with a non-stick coating.
The quality is relative to the manufacturer, but you'll have to go for a high-end air fryer to have basket quality that's on par with the Ninja Foodi range.
Product Lines
Applicable product lines will differ from manufacturer to manufacturer. However, the best air fryers will feature several cooking modes that will enable cooks to perform all commonly used cooking methods at the touch of a button.
Look for large baskets, a preheating function, and complete incremental manual control. A window is always a sought-after addition as it allows you to keep an eye on the progress of your food.
Programmable timers are also invaluable to anyone who doesn't have the time or patience to watch their food as it cooks constantly.
Composition
Most air fryers are made from hard plastic and feature a metal basket that's most often coated to prevent food from sticking. While high-end air fryers are available, most pale in comparison to the high-quality construction of a Ninja Foodi.
Size
Most air fryers take up the same amount of space on a countertop as the Ninja Foodi range despite being only able to air fry.
Display
Every air fryer lays out its display and controls differently. This being said, the vast majority of air fryers show nothing more than the time and temperature while displaying the information on an LCD that's far smaller and less clear than the Ninja Foodi.
Advantages
There is a massive range of different air fryers available to choose from.
From highly affordable basic appliances with no bells and whistles to high-end luxury air fryers, buyers have the greatest range available as compared to the fairly limited selection offered by Ninja Foodi.
This means that you'll be able to find air fryers that exceed the performance of even the best Ninja Foodi, albeit at a higher cost.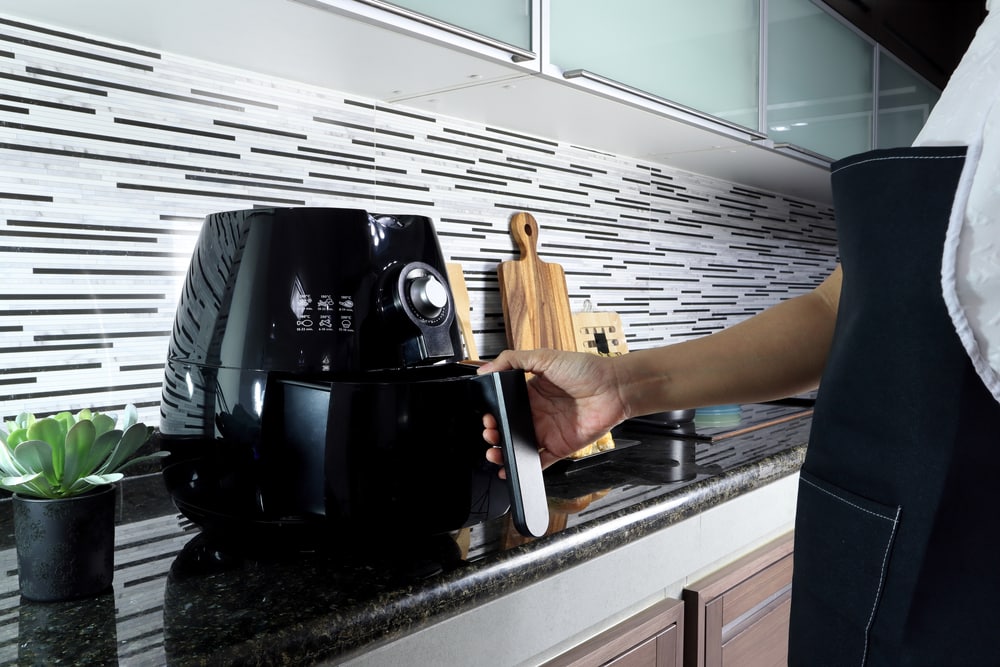 Considerations
Unless you get a high-end air fryer, the Ninja Foodi is always going to be more efficient. The performance is only slightly slower than the big-brand favorite, but certain air fryers will do a better job of cooking certain things.
For example, air fryers with better air circulation and a chamber that seals better will be able to pull off perfect hand-cut french fries – a meal that's almost impossible in a Ninja Foodi.
If you air fry fresh vegetables instead of frozen food frequently, a good air fryer may be the better option.
What Is The Difference Between Ninja Foodi Vs. Air Fryer?
The main difference between a Ninja Foodi and an air fryer is that the Ninja Foodi is an appliance that can both pressure cook and air fry, whereas an air fryer can only air-fry, bake, roast and broil.
Furthermore, the following core differences between the Ninja Foodi Vs. Air Fryer arise:
1. Design:
Ninja Foodi is a pressure cooker that can crisp your food only.
An air fryer is a fryer that fries without needing oil.
2. Basket:
Ninja Foodi comes with large-high-quality non-stick baskets for a greater capacity.
Air-fryers have non-stick-coated baskets of average size.
3. Digital timer:
Ninja Foodi has an advanced digital timer that shows its information on a massive LCD screen.
Air Fryers usually come with a rudimentary timer that can, fortunately, all switch off automatically.
4. Functions:
Ninja Foodi can work as a pressure cooker, steamer, slow cooker, air fryer, baking, broiler, and dehydrator.
Air-fryers function as a fryer, baking oven, steamer, and grill.
Which Is Best, Ninja Foodi Vs. Air Fryer?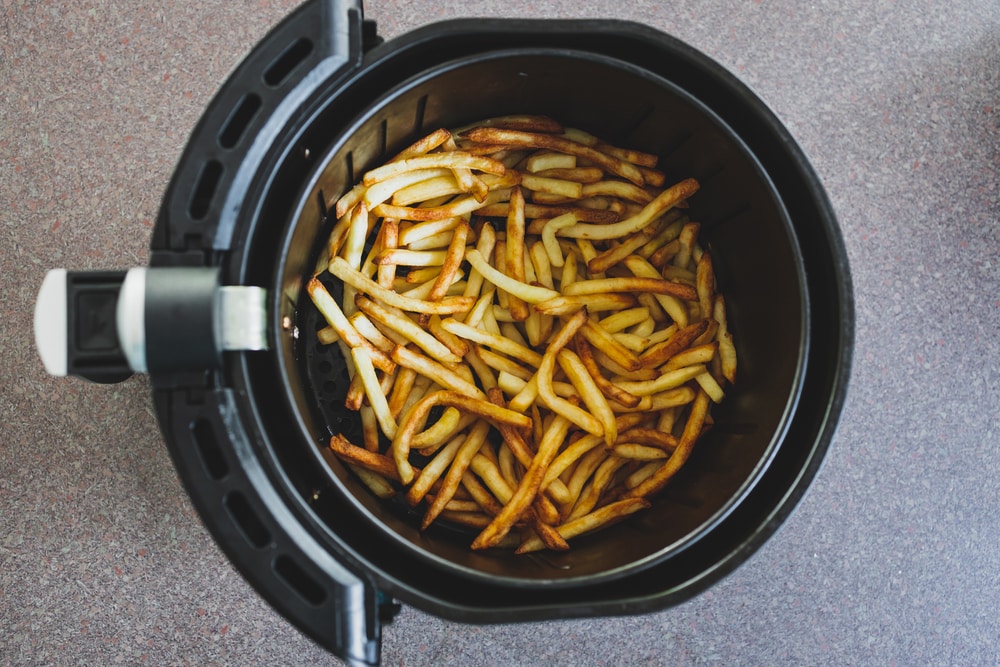 An air fryer is great for a small amount of food and normal daily frying and grilling, but a Ninja Foodi is an all-in-one gadget that has a massive capacity and far more functions.
Between the Ninja Foodi vs. air fryers, we'd almost always pick one of the outstanding Ninja models like the Ninja Foodi Deluxe Pressure Cooker or the Ninja FD302 11-in-1 Pro.
This being said, if you're looking for the ultimate air fryer performance with rock-solid temperature stability, you'll have to shop for a standalone, dedicated high-end air fryer instead.