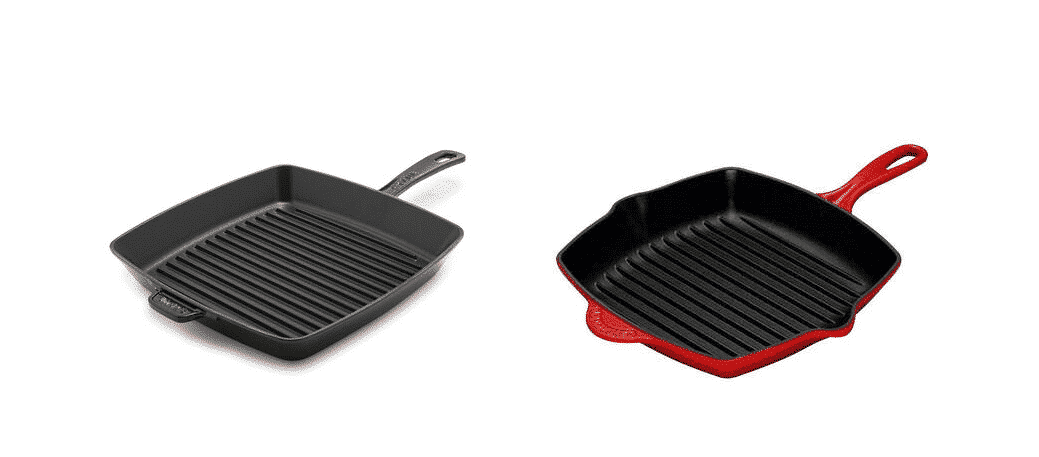 Cast iron pans are considered to be more tough and secure. There are two giant brands that produce the best cast-iron grill pans; Staub and Le Creuset. They both are French products that are most liked by customers. However, for being excessively big and filling, you can rightly adjust any grill pan in your kitchen.
Since both the Staub and Le Creuset grill pans are tough competitors, you might get perplexed about which grill pan to buy. You don't have to worry, we have got you covered with some distinct differentiating points between the Staub and Le Creuset grill pans. Read on to know which grill pan is the best for you.
Staub vs Le Creuset Grill Pan: What's The Difference?
They both are cast-iron and enameled stovetop ovens that are exceptionally well for long-lasting use. Whether you buy Staub pan or Le Creuset, it won't make any difference. However, after the cookware experts conducted several tests, they have given some distinctive differences between Staub and Le Creuset grill pans.
We create amazing recipes. Gain FREE access to Miss Vickie's special recipes.
We won't send you spam. Unsubscribe at any time.
It doesn't matter how similar they look. But they still have few differences. Let's look into those to make your purchase worthwhile.
Here we have put together some differences between Staub and Le Creuset grill pans:
1. Grill Pans Colors And Designs:
When it comes to vast coloration and designs, Le Creuset has a major color line and a variety of designs. The color and design trends in Le Creuset continue to establish more and more with time, unlike Staub grill pans. The combinations in Le Creuset grill pans are extensive too. On the other hand, Staub pans don't have a sufficient range of colors. If certain color intrigues you in your kitchen, you have to purchase that way before it goes out of stock.
2. Enamel Coating Over Cast Irons:
Both companies of Staub and Le Creuset have enamel coating over their cast iron surfaces. The interior of Staub is black while Le Creuset has a white coating interior.
3. Durability And Easy Cleaning:
Le Creuset has a smooth and whitish interior which makes the cleaning process easy. You may also check on your meaty pieces if they have browned or not, just by looking through the pan. Although, there is one drawback that white interior makes it hard to even-cook your dish at higher temperatures.
On the other hand, Staub's interior is dark due to which you can't see through the pan. However, the tough and black interior increases durability for higher temperatures. Therefore, Staub grill pans win at aging. They age gracefully. While Le Creuset may not be as durable as Staub.
Although the ridges on the Staub make it hard for you to clean while Le Creuset with smooth edges is cleaned easily and effortlessly.
4. Moisture Retention:
Moisture retention in the Le Creuset grill pans can be a little bit challenging as the moisture leaves the pan somehow during cooking. This is why you have to baste your pan with an extra layer.
While the Staub grill pans retain moisture to a great extent since the lids fit completely tight and leave no space for the moisture to leave the pan.
5. Metal and Non-Metal Knobs/Handles:
Le Creuset has non-metallic handles although they still manage to withstand heat. While Staub has pure metallic handles and knobs for great heat resistance.
6. Weight and Heaviness:
You need to get this settled that both the grilled pans are going to be supergiant. However, Le Creuset weighs a little bit lesser heavy as compared to Staub grill pan.
7. Handling:
Le Creuset is easy and smooth to hold due to plain smooth handles while Staub is a bit tough and rough.
You can buy the one; either Staub or Le Creuset grill pan. They both won't disappoint your slow cooking.