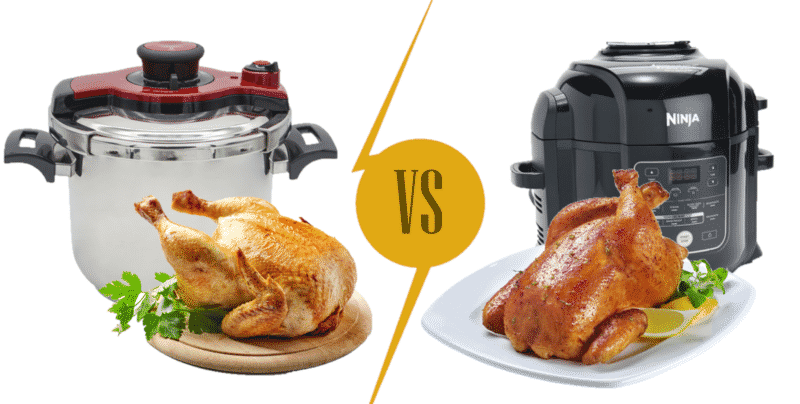 Ninja Pressure Cooker vs Instant Pot
Should you choose Ninja Pressure Cooker or Instant Pot? This is a question that most of us have and it's all a matter of what you need and what features you expect. Each one of these is different and good in its own right. But at the end of the day what really matters is the value that you receive and the overall costs too. With that in mind, here are some things to consider.
Size
The Ninja Pressure Cooker is larger than the Instant Pot. However, in order to handle the extra space, the Ninja also requires more energy, and that's something that you need to keep in mind. Thankfully despite the size, there are no issues, so you never have to worry about problems that might arise from this type of stuff, which is a great thing and experience, to say the least.
We create amazing recipes. Gain FREE access to Miss Vickie's special recipes.
We won't send you spam. Unsubscribe at any time.
Custom controls
When it comes to the Ninja Pressure Cooker vs Instant Pot debate, everyone has their favorites. The Ninja is a reversible version, so you can pressure cook or steam vegetables. And meat if you want to. The unit also has dual pressure levels, 5 temperature settings, and custom programming, it will stay warm up to 12 hours automatically as well. On the other hand, Instant Pot has a touchscreen and it can control the warmth, pressure level, temperature and time, you can also delay the start.
Cleaning
Ninja has a ceramic coated, non stick inner cooking pot and this will be dishwasher safe. On the other hand, the Instant pot is created out of stainless steel. Both materials are great, they offer plenty of value and the quality that you receive from this kind of stuff is really impressive.
Pricing
When it comes to the Ninja Pressure Cooker vs Instant Pot pricing, the Ninja is a bit more expensive. It's usually $200, whereas the Instant Pot is $150. You could argue that the Instant Pot delivers better value, but it also lacks features that the Ninja has, aside from the extra space too. So it's all a matter of what you need and how much you are willing to pay for that extra stuff. It's definitely worth the effort, so you have to give it a try and see how it works for yourself.
Which is the best?
After seeing these features, you will most likely figure out what works for you and what price point is correct. You will go with the Instant Pot if you want something that's really easy to use and adapt to your own requirements. But if you want more cooking space and extra features, the Ninja Pressure Cooker is definitely a better option. They also have a dual cooking approach that makes sense if you want to cook lots of food. Simply put, we would recommend the Ninja Pressure Cooker for larger families. The Instant Pot is great for families with kids too, although it's better for singles or couples mostly. They are both great products, you just have to see what option is the right one for you!
Related Video: