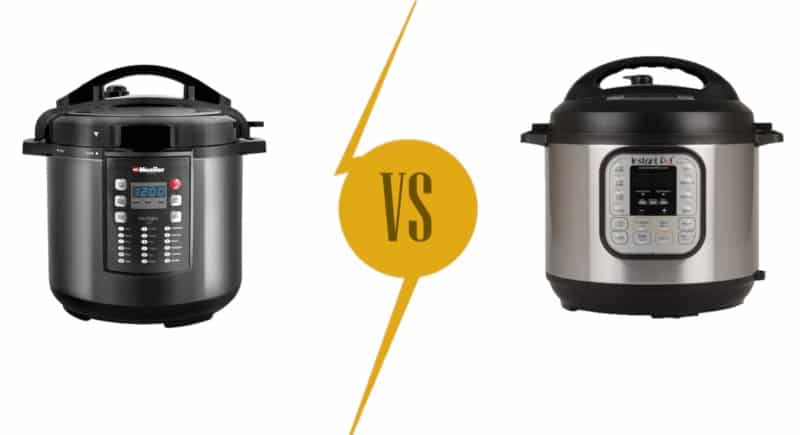 Mueller Pressure Cooker vs. Instant Pot
Pressure cookers are popular throughout the world and come in increasingly sophisticated forms. Two of the best examples of multi-functionality must be the Mueller Pressure Cooker from Austria and the Instant Pot which is the most popular brand in the USA
So which one is best? Both are reliable brands that offer the consumer a vast array of functions but are there any advantages to choosing one over another?  We find out about two of the most popular models.
The Mueller Pressure Cooker
Mueller Ultra Pot 6Q Pressure Cooker Instant Crock 10-in-1 Hot Pot with German ThermaV Tech, to give the appliance its full name, can function in many different ways.
According to the advertising, it can replace 10 kitchen appliances, cook two different dishes at once and we wouldn't be surprised if it swept the floor as well (Ok we lied about the last one).
The named functions are as follows; it is a pressure cooker, a crockpot, a steamer, it can sauté, cook rice, sterilize and make yogurt. It is also suitable for canning.  This only adds up to 8 functions but of course, any pressure cooker is extremely versatile, so cooking meat, making stews and preparing and cooking beans and legumes are also possible with this appliance.
Added features include 15 programmable settings to make things easier.
The cooking two dishes at once feature are achieved by the use of a stainless steel steamer basket, so you can cook your vegetables in the top half of the pot at the same time as you cook something else in the pot.
The Ultra Pot features a reinforced glass lid that you can use if you are not cooking under pressure, such as making yogurt or using the slow cooker function.
The interior sleeve is lined with a ceramic nonstick coating that provides even heat distribution and gives you perfect results each time.
We like the appearance of this pressure cooker. It is neat and compact and the control panel looks easy to use. The inside stainless steel pot is easily removable and can be cleaned in a dishwasher.
The rubber seals are long-lasting and the handles are heat resistant. As with all electric pressure cooker units, this one has no exterior moving parts and there are 8 safety mechanisms in place although these are never explained in the advertising.
Customer feedback is mainly positive. There are some concerns from users that this pressure cooker is complicated to use especially for newbies.
Some people have complained that despite all the extras such as a steamer basket and a ladle, it does not come with a trivet. Another drawback is that it is only available in one size of 6qt capacity so it may not suit all users.
Price-wise, the Mueller Ultra Pot Pressure Cooker does not seem like a bad deal. It costs around $89.00 depending on the retailer and seems to offer the customer value for money especially in view of its many functions.
Pros
Reliable
Numerous cooking features and extras
Safe to use
Cons
Some customers have complained that it is complicated to use.
Only available in one size
Lacks information regarding safety features and cooking functions.
The Instant Pot
The Instant Pot is the USA's favorite pressure cooker brand. The most up-to-date model is the Duo Nova which comes in a choice of three sizes of 3, 6, or 8 quarts so you can choose the best-sized model for your personal needs.
According to the advertising, The Instant Pot Duo Nova is the same as 7 appliances in one. These are listed as a pressure cooker, sauté pan, slow cooker, steamer, rice cooker, food warmer and yogurt maker.  We like that these 7 functions are named which is not the case with the Mueller Ultra Pro.
The Instant Pot Duo Nova features 10 cooking programs and has one-touch smart settings. This means you can select your cooking method at a push of a button and start cooking instantly. The blue display interface tells you exactly what is going on inside.
For pressure cooking, the lid seals easily and you can fast release just by the push of the quick-release button.
We like that this pressure cooker seems very easy to use. We also like that you can access thousands of recipes via the Instant Pot website, ideal especially if you are new to pressure cooking or are looking to try out the other functions such as slow cooking or yogurt making.
Feedback for the Instant Pot Duo Nova is exceptionally good. Over 37,000 people have bought this from Amazon alone and customer feedback is overriding positive.
That said there are some complaints. Some customers have complained that the Instant Pot Duo Nova is not very durable and a couple of people have mentioned that it simply stopped working within a year. You do have to bear in mind that this is a tiny percentage of customers but it still seems to be an issue.
Price-wise the Instant Pot Duo Nova compares well with the Mueller Ultra Pot. The 6 qt size costs around $64.00 depending on the retailer and this size is the best deal. The mini pot (3qt) costs around $75.00 and the largest size (8qt) costs $90.00 so in this case, size does not make much difference.
Pros
Available in a choice of sizes
Very easy and straightforward to use
Thousands of satisfied customers
Well-priced
Cons
Some customers complain that it is not very reliable
Is more limited when compared to the Mueller ultra Pot
In conclusion
Whether you choose the Mueller Ultra Pot or go for the Instant Pot Duo Nova will largely depend upon your own personal preference. We think that the Mueller Ultra Pot actually offers you more for your money but prefer the Instant Pot because it is so popular with customers and just seems a little easier to use.
Related Video: