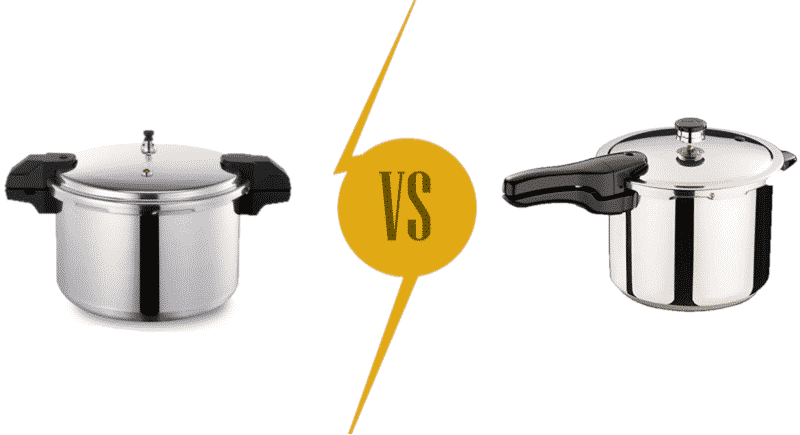 Mirro vs Presto Pressure Cooker
Not everyone wants a multi-appliance electric pressure cooker. Stovetop pressure cookers are still popular and provide a simple, no-nonsense way of cooking under pressure as well as often being suitable for canning. We check out two models; the Mirro vs Presto Pressure Cooker to find out more.
Mirro Pressure Cooker
The Mirro pressure cooker is a mighty beast of a pressure cooker! It is available in two large sizes; the 16qt or the 22qt, so even though this pressure cooker is made from lightweight aluminum, this bad boy will be heavy when it is full!
The Mirro pressure cooker is designed to last. It comes with a full 10-year warranty on the appliance plus a year's warranty on the other parts. In truth, pressure cookers like these do last a long time, and with the absence of all the extra electronics and bells and whistles on the fancy multi-function appliances, there is not really much to go wrong.
The Mirro pressure cooker is safe to use. It features a reusable overpressure plug – the bit that fits on the top of the lid. The lid features a secure locking system, and there is a side gasket pressure release. There are three pressure settings; 5, 10, and 15 PSI, and according to the product information and customers, the Mirro provides an even steady pressure that is ideal for cooking.
If you are looking for a pressure cooker to use for canning, the Mirro is a great choice. The 22qt model can accommodate 26 half-pint jars if packed double stacked, so if you are a home business making preserves or jams or simply wish to bottle or can produce from your garden or homestead, the Mirro will help you make large batches — saving you time and effort. That said, you can use the Mirro for pressure cooking food, and although the 22qt size is far too large for the average family, it is ideal for cooking in bulk or for the freezer.
The Mirro pressure cooker comes with an instruction booklet, recipes, and a cooking rack. Price-wise you can expect to pay around $82 for the 22qt size model, which good value is considering its size and durability.
Pros
Comes with a 10-year warranty
Ideal for canning in bulk
Reliable
Cons
Too big for general domestic use
Many people have concerns about using aluminum for cooking
Presto Pressure Cooker
The Presto pressure cooker is aimed at the home user. This stovetop pressure cooker is only available in 6qt size, so it is ideal if you need to cook for around 5 people on a regular basis.
Stovetop pressure cookers did have a dangerous reputation a few decades ago, but the Presto pressure cooker is both simple to use and safe. Manufactured from stainless steel, it has safety features including a cover look lid that tells you if there is any pressure inside the pot and you cannot open the lid until it is safe to do so.
You can use the Presto pressure cooker on any type of hob, including induction and regular smooth top ranges. It is dishwasher-friendly too, although you do need to remove the overpressure plug and the sealing ring and wash this by hand.
The Presto pressure cooker is suitable for people who are new to pressure cooking. This appliance is easy to use, and it comes with a 64-page instruction and recipe book.
One of the best points about the Presto pressure cooker is that it is incredibly durable and long-lasting. It comes with an extended warranty of 12 years, so you can be confident that this is a kitchen appliance that you won't have to replace any time soon.
Besides, the Presto pressure cooker was manufactured in the USA (in Wisconsin), so if you do want to support the USA industry and manufacturer, you can do it with this purchase.
Many customers report being dissatisfied with multi-function appliances, which can go wrong and feel that getting back to basic pressure cooking can be the easiest option.
Customer feedback is generally good. However, some reviewers have mentioned that the screw on the handle could have been improved as this can become loosened in time. Others have made complaints about the durability of the gaskets
Price-wise, the Presto Pressure Cooker costs around $63.00, but there is a cheaper aluminum version available at only $29.99.
Pros
A safe appliance that is ideal for domestic use
Made in the USA from stainless steel
12-year warranty
Cons
Handle screws can become loose
Some customer complaints about the gaskets
Cannot be used for canning
In conclusion
These two pressure cookers are aimed at a different market, so although they are both traditional models, you cannot really compare them. When it comes down to the Mirro vs Presto pressure cooker, the Mirro will suit you best if you are a homesteader or need to carry out bulk canning, whereas the Presto pressure cooker is better for domestic use.