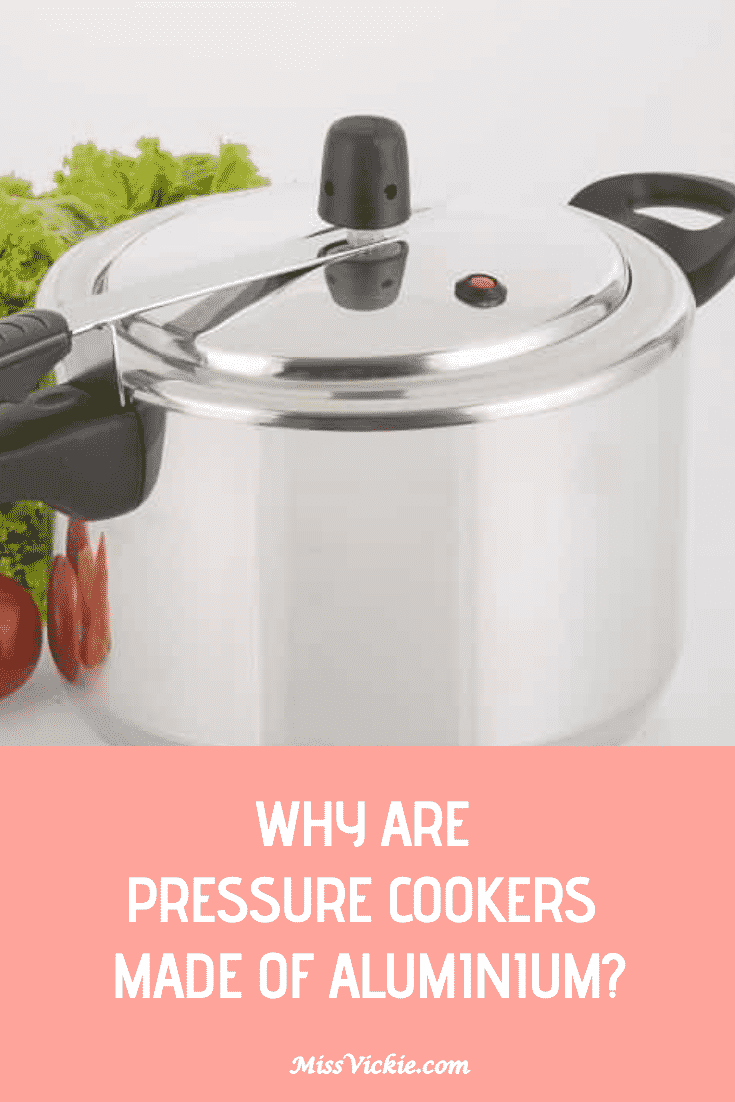 Pressure cookers have become increasingly popular over the past few years thanks to their incredible abilities and efficiency. Pressure cookers prepare food evenly by using steam, which allows food to cook much faster than they would with any other cooking method.
Since pressure cookers work within a sealed environment, the resulting food prepared also tends to be full of all the original vitamins, minerals and flavors that are generally lost when other cooking techniques such as boiling or braising are practiced.
Why Pressure Cookers Are Made Of Aluminium?
There are many different types of pressure cookers out there. But before you pick one, you have to decide what type of material you want your pressure cooker to be constructed with. Each type of material has its advantages and disadvantages. Therefore, picking the right material is essential if you are to get the most out of your pressure cooker.
Which material is the most ideal?
Pressure cooker pots can be made using a range of materials that include stainless steel as well as aluminum. Aluminum pressure cookers are generally lighter compared to many other materials and they also tend to be more low-cost compared to stainless steel ones. This lightweight nature of aluminum makes it an excellent material for large pressure cookers that can be heavy to lift.
Additionally, aluminum is a great conductor of heat, which eventually allows for food to cook more evenly. Electric aluminum pressure cookers often come with removable inner pots that can be used on a stovetop and are very easy to care for.
What about stainless steel?
Stainless steel pressure cookers are generally more expensive compared to aluminum ones. Stainless steel is heavier than aluminum, which makes it a more durable material to use for construction. However, when it comes to conducting heat, stainless steel material is not as effective as aluminum, which results in longer cooking times for some types of food.
Is it safe to use aluminum pressure cookers?
A lot of pressure cookers out there in the market are constructed using aluminum inner pots. Aluminum is great at conducting heat in an even manner but it is also a wonderful thermal conductor. What this means is that it allows heat to travel through the surface quickly and evenly, which means that you never have to wait for long for your pressure cooker to heat up.
Aluminum pressure cookers are just as safe to use at home as stainless-steel ones because all pressure cookers today are outfitted with an array of safety features that make them a lot safer and more efficient than older generation models. As such, you never have to worry about explosions or anything of that nature when using them.
If you want a pressure cooker that can offer you the best of both worlds, you can invest in a stainless-steel cooker that has been outfitted with an aluminum-clad base. Such a pressure cooker would be able to combine the durability of stainless steel material and the great conducting ability of aluminum. If you opt to invest in such a pressure cooker, you should be prepared to spend a significant amount as they tend to be more expensive compared to other kinds of pressure cookers.