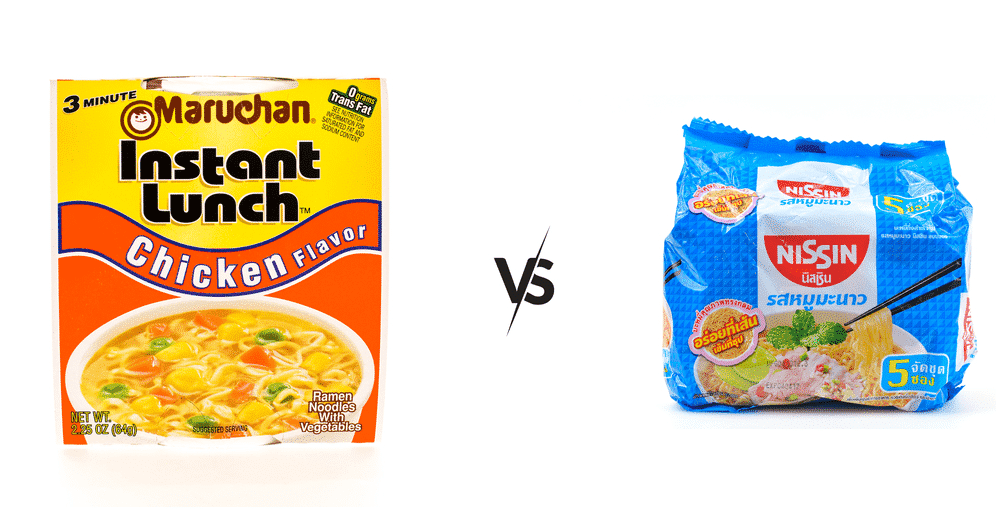 Instant noodles have become an ultimate snack for everyone who wants a quick-fix for hunger pangs. For this reason, there are multiple brands coming out with their cup noodles and instant noodles. That being said, we are sharing Maruchan vs. Nissin in this article as they are two top brands of instant noodles. So, let's check out the details about both these brands!
Maruchan vs Nissin
Nissin
Nissin is basically a Japanese food company that's famous for making instant noodles and convenience food. Nissin has been around since 1948, and it was set up in Japan. The company was made by Momofuku Ando, who is a Taiwanese immigrant. However, they launched instant ramen noodles back in 1958. The first product was chikin ramen, but it has multiple flavors now.
Nissin is selling instant ramen noodles under Top Ramen. In addition, Nissin launched cup noodles in 1971, and it has headquarters in Osaka. The cup noodle products were made because it was becoming famous in America. Nissin instant noodles and cup noodles are widely available in Japanese food and grocery stores. When it comes down to cup noodles, it comes with seasoning powder and noodle block.
In addition, cup noodles have dry garnishing, and these noodles are extremely simple to prepare. This is because you just have to add hot water and wait for three minutes for noodles to get ready. As far as noodles are concerned, they are made from classic wheat flour, which means it's not unhealthy. Truth be told, Nissin is the king of making flavorful and delicious taste.
Coming down to broth, it basically depends on the flavor of ramen noodles or cup noodles. However, the pork and chicken flavors are pretty rich. Nissin is pretty generous about seasoning and garnish, which means the flavor will be amazing. On the contrary, some people feel like their products have higher saltiness which can impact the flavor of the noodles a bit.
The best thing about Nissin is that they add the perfect amount of garnish and seasoning. For instance, if there is pork flavor, it has the pork piece. Similarly, there are mini meatballs in the garnish. That being said, if you opt for curry flavor, it doesn't have the Indian flavor but will feel a bit savory and sweet. If you've always wanted to have curry flavor but couldn't manage the higher space, Nissin noodles are perfect for you.
It doesn't matter which flavor of Nissin noodles you are making; soup has vegetable hints which brings out the rich flavor. We won't mind saying that Nissin knows how to manage the seasonings, spices, and garnishing. Also, the broth will be thick and rich while adding in-depth flavor. For the most part, broth tends to be creamy, and it's safe to say that it's fulfilling and warm.
Nissin noodles tend to be chewy which means it makes the perfect texture of noodles. Even more, soup and broth seamlessly coat the noodles while promising suitable flavor. Last but not least, toppings and garnishing will add volume to the cups.
Maruchan
Maruchan is another noodle brand with Japanese and American bases. Maruchan is famous for cup noodles, instant ramen noodles, and Yakisoba. They make the noodles and other product in Japan and is widely sold in the United States. Maruchan has been making these products since 1977, and ramen noodles are extremely popular in Mexico and the United States.
Maruchan has classic flavors, and the taste is true to the name. We wouldn't mind saying that Maruchan has created the mouth-watering flavors. As far as the product range is concerned, Maruchan has ramen, noodle bowls, instant lunch, and yakisoba. All these products have different flavors available, so there is something for everyone in Maruchan.
When comparing Maruchan and Nissin, we need to tell you that Maruchan has much better soup. This is because the soup/broth is richer and creamier. In addition, there are no highs and lows in the seasonings and spices. Even more, Maruchan has affordable products without compromising on the nutrients or quality. All the noodles are made from wheat flour.
To summarize, Maruchan is a much better option as compared to Nissin in terms of quality and affordability. Still, both have amazing flavors!