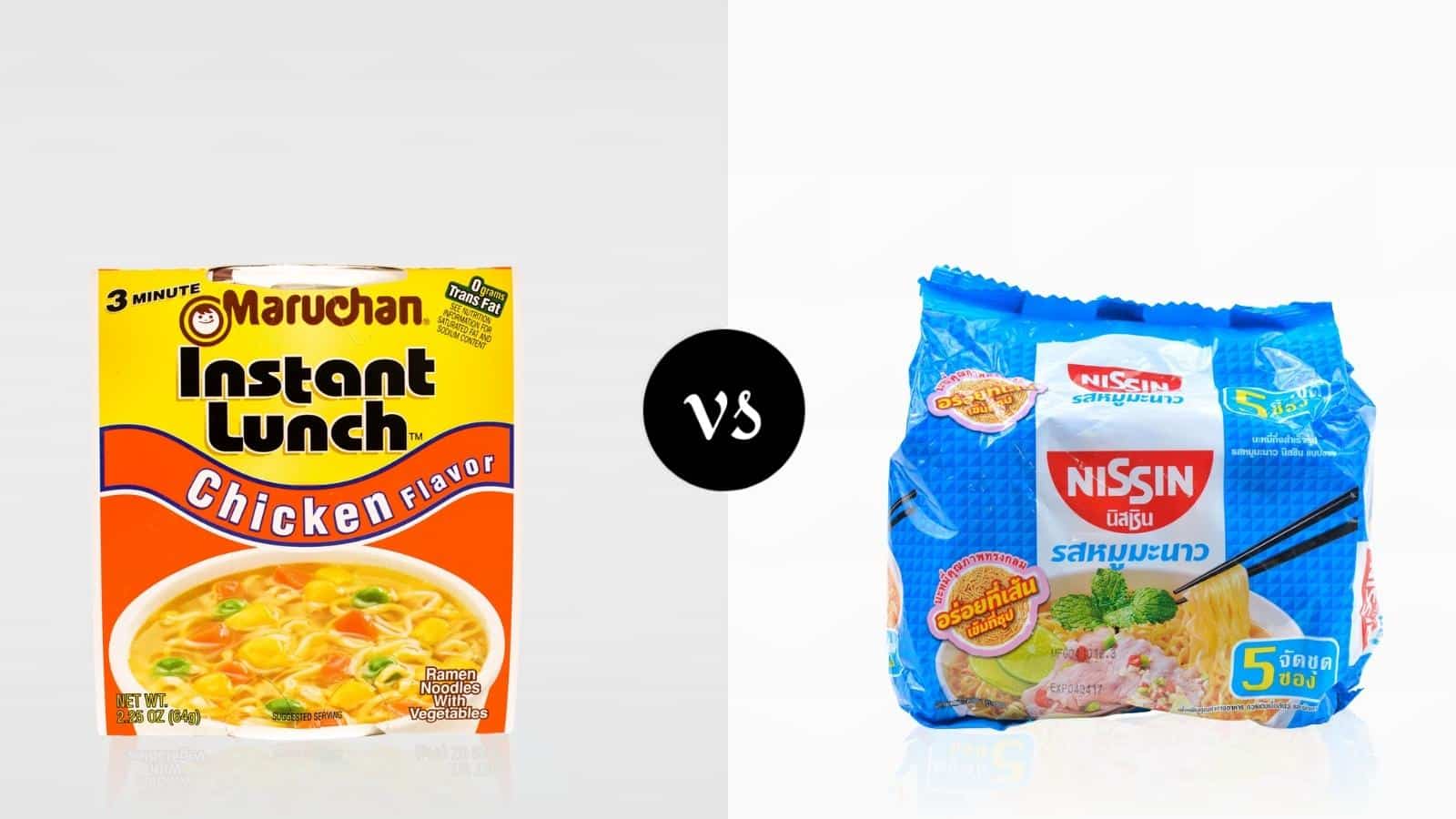 DISCLOSURE: This post may contain affiliate links, meaning when you click the links and make a purchase, I receive a commission. As an Amazon Associate I earn from qualifying purchases.
Instant noodles have become the ultimate snack for anyone who wants a quick fix for hunger pangs. For this reason, there are multiple brands coming out with their own spin on cup noodles and instant noodles.
That being said, we are sharing all the details of two of the finest brands out there. Our upcoming breakdown of Maruchan vs. Nissin gives you everything you need to know to decide which you feel like.
Maruchan Vs. Nissin Comparison
| | Nissin | Maruchan |
| --- | --- | --- |
| Origin | 1948, Japan - Momofuku Ando | Founded In Tokyo, Japan - 1953 | Maruchan brand launched in US - 1972 |
| Headquarters | Yodogawa-ku, Osaka | Toyo Suisan - Kōnan, Minato, Tokyo | Maruchan USA - Irvine, California & Richmond, Virginia |
| Instant Noodles | Top Ramen - Chicken, Beef, Shrimp, Soy, Chili, Hot & Spicy Beef | Top Ramen Bowl With Vegetables - Chicken, Beef, Soy, Shrimp | Maruchan Ramen Noodle Soup - Creamy Chicken, Roast Chicken, Picante Chicken, Beef, Roast Beef, Shrimp, Lime Chili Shrimp, Chili, Pork, Soy Sauce, Low-Sodium Chicken, Low-Sodium Beef | Maruchan Gold - Spicy Miso, Soy Sauce | Maruchan Ramen Bowls - Chicken, Hot & Spicy Chicken, Hot & Spicy Shrimp, Spicy Miso, Spicy Beef Fire Bowl |
| Noodle Cups | Nissin Cup Noodles - Chicken, Beef, Shrimp, Hot & Spicy Shrimp, Spicy Lime Shrimp, Spicy Chili Chicken, Hearty Chicken | Cup Noodle Stir Fry & Cup Noodle Stir Fry Rice And Noodles - Fresh Vegetables & Teriyaki Beef, Sweet Chili, Korean BBQ, Hot Garlic Chicken, Teriyaki Chicken | Maruchan Instant Lunch - Chicken, Lime Chili Chicken, Roast Chicken, Hot & Spicy Chicken, Beef, Hot & Spicy Beef, Shrimp, Chili Piquin & Shrimp, Hot & Spicy With Shrimp, Lime Chili With Shrimp, Lime With Shrimp, Cheddar Cheese, Hot & Spicy Chicken, Select Chicken Flavor |
| Additional Product Lines | Chow Men, Raoh, Souper Meal, Hot & Spicy, Hot & Spicy Fire Wok | Maruchan Yakisoba - Chicken, Cheddar Cheese, Spicy Chicken, Teriyaki Beef, Teriyaki Chicken, Korean BBQ, Spicy Beef Fire Yakisoba |
| Ingredients | Wheat Flour, No MSG | Wheat Flour, No MSG |
| Seasoning | Well Balanced Seasoning That's Rich In Flavor | Flavors True To The Flavor Description With Excellent Balance, Boldness And Authenticity |
| Broth | Flavorful, Rich, Creamy Broth With Depth Of Flavor | Richer, Creamier, More Complex Broth Than Nissin With Excellent Balance Of Flavor |
| Texture | Perfectly Chewy Noodles That Hold Soup/Sauce Well With Well-Textured Toppings And Garnishings | Excellent Noodles With Tight Layering And Ideal Chewiness |
Maruchan vs Nissin
Two of the biggest brands in ramen are undoubtedly these two global superstars of noodles. Maruchan and Nissin have been in the game from the very beginning.
Here's a total breakdown of each company, the delicious flavors, noodles, broth to expect, and all the details of their product lines.
Nissin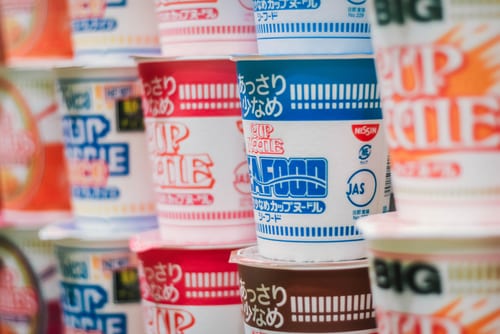 Nissin instant noodles and cup noodles are found just about everywhere. If in doubt, give Japanese food and grocery stores a look.
Prepared in minutes and loved by countless individuals around the world, let's take a closer look at what makes Nissin such a great ramen company.
Origin
Nissin Foods was founded in 1948 in Japan by the creator of instant ramen noodles himself, an inventor named Momofuku Ando. Its original name at the time of founding was Chuko Sosha.
The company started ten years before Ando created the world's first ramen, Chikin Ramen.
Shortly after, it was named Nissin Food Products Co., Ltd, with the US division Nissin Foods eventually opening in 1970.
Three brand names were launched by Nissin Foods, namely Top Ramen, Instant Noodles, and Cup Noodles.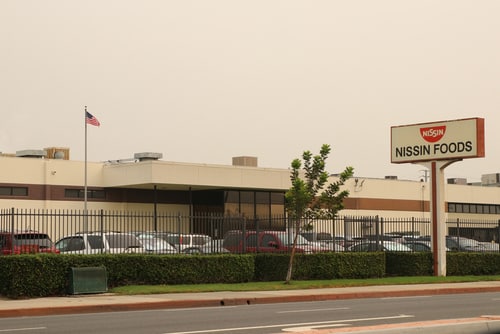 Headquarters
The primary operating headquarters for Nissin Foods is found in Yodogawa-Ku, Osaka. The company has called Osaka home since moving its base of operations there in 1977.
Instant Noodles
Nissin's instant noodles are the original ramen and are sold under the brand Top Ramen. All Top Ramen instant noodles are manufactured with low sodium levels and have no added MSG.
Top Ramen has chicken, beef, shrimp, soy sauce, chili, and hot & spicy beef flavors available. The only flavors certified as safe for vegetarians are Soy and Chili Top Ramen.
Fans of regular ramen will enjoy the Top Ramen Bowl, which delivers an extra helping of sauce suited to its flavor as well as red bell peppers, green onions, corn, and carrots.
There is chicken, beef, soy sauce (vegetarian), and shrimp on offer, and every Top Ramen bowl contains red bell peppers, green onions, corn, and carrots.
Noodle Cups
Nissin cup noodles come with seasoning powder and a noodle block. Just like Top Ramen, Nissin Cup Noodles have no added MSG.
Several flavors are available, namely chicken, beef, shrimp, hot & spicy shrimp, spicy lime shrimp, spicy chili chicken, and hearty chicken.
There are no vegetarian-friendly cup noodles available from Nissin as of the beginning of 2022.
Cup noodles are available in a stir fry variety that comes packaged with green beans and cabbage as well as an authentic sauce.
These takeout-style meals are available in teriyaki beef, sweet chili (vegetarian), Korean BBQ, hot garlic chicken, and teriyaki chicken. There's also cup noodles stir fry rice that blends rice and noodles across the same flavors.
Additional Product Lines
Nissin Chow Mein is available in teriyaki beef, teriyaki chicken, chicken, spicy teriyaki beef, and shrimp flavors while supplying bok choy, cabbage, and carrots with every meal.
Nissin Raoh delivers triple-layered Japanese ramen across miso, soy sauce, and tonkatsu flavors.
The Nissin Souper Meal packs thicker noodles, more vegetables, and a richer soup and is available in chicken and beef flavors.
For an even hotter noodle bowl than Nissin Hot & Spicy, Nissin Hot & Spicy Fire Wok cranks up the heat across five increasingly hotter flavors.
The range in order from hot to hottest spans molten chili chicken, sizzlin' rich pork, scorching sesame shrimp, and volcanic Mongolian beef.
Ingredients
As far as noodles are concerned, they are made from classic wheat flour, which means it's not unhealthy. Their formula is the original model on which all other ramen recipes followed.
Seasoning
Coming down to broth, it basically depends on the flavor of ramen noodles or cup noodles. However, the pork and chicken flavors are rich and flavorful.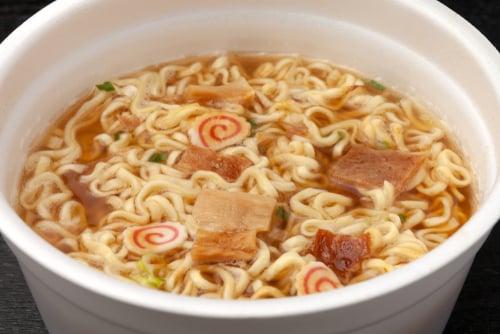 Nissin is pretty generous about seasoning and garnish, which means the flavor will generally be amazing. On the contrary, some people feel like their products have higher saltiness which can impact the flavor of the noodles a bit.
The best thing about Nissin is that they add the right type of garnish. For instance, if there is pork flavor, it has the pork piece. Similarly, there are mini meatballs in the garnish in the right meal.
That being said, if you opt for curry flavor, it doesn't have authentic Indian flavor but it's savory and sweet enough for those who can't typically tolerate hot food to end up falling in love with it.
Broth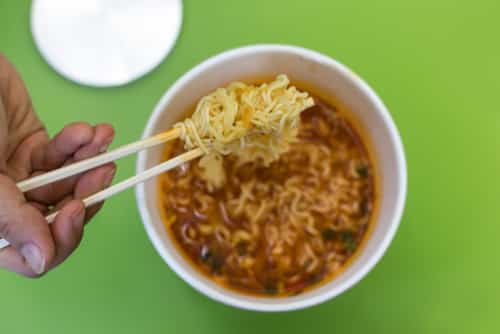 It doesn't matter which flavor of Nissin noodles you are making, the soup always comes with hints of vegetables that bring out rich flavor.
Nissin certainly knows how to manage the balance of its seasoning, spices, and garnish. Nissin's broth is rich, silky, and thick, carrying immense complexity of flavor.
Creamy, fulfilling, and warm, it's hard to find fault with the broth that forms across all of their products.
Texture
Nissin noodles tend to be chewy, which makes them the perfect noodle texture. Soup and broth seamlessly coat the noodles offering excellent adhesion and soakability, which guarantees great flavor.
Last but not least, the toppings and garnishing add volumes to their cups' appearance, flavor, and texture.
Maruchan
One would be hard-pressed to tell that Maruchan wasn't the first. Every packet of ramen from Maruchan tastes exactly as you'd hoped it would.
Let's take a closer look at this outstanding brand.
Origin
Maruchan was founded in Japan under its original company name, Toyo Kaisha Ltd (better known as Toyo Suisan) in Tokyo on March 28th, 1953.
The Maruchan brand was launched by Toyo Suisan when the Japanese ramen specialist entered US markets in 1972.
Maruchan then began distributing Japan's fourth-biggest transnational seafood corporation's range of ramen, seafood, and both frozen and refrigerated foods.
Headquarters
Maruchan started off as Maruchan USA in 1972 as a company that supplied marketing, importing, and distribution of ramen sourced from Japan.
Five years after launching the American brand, Maruchan began manufacturing its own noodles locally in the US.
Ever since 1977, Irvine, California, has served as the headquarters within the US, with a second production facility situated in Richmond, Virginia.
The Toyo Suisan company, however, is headquartered in Kōnan, Minato, Tokyo.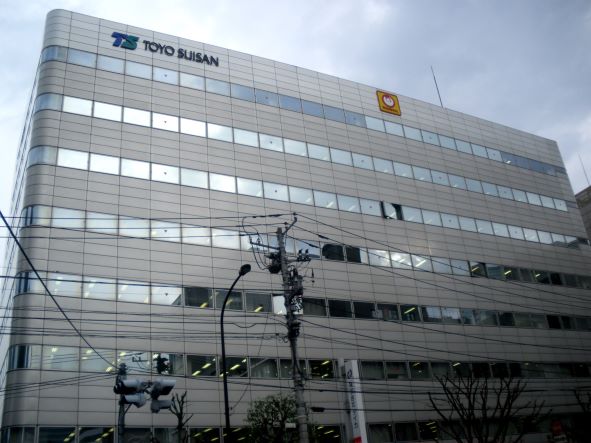 Instant Noodles
Maruchan instant noodles are sold as Maruchan Ramen Noodle Soup across various flavors.
There is chicken, creamy chicken, roast chicken, picante chicken, beef, roast beef, shrimp, lime chili shrimp, chili, pork, soy sauce, low-sodium chicken, and low-sodium beef available.
The recently launched Maruchan Gold product line carries spicy miso and soy sauce flavor and promises a much richer broth overall.
Maruchan Ramen Bowls deliver the exact same combination of seasoning for each flavor but just in a bigger portion.
There is chicken, hot & spicy chicken, hot & spicy shrimp, spicy miso, and the spicy beef fire bowl ramen available.
Noodle Cups
Maruchan's version of a noodle cup is called the Maruchan Instant Lunch.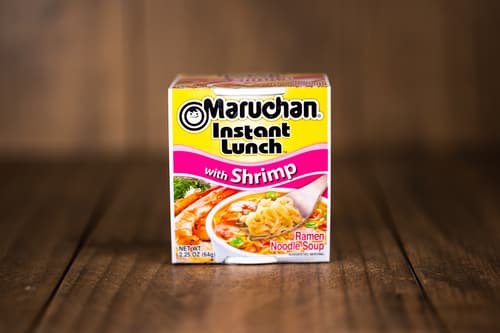 Instant lunches are ramen soup in a cup available in chicken, lime chili chicken, roast chicken, hot & spicy chicken, beef, hot & spicy beef, shrimp, chili piquin & shrimp, hot & spicy with shrimp, lime chili with shrimp, lime with shrimp, cheddar cheese, hot & spicy chicken, and select chicken flavor.
Additional Product Lines
Yakisoba noodles, otherwise known as Japanese fried noodles, which are noodle stir-fry dishes, are also available from Maruchan.
Maruchan Yakisoba is available in chicken, cheddar cheese, spicy chicken, teriyaki beef, teriyaki chicken, Korean BBQ, and spicy beef fire yakisoba.
Ingredients
Maruchan has affordable products without compromising on the nutrients or quality. All the noodles are made from wheat flour, just like those from Nissan.
It is the blend of seasoning that sets each competitor apart from the other.
Seasoning
Maruchan has classic flavors, and the taste is true to the name. We'd even go as far as saying that Maruchan has created the most mouth-watering flavors.
In addition, they've also got the balance right – there are no highs and lows in the seasoning and spices. Just a smooth blend that gives you exactly what you'd expect when imaging is based on the flavor variety.
Broth
When comparing Maruchan and Nissin, we need to tell you that Maruchan has much better soup. The soup/broth is far richer and creamier without overpoweringly strong flavors.
Texture
Maruchan's ramen is true to the original and very close in quality to Nissin with neither mushy nor soft noodles.
The layering appears tighter, and this means noodles that aren't necessarily as firm as the original ramen, but they're satisfying nonetheless. Maruchan's ramen comes in a worthy but firm second.
Which Is Better, Maruchan Vs. Nissin?
To summarize, Maruchan is a much better option as compared to Nissin in terms of quality and affordability.
Still, both have amazing flavors! Nissin may win the battle of who has the best ramen noodles as the original inventor of the noodle brand itself, but this is still debatable.
Maruchan's quality, noodle texture, and superior flavor make it the leading brand and go-to choice.