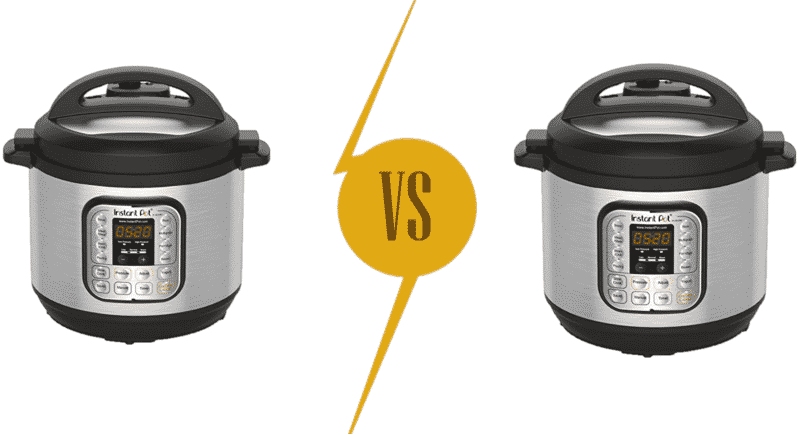 Instant Pot Duo50 vs Duo60
Instant Pot produces a wide variety of different pressure cookers, and out of these, the Duo is the most popular range. The big question is when it comes to making a choice which Duo is best? We take a look at the Instant Pot Duo50 vs Duo60 to find out which or if there is any difference between these two popular models.
Instant Pot Duo 50
The Instant Pot Duo 50 has a 5qt capacity, so it is ideal for an average-sized family of four. As far as we know, this is the only 5qt capacity model on the market. The most popular size is 6qt, yet many consumers report that it is slightly too big. This means that with the Duo 50 slightly smaller pot size, overall, having the lid on is only 12 inches, which should be just right for smaller sized families.
The Instant Pot Duo 50 offers all the great extras we have come to love from Instant Pot. There are 7 main functions. You can use this as a pressure cooker, slow cooker, rice cooker, steamer, sauté, yogurt maker, and warmer. Also, there are 14 smart presets for pressure cooking a wide range of different foods such as Soup, Meat/Stew, Bean/Chili, Poultry, Rice, Multigrain, and Porridge.
As with all Instant Pot models, the pressure cooker is easy to clean and maintain. The inner pot is made from food-grade stainless steel and can be washed in a dishwasher, so it is convenient. Unlike other brands, you do not have to worry about non-stick coating such as Teflon becoming detached and contaminating the food.
The Instant Pot is easy to use. The Duo 50 features a 3rd generation microprocessor that controls the heat of the food and pressure and automatically ensures that it is cooked perfectly. There are 10 built-in safety features that have been independently certified. You are unlikely to run into any problems at all with this pressure cooker. It has been developed with safety and cooking ease in mind.
All Duo 50 models come with accessories including a stainless steel steam rack with handles, a rice paddle, a soup spoon, a measuring cup, a condensation collector and, a recipe booklet. And as with all Instant Pot customers, you have access to the official website and app where you can find thousands of recipes and cooking tips.
Pros
Great size for small to medium-sized families
Comes with accessories
Easy to use; ideal for people new to pressure cooking
Cons
Not as readily available as other Instant Pot models
Less customer feedback available
Instant Pot Duo 60
The Instant Pot Duo 60 is identical in every way to the Duo 50. The main difference is that it has a 6qt capacity, so it is slightly bigger.  Also, it is somewhat more powerful using 1000w rather than the 900w of the Duo 50.
Many people are delighted with a 6qt pot. If you need to cook for 5 to 6 people regularly, this size is easily big enough. And for people who like to cook extra for freezing, this additional capacity means that you can cook a little bit extra each time.
As with the Duo 50, the Duo 60 takes the place of 7 kitchen appliances. You can use it as a pressure cooker, slow cooker, rice cooker, steamer, sauté, yogurt maker, and food warmer. The two models have an identical control interface on the front of the pressure cooker, and the 14 preset pressure cooking options make preparing food under pressure very easy.  If you are new to pressure cooking, it makes it very easy.
Compared to the Duo 50, the Duo 60 is undoubtedly more prevalent. On Amazon alone, this model has generated over 64,000 customer reviews at the time of writing this. The Duo 60 is the best selling model from Instant Pot. It has been on the market for longer, and many people find the size very useful.
As with all pressure cookers, the Duo 60 offers you a way to cook much faster than other cooking methods. On average, the cooking time is 70% faster, saving you money on power and valuable time and effort.
All Instant Pot customers have access to the website and the app, which provides thousands of recipe ideas and cooking tips, making it even more comfortable.
The Duo 60 comes with the same accessories as the Duo 50, and if you need any extras, you can buy them from the Instant Pot site.
Pros
The most popular size; over 64,000 customer reviews on Amazon alone
Ideal for use if you want to cook food in batches
Comes with accessories.
Cons
As with all Instant Pot models, the customer service department is not always helpful
In conclusion
There is nothing to choose between these two Instant Pots. Both have identical features and specifications, and the only difference is that the Duo 60 is bigger in size and way more popular with customers.
We would tend to move towards the Duo 60 because this is a better size for most people. It enables regular cooking for larger numbers, and if you want to bulk cook, you still have plenty of capacity. The slight issue with the Duo 50 size is that it falls between two stools. It is slightly too big if you need to cook for only a couple of people (you may find the mini 3qt size more convenient), and it is not quite big enough for cooking in bulk.
However, when it comes down to the merits of the Instant Pot Duo50 vs Duo60, there is no real difference between the two.