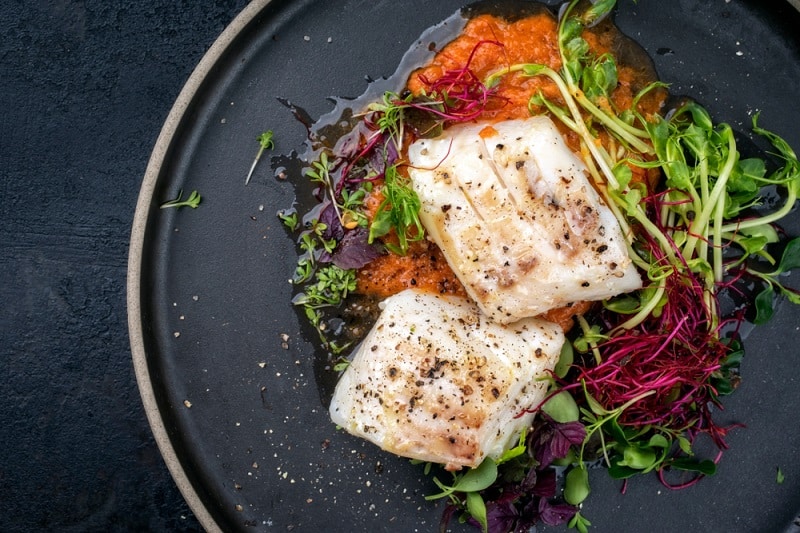 Instant Pot Cod Fish Recipes
Cod fish is a delicious and very popular type of fish. It has a subtle yet rich flavor and goes well with many different kinds of sides. If you love cod fish recipes, then you will definitely enjoy the following delicious Instant Pot cod fish recipes that you can make easily in your Instant Pot.
1. Wild Alaskan Cod Fish
This classic cod fish recipe uses Wild Alaskan cod fish combined with some simple ingredients to create a classic cooked cod that you can pair with rice, mashed potatoes, or any of your favorite sides.
Ingredients
Wild Alaskan cod fish fillets (at least 2)
3 Tbsp butter
1/3 tsp salt
1/4 tsp ground pepper
1 bay leaf
1 lemon, halved
Instructions
First, you need to place a trivet inside your Instant Pot. This will be used for streaming your fish.
Pour 1 cup of cold water into the trivet, then place a sheet of aluminum foil onto the trivet.
Take your Wild Alaskan cod fillets and place them on the trivet. You may need to cut the fillets into several large pieces. Do not overfill the trivet: if you want to cook more cod fish fillets, set them in the fridge and cook in batches.
Season your cod fish with salt and pepper; you may wish to add more, or use lesser, depending on your personal preferences.
Then top the cod fillets with your butter. Place the bay leaf on top of the fillets so that it touches both of them.
Seal your Instant Pot and cook on manual high-pressure setting for 5 minutes of cooking time; increase to 9 minutes of cooking time if you are using frozen cod fish fillets.
Release the pressure manually and then serve immediately.
2. Zucchini and Tomato Cod Fish
This Italian-inspired dish combines the subtle flavors of cod fish with hearty zucchini and a zesty tomato sauce.
Ingredients
Cod fish fillets (2 to 4)
1 zucchini (sliced into rounds, about 2 cups)
1 jar diced pimientos
3 cups diced tomatoes, with juice
1/4 tsp red pepper flakes
1/4 tsp salt
1/4 tsp pepper
Step by Step Instructions
Place your zucchini, tomatoes, pimientos, salt, pepper, and red pepper flakes into your Instant Pot.
Stir together until well mixed, then cook on high pressure for 4 minutes.
Manually quick-release the steam after 4 minutes of cooking time.
Place your cod fish fillets into the sauce mixture inside the Instant Pot, then add in your onion slices; place your onion slices around the fish fillets.
Cook on high pressure for 6 minutes with the lid locked.
Manually release the steam.
Remove your cod fish fillets and serve with sauce over the top. This dish can be eaten on its own or you can serve it with a side of your favorite noodles; if you serve with noodles, reserve some of the sauce for the noodles.
Related Video: